Photos SEZE DEVRES
Considering it's only been around since last January, it may seem a little early to declare The Bunker New York our Label of the Month. That is until you realize that Bryan Kasenic is behind it and, well, he's been a major figure in New York's underground scene since the late '90s, when he started emailing his Beyond NYC Events newsletter like a lo-fi version of Resident Advisor. Back then, the DJ/promoter was training under Daniel Blumin at WNYU and already sharing his local picks on air, so he simply started a Yahoo Group to cut, paste and distribute it.
"I did it because I felt like I was taking so much from the electronic music scene," explains Kasenic. "It had deeply enriched my life and given me a sense of purpose, so I wanted to give something back."
That was merely the beginning of the support cycle he's maintained ever since, from a stint hawking records at theAgriculture to the roaming, long-running party that gave The Bunker New York its name more than a decade after its first official flyer. This despite an admitted unavoidable connection to a certain Dutch label.
"If you had told me [in 2003] that The Bunker would still be here nearly 12 years later," says Kasenic, "I would have laughed in your face. By the time I started the label, The Bunker had become my life's work, and the whole idea of the label is that it's intrinsically tied to the party. I just couldn't figure out an appropriate way to not include Bunker in the name of the label. So we decided to roll with The Bunker New York and brand it pretty heavily that way to hopefully avoid any confusion with the other Bunker."
In the following lengthy interview, we look at the many other ways Kasenic has set himself apart from the rest of the city's growing dance/electronic scene—reaching all the way back to his Pittsburgh roots—and to put it all in perspective, he also cut a fresh, vinyl-heavy mix alongside a rundown of his favorite events from over the years…
What kind of music did you listen to as a kid? Were your parents a key point of discovery for music?
My father was always into music and record collecting. The Pittsburgh radio stations my parents listened to in the car were mostly classic rock, which was and still is huge there. Eventually I somehow got into a lot of early hip-hop; I remember Public Enemy and N.W.A/Eazy-E being pretty huge for me. At some point I started getting really into more alternative rock and punk. My very first concert was Sonic Youth with Boredoms opening. This was the Dirty tour. I'd never heard of the Boredoms and I think they literally blew my mind. They were playing with two drummers and it was absolutely mental; I didn't know how to process it. My dad took me to that one and also my first Fugazi show when I was too young to drive myself there. He also took me record/CD shopping all of the time when I was young. It was something we really bonded over—this shared love of music.
Did you have a breakthrough record or artist that opened the door to experimental/alternative music for you?
I don't think there was one breakthrough that I can remember. I started getting into bands like Sonic Youth, Fugazi, Don Caballero, Shellac and Sun City Girls really quickly and was buying as many records as I could, and trading tapes with my immediate group of friends so we could all hear more. I was really obsessed and went down the rabbit hole really quickly. The records I was listening to just got stranger and stranger.
When did it become clear that music was a passion you had to pursue, rather than something you simply listen to?
I was pursuing it as a hobby virtually my entire life. I went to college for filmmaking at NYU, but I was honestly way more obsessed with the music scene in NYC and my involvement in WNYU—I had two shows and was music director—than my film studies. After graduation, I worked at an internet advertising agency for a year and that was a total drag, just not my thing at all. At the same time, in January 2000, Shawn Schwartz gave some friends and I a DJ residency (Undercity) at the brand new Halcyon on Smith Street. Having a place to DJ every week was pretty huge for me and I took on the role of organizing those events pretty naturally. I think in 2001 the internet job ended and I started helping DJ Olive and James Healy run theAgriculture, a downtempo/dub record label, which eventually led to me also taking on the DJ bookings at a venue called Openair, which James also owned. I haven't really considered taking a job not involving electronic music since then, and have been totally self-employed at The Bunker since 2004, a year after it started.
Was your time at the Carnegie Mellon radio station a watershed moment for you in terms of finding out about new and classic music?
Absolutely. It was massive. In 1993, I was 16 and there was no music on the internet. I found out about it by going to the record store, listening to WRCT (CMU's freeform station), and reading books and magazines. The only way I could hear the music from a band I'd heard about—like Can or Kraftwerk, for example—would be to find a used copy of one of their albums at Jerry's (an epic used record store in Pittsburgh). Eventually I tracked down those records, but it wasn't easy. So suddenly getting access to WRCT's library, which stretched back for many decades, was a dream come true. I used to spend entire weekends just sitting in the listening room there checking out albums from the archives. And of course all of the new releases were being sent there as well. Very mind-expanding.
Were you drawn to electronic music at a young age? What style did you prefer in the beginning, and how did your tastes evolve over time?
I had a few Kraftwerk and Tangerine Dream records, but it mostly stayed off of my radar for my childhood. There was a huge rave scene in Pittsburgh, but I wasn't really part of that in my early teenage years. They weren't really playing much electronic music on the radio I would hear, and the record stores I shopped at were pretty rockist. At first I got really into more experimental ambient electronic music, then jungle, and eventually, well, just about everything that was weird and psychedelic.
I remember Labradford's Prazision, Seefeel's Quique, Mouse on Mars' Vulvaland and Iaora Tahiti, and Aphex Twin's Selected Ambient Works II being particularly taste-altering records that I listened to constantly in the early/mid-'90s. I still return to all of those actually.
When did you learn how to DJ? How long did it take you to find your creative voice as one?
The first time I mixed two records together was around 1993, when I started at WRCT. It was kind of a trial by fire as I trained on the board and got fill-in slots and my own show in very quick succession. I feel like I'm still developing my creative voice as a DJ; that never ends. Right from the start I was really into using DJing as a very creative form of expression. I think my show was closer to sound art than a traditional radio show.
What was the first party you ever went to in NY?
I can't remember the very first one. I spent my freshman year at Rutgers and took the train up to the city a lot to go to parties and events. I would often go to Konkrete Jungle on Monday nights, stay out all night and take the first train back to New Jersey in the morning and head to class on little/no sleep. I wasn't taking drugs or even drinking coffee at the time, just super into the music. SoundLab was a really big deal to me then, as were various events that DJ Olive would organize or play at. Substation was a huge one-off that year that kind of changed everything for me. It was in Andy Warhol's old Factory building. I think there were at least six rooms of sound—most of it experimental—including a jungle room with the guys from the Breakbeat Science store playing, and a techno room with the guys from Temple holding it down. I don't think I was ever the same after that night.
Was Openair one of your first experiences as a promoter/booker? What were some key takeaways you took from that experience that you later applied to The Bunker?
From January 2000 to April 2004, I was the primary booker of our Sunday weekly event at Halcyon, Undercity. That was my very first experience promoting/booking, and it felt very natural right from the start. I think I did Openair 2001-2002—the same era. At Openair, I was mostly booking the promoter, who was then in charge of booking the talent on their night. (Often the talent was just the resident DJ/promoters.)
The first party I really headed up and took under my wing was Gel and Weave in 2001. I had been hearing Magda open for Richie Hawtin whenever he came to town and became a big fan. I'd heard it through the grapevine that she was moving to NYC from Detroit and basically hired her to be the Friday night resident DJ at Openair the day she moved here. She introduced me to so many great artists who I'd been worshipping from afar, like Zip, Dan Bell and Theo Parrish, and some lesser-known artists who remain tightly connected to The Bunker, like BMG and Mike Servito. I think the experience of helping Magda with that party really taught me that there was actually an audience for this more minimal style of techno that I was really into at the time, because those parties were packed! We also funded the flights and fees for all of these amazing artists simply by charging a $5 cover at the door. It was really eye-opening to realize how to make that work.
"I was pretty oblivious to the fact that throwing a packed techno party down there was illegal in about 17 different ways"
As The Polar Bear Club evolved into the Bunker in 2003, did you see it as a brand new party or an extension of what Timeblind was already doing with the night?
A little bit of both. Polar Bear Club was Mike Wolf's party, along with Timeblind. They actually did the party in Minneapolis before moving to NYC I believe. The Bunker was definitely in the same spirit, but with Mike leaving and me coming on board, we knew it needed a new name and identity. We also just really wanted to take it to the next level and get more people out, and through my connection to the radio show and my mailing list, that started to happen pretty quickly.
Was it hard at first when Timeblind decided to leave NYC for Berlin, essentially leaving the party in your hands?
Because of my background doing Undercity and Openair, which were very similar to the early version of The Bunker, it wasn't very hard. I was certainly surprised though! It was a huge honor for me to be brought on as a resident on Fridays at subTonic, which was totally my regular hangout at the time. (DJ Olive and Toshio Kajiwara did Thursdays there, so I was already spending at least one night a week in that basement, sometimes more.) I definitely wasn't expecting Timeblind to move to Berlin and leave it in my hands six months later.
What's an early example of a party that really epitomized what The Bunker would become in terms of its vibe, programming, etc.?
We've always been fairly eclectic, but I think we were really all over the place that first year and people wouldn't even know what genre of music to expect from week to week. That was really fun, but made it difficult to build much of a following. For my birthday in September 2004, Dan Bell (who I knew via Magda's party) reached out and asked if he could come play at The Bunker with Sammy Dee of Perlon, who was coming to the states to play his party in Detroit. This was the first time we ever charged a cover at The Bunker. It was $5 and I was freaking out all night thinking there was no way we'd make enough money to pay these guys. In the end we covered all expenses and then some. Things had been moving in a more techno direction and I was usually playing techno myself in the late-night slots, but I think after that night it became very clear that techno would start to take over.
A lot of The Bunker's resident DJs and collaborators left between 2003 and 2006 to relocate or pursue other fields entirely. As that happened, did you ever question your own role and music in general, or did it continue to feel like you were meant to do as it continued to evolve and people like Derek Plaslaiko got involved?
I never questioned my own involvement or even considered doing something else. Starting in April 2004 it became my full-time job and creative life project. Some of those early residents—kleverVice, Unjust, Movement—are very dear friends of mine who loved the party and made great contributions, but it was always me who was 100-percent into it and really kept it going. Derek Plaslaiko getting involved really kicked things up another notch though. That guy is an incredibly good techno DJ. He was honestly way better than any of us by a long shot and it was not unusual at all for him to close out the night with a set that blew the headliner clear out of the water.
What was your immediate reaction to the NYPD shutting down one of The Bunker's longtime homes, subTonic? Did it feel like the beginning of the city cracking down on that sort of thing, or had that been happening for years already?
At that point—in 2007—the city had been cracking down on nightlife, especially in Manhattan, for years. subTonic somehow managed to stay off of their radar for an unbelievably long time. I was pretty oblivious to the fact that throwing a packed techno party down there was illegal in about 17 different ways until the task force came in and wrote us 17 tickets that night. My immediate reaction was one of deep sadness that that particular party was coming to an early end. After years of asking the Tonic management to remove one or two of the wine barrels downstairs to make more room for our expanding party, they finally did it, and this was the very first party with a bigger dancefloor. Everyone was loving the extra room, Matthew Dear was murdering the room, and it felt like everyone—Plaslaiko, Wolf + Lamb, Camea, Tim Xavier, Function, Ambivalent, etc.—was there. I had no idea at the time that the party would never return to that room.
How did the Bunker's audience change when you moved the party from the Lower East Side to Brooklyn?
A lot of people were diehards and just followed the party over the bridge, no big deal. My wife Seze and I, and a lot of people who were regulars at the party, were already living in Brooklyn at the time, so it wasn't that big of a deal. I'm sure we had a good number of regulars who lived in the LES who stopped going, but they were quickly replaced by people from our new neighborhood Williamsburg, which was still pretty full of young creative types at the time. It was extremely novel to have a regular techno party in Williamsburg then, hard as that is to believe now. It just wasn't done; everything was happening in Manhattan for years until we took it over the bridge.
"I can't even tell you how many parties I've walked into and left within 15 minutes because of bad sound. I really can't deal with it."
Williamsburg and Bushwick have gone through some drastic changes since then. How has that affected The Bunker, from the variety of venues that you've held the party at—everything from a Chinese restaurant to Output to Public Assembly—to the crowd itself?
I live in the center of the Bedford area of Williamsburg, and the gentrification I've seen happen around me in the past seven years is nothing short of astonishing. As I said, when we moved The Bunker to Public Assembly (then Galapagos) in 2007, there were no techno parties that I can remember in Williamsburg. There really wasn't much happening on North 6th Street after midnight as you made your way from the Bedford L stop to The Bunker. Now we have two techno superclubs operating a few blocks from there, surrounded by hotels, fancy restaurants and expensive condos. Obviously this has changed the demographics of the neighborhood, which of course has some effect on who is coming to the parties. I'm always excited for an opportunity to expose more people to the music I love. We have a core community of friends and regulars who have followed us through all of these changed and I'm so deeply grateful for them.
Eventually Public Assembly closed, with very little warning. I had started doing some events at Output right from their opening weeks, and when Public Assembly told me they were closing a few months later, the first thing I did was approach Shawn Schwartz at Output with the many future bookings I had planned for P.A. and he took almost all of them. So the full transition to a bigger club happened much quicker than we had anticipated, but I think it's worked out well so far. The one event Shawn couldn't take on is the one that ended up at the Chinese restaurant in Ridgewood, which I co-produced with Todd P, who has become another very close ally of The Bunker by hosting our Limited events at his Trans Pecos space, also in Ridgewood.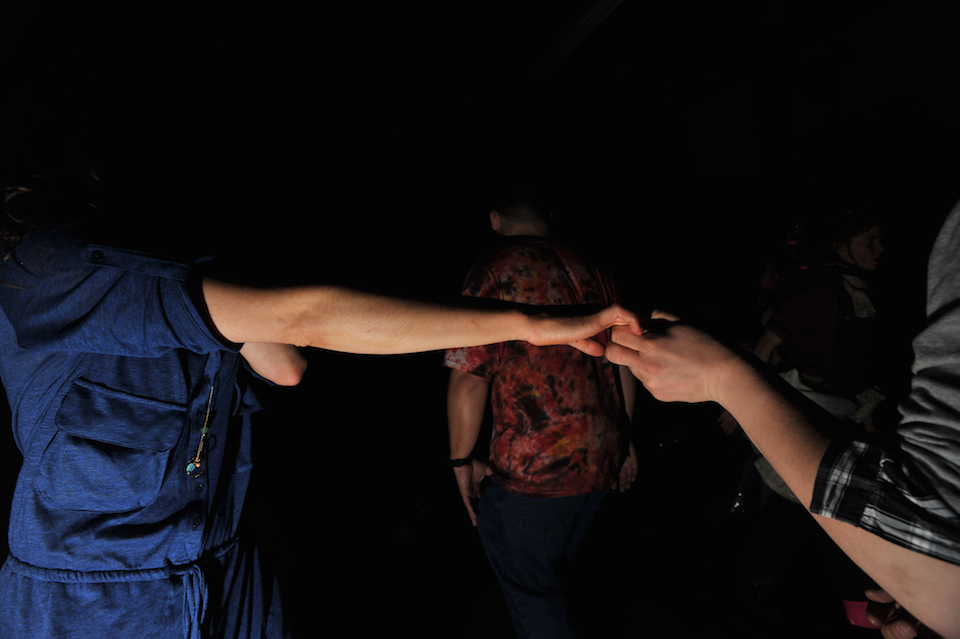 You brought your own sound to Galapagos in the beginning and have done that at several other parties since then, including a recent one with Porter Ricks. The importance of sound seems to be lost on many promoters; why has The Bunker always done things differently?
A proper sound system is the most important aspect of a good party to me. I was deeply inspired by some parties I went to in Detroit where it was nothing but a pitch dark room with a DJ booth, a red pinspot so the DJ could see, and a massive sound system. That was it. That's really all you need if the music is good enough. If you remove the good sound though, it all starts to fall apart rather quickly, no matter how well every other aspect of the party is set up. Over the years at subTonic, I added more and more sound—first a few powered tops to fill out the room, then a giant sub I bought from Zev of Wolf + Lamb, and finally some huge powered full-range speakers. By the end it was pretty banging down there and of course it really helped make the party go off.
When we moved the party briefly to Luna Lounge, we thought the sound would be good enough there but it wasn't. So I bought my own soundsystem and Derek and I would set it up and run it every week with the help of our friend Chris McNaughton. I think we almost died several times drunkenly taking it down at the end of the night. Once we had the system, I realized we could make Galapagos work, and it was a more fitting venue for the party, so we moved it there a few months later.
For New Year's Eve 2008/2009, we started hiring my friend Nik to bring in a really proper system and run it all night. He proved to be an absolute genius whose system was vastly superior to mine. He's done every party since then, with the exception of Output events, which obviously don't need any supplemental sound. Eventually we started doing both rooms of Public Assembly and hired my friends Taylor (a.k.a. label artist Zemi17) and Dok of Amoeba to beef up the front room sound as well.
It completely baffles me that there are so many venues and crews in NYC doing techno parties with bad sound. It's a huge disservice to the music and insulting to everyone involved, most importantly the artists trying to express themselves through pure sound. I can't even tell you how many parties I've walked into and left within 15 minutes because of bad sound. I really can't deal with it.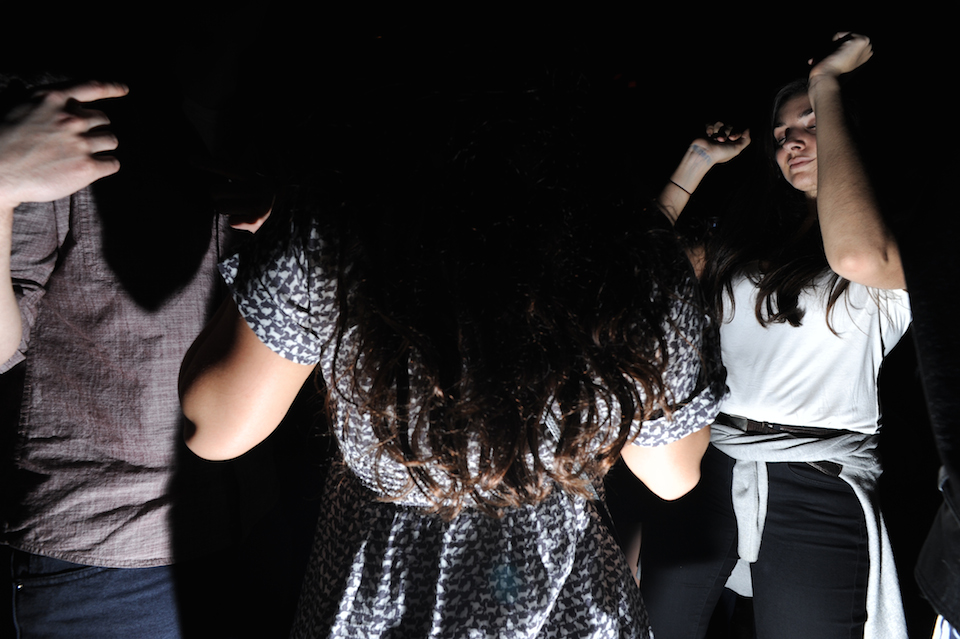 New York City is constantly changing—always has, always will be. However, the gentrification and growth of Brooklyn has resulted in the loss of many venues and parties being pushed further down the L subway line. How do you feel about the current state of the local music scene and how The Bunker does or does not fit into it?
Well I've been following the electronic music scene in this city since I got here in 1997 and I've never seen it this healthy and robust. If anything, I'd say there is too much going on and a lot of great events are getting lost because of the signal-to-noise ratio. People come to NYC to be a part of something and experience culture. So while the gentrification and higher rents are pushing people further out, or even out of the city entirely, there are always new people coming along who want to get involved. I think The Bunker really goes with the flow. We do parties at Trans Pecos way out in Ridgewood for 150 people, and then the next weekend we're doing something at Output for 10 times that. Sometimes it's a struggle not to get lost in the overwhelming amount of events going on here, but I think the cream does rise to the top… most of the time.
It seems like venues that book a lot of rock music (Death By Audio, 285 Kent) have been impacted much more than the dance scene, what with the success of major clubs in Brooklyn like Verboten and Output. That said, is the continued migration of club goers simply making Brooklyn feel more like Manhattan in terms of its audience and vibe?
I think Manhattan is has been expanding into Brooklyn for many years now, and will continue to do so. Manhattan is kind of bursting at the seams, so there's nowhere to go but across the river into the other boroughs. I just don't think there really were any dance music clubs TO close in Brooklyn. Having real dance clubs here is kind of a new thing!
Shifting to the record label, that seems like something you were born to do, what with your experience as a performer, promoter, booker, etc. When and why did you ultimately decide to do it?
It's something I've been wanting to do my entire life, but it never felt like the right time. From 1999 to 2009, between Undercity and The Bunker, I had a weekly party that took up a great deal of my time. I was also barely surviving, and had to invest any money I made from each party into future parties (flights, deposits, etc), and there was never anything left over to even think about a label.
It was always something on my mind that I wanted to do, but I just couldn't get it off the back burner because the events took up so much of my time, energy, and money.
Around late 2012, I started getting serious about the idea of starting the label. I finally had some time and money and was really wanting a way to push The Bunker to the next level outside of throwing parties in NYC. The Bunker was being asked to produce events and showcases in other cities pretty regularly, and it was pretty common for the organizers to want me to book a headliner in addition to The Bunker resident DJs. It occurred to me that this whole concept would be so much stronger if the headliners had a deeper connection to The Bunker than just being our friends who played at our parties.
Throughout 2013, I contacted artists who I wanted to work with and asked them to send me tracks. This was a mix of unknown artists/close friends who came to the party and more established acts who were regular performers there. Early on, Miles from Demdike Stare told me that my best shot at getting good distribution would be to approach distros with several records completed. So I waited about a year until I had four EPs in the can and then started approaching distros with the music, and the response was pretty enthusiastic right away which was a good sign that we were barking up the right tree.
What have you learned about running a label over the past year—how has it met, surprised or surpassed your expectations?
I've learned far more than I could ever go into here. One thing that really surprised me is how different my relationship with each label artist is. It can be very difficult to get people to let go of tracks, call them finished, and give them to me for consideration. I've really enjoyed these challenges though. Making vinyl records is a gigantic pain in the ass where many things can go wrong and set projects back, which I knew from my days of working at theAgriculture, but we weren't pushing out 10 records a year, so it wasn't nearly as stressful. The response to the label from friends, fans, press, DJs—everyone really—has very much surprised me. It's been really uplifting to see people get something from these records, and has really motivated me to keep it going.
Did you have any clear mission statement heading into the label? Was it simply to be as open-minded in terms of what you release as you are with booking The Bunker itself?
It is meant to be a reflection of the party and a vehicle for me to put out music that I love that I think wouldn't get out there otherwise. I think that putting out music from our frequent and most loved guests in addition to regulars who were lurking in the shadows, absorbing what they heard, and secretly working on tracks, has so far yielded some pretty amazing results that communicate what the party is about to people who may never have been there. I think the party has always been about pushing at the limits of what techno can really be, and the label is reflecting that pretty well so far.
How important is releasing and supporting local artists to you?
Extremely important. We easily could have just asked all of our famous friends to give us music, but I don't think that's really a proper way to establish a sound and identity for a label. I have refused to bring in big names to remix unknowns as well (a very common tactic employed mainly to sell more units), as it's important to me that these EPs stand on their own. It's also very important to me to have a real relationship with everyone on the label. If there's something we need to talk about, I like to get together face to face over a beer and do that, which is a lot easier to do with artists who live in New York.
Let's say someone is curious what The Bunker label is about. What releases should they start with first?
I don't think I can answer that one really. I love them all so much and they're all so unique. I think if you listened to the first year's output though, you'd have a pretty good idea where we're coming from, but the story will continue to develop for sure.
Tell us a little bit about The Periodic Table, your first full-length. Did you choose to release this live album because it was such a special night for you—both The Bunker's 10th anniversary, and a way to expose people to an artist they may have not heard of before?
I hadn't really thought of releasing music recorded live at the party until we got back to my loft after the 10-year anniversary. David and Jonah of Reagenz were staying with us at our loft, and they immediately wanted to listen to the recording we made of their set that night. It turned out they wanted to release a new album and were considering using the recording from The Bunker as the basis for the whole thing. So I asked them on the spot to consider releasing the record with us if they had no label in mind. It was just a really natural fit. We discussed the idea of releasing the music as a series of 12" EPs, but we all really loved the idea of it being an epic package, and just decided to roll with it as a triple LP.
Do you hope to find more of a balance between LPs and 12"s in the coming year?
I don't really have a plan. Ultimately I'd love LPs from all of the artists we introduced in 2014, but I'm not putting pressure on anyone to do that. I feel like the vast majority of electronic music LPs are pretty bad and would be better if they were edited down into concise EPs. Putting together the Reagenz LP was a really excited project though, and I'll definitely put out more LPs whenever we get material that warrants it.
[youlist pid="PLCD8FE772890C7118″ width="620″ height="349″]
What are some labels you would point to as an influence on what you're trying to do with yours?
I would say first and foremost Perlon. Really one of the greatest labels ever, especially for dance music. Really hard to touch them. The Interdimensional Transmissions crew have influenced me in a really heavy way that goes well beyond the scope of being a record label. Others that have inspired me include Giegling, Spectrum Spools, Further, Kranky, Ghost Box, Honest Jons, Basic Channel/Chain Reaction/Rhythm & Sound/Main Street. This list could go on and on, as I've always followed labels as closely as I follow artists.
Finally, can you tell us about some of the releases you have plans for in the months ahead?
Well, we've announced our three remaining upcoming releases of 2014, which are an explosive acid EP from one of my musical heroes, Atom™, an epic 30-minute EP of blissed-out kosmische techno from Forma, and the triple LP from Reagenz (Move D & Spacetime Continuum), our 10th release.
For 2015, we have a lot of follow up EPs from the artists we introduced in 2015, as well as a few new artists from NYC, and some surprises I don't want to talk about just yet.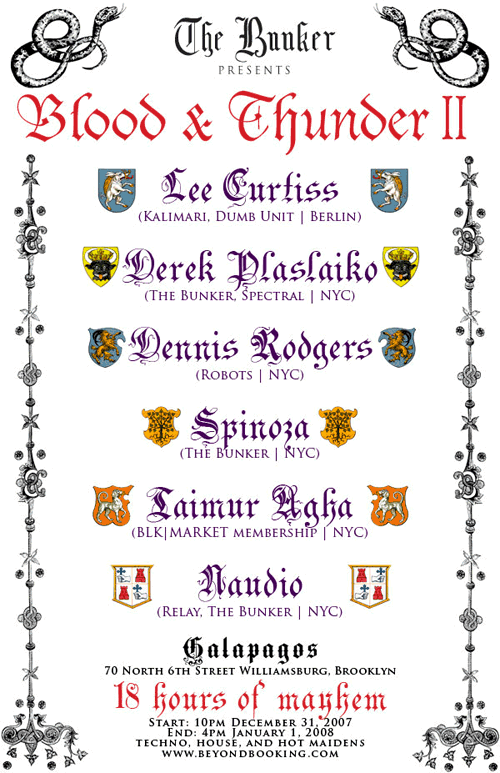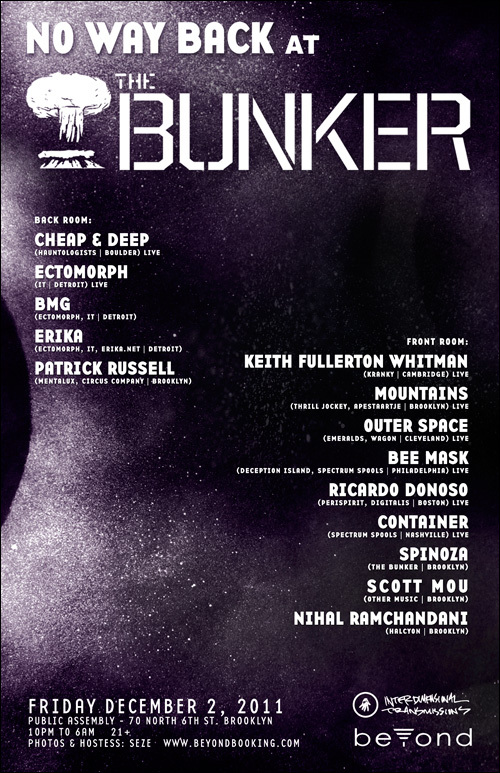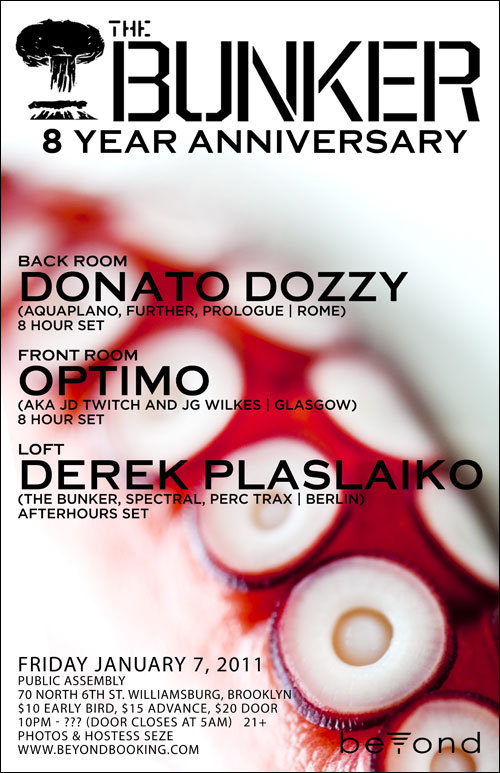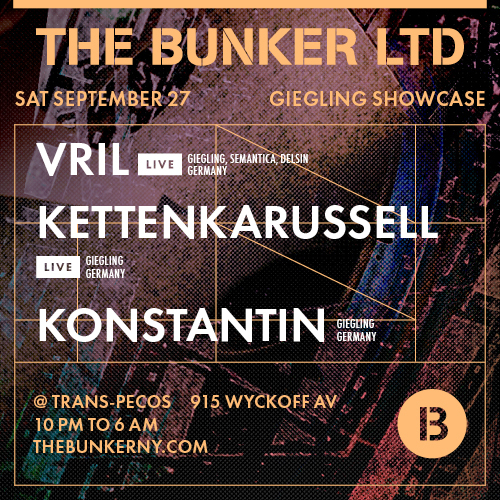 Five of Bryan Kasenic's Favorite Parties
1. The Bunker 303 Acid Celebration at subTonic, March 3, 2006
This was the first in a series of acid parties we threw on March 3 (3/3) every year. It was also the first time I booked Carlos Souffront, which was Derek Plaslaiko's idea. We booked him to play an all-acid set and he brought the house down. People were literally hanging from the ceiling and I thought the room might collapse. I put Derek on the guest list, but at around 3 a.m.—in the middle of Carlos' set—he handed me the $5 cover and thanked me. Mark Verbos also delivered one of his stellar live hardware acid PAs that night and it was the first time Seze ever took photos at The Bunker.
2. Blood & Thunder II, December 31, 2007
We did a series of ridiculous New Year's Eve events called Blood & Thunder. The first one started at 10 a.m. on New Year's Day at subTonic, AFTER a party that I threw with Wolf & Lamb that ended at 10 a.m. It went 18 hours until 4 a.m. on January 2. The second Blood & Thunder was at Galapagos, and actually started on NYE and went into the next afternoon. Back in those days, no one was really pushing things past 4 a.m. very often in NYC, so it felt really special when it happened and we took it to the extreme. Now you have parties going well into the afternoon every Sunday, but I think they've lost that special feeling.
3. The Bunker 8-Year Anniversary, January 7, 2011
We threw a lot of great parties at Public Assembly, but I think this might have been the best one. The concept was 8-hour DJ sets for our 8-year anniversary. So Donato Dozzy played all night in the back room, Optimo all night in the front room, and THEN Derek Plaslaiko played an 8-hour after hours set up in the PA Loft. This was the beginning of my obsession with having DJs play all night at The Bunker, and it was a huge success. We thought there'd only be 100 or so people left at 6 a.m. who wanted to come to the after party in the loft—usually on a good night that's about how many people are left—but both rooms were still rammed and we couldn't even fit everyone up there!
4. No Way Back at The Bunker
I think this was a really important event because it kind of solidified a connection between the noise/synth scene and the weirdo psychedelic techno scene in a way that no event ever had. I think a lot of connections were made at this party that have led to some amazing collaborations that continue to be fruitful to this day. Bee Mask and Outer Space went on to play Labyrinth and collaborate with Donato Dozzy. Ectomorph and Cheap and Deep collaborated on a track on my mix above (and another new record by Erika and Jay). While a creative success, the event was kind of a financial disaster. In the aftermath of the event, Jay Ahern (Cheap and Deep) had a long talk with me where he essentially convinced me to start a record label. It took two years to actually get the first release out, but that conversation was very important. The cult status of Interdimensional Transmissions and the No Way Back events had continued to grow over the years and I'm really happy we stuck with it.
5. The Bunker LTD Giegling Showcase, September 27, 2014
This was our most recent party, but it was one of my favorites in recent memory. We've moved The Bunker Limited from the Public Assembly Loft (which closed) to Trans-Pecos, a new venue in Ridgewood. It's really the ideal spot for us in a lot of ways. We can only fit about 150 people in there and bring in ridiculous sound and DJs. I've admired the Giegling label from afar for awhile now, and it was amazing to see these guys in action. They really held it down for the whole 8 hours with various live and DJ sets from Konstantin, Vril and Kettenkarussell. Super heady but driving enough to keep the dancefloor pretty bonkers all night.
[00:00] Jo Johnson – "Ancestral Footsteps" (Further Records)
I pretty much buy everything that Further Records release. It's all very worthwhile, but this is their best release of 2014. Jo is part of the Bleep43 crew in London and was in the band Huggy Bear. Was hard to pick one track from this album, as they're all so amazing.
[04:10] Reagenz – "Tc" (The Bunker New York)
This is from the first album on The Bunker New York: The Periodic Table, a triple LP due out in November. Reagenz recorded the entire album at The Bunker's 10-year anniversary. Reagenz is Move D and Spacetime Continuum, essentially improvising live dance music. This is just one excerpt from the 74-minute album, but it gives you a good idea of how talented these guys are.
[13:25] Gavin Russom – "The Purge" (Entropy Trax)
Gavin played at The Bunker a very long time ago—I'm going to guess about 2004—upstairs at Tonic for one of our midnight shows, when the first Gavin & Delia 12″ came out on DFA. This track is from the first release on his brand new label Entropy Trax, a very limited vinyl-only affair. These long and winding tracks fit in very well with the kind of music we've been releasing on The Bunker New York this year.
[18:21] Forma – "Cool Haptics" (The Bunker New York)
I met Forma by going to the parties they throw in The Schoolhouse, which is actually the top floor of an old schoolhouse in Bushwick where these guys live—an amazing space with 30-foot ceilings and a catwalk. Each side of this 12″ is 15 minutes long, and it's really a new direction for the band from their albums on Spectrum Spools, due at least in part to the addition of new member John Also Bennett.
[25:25] Zemi17 – "Impressions" (The Bunker New York)
Zemi17 is a very old friend of The Bunker, who was coming to the party right when we started, and doing sound reinforcement in the front room of Public Assembly once we started doing the two room events there. He created the Gamelatron, the world's first and only full robotic gamelan orchestra, which has more or less taken over his life for the past few years as it's a very successful project. Zemi17 is his techno project that we've loved for some time, and he was one of the first people we approached about being on the label when we launched it.
[30:00] Antoni Maiovvi – "Spunnowt" (Crimes of the Future)
Timothy J Fairplay and Scott Fraser of the Crimes of the Future party and label came to Brooklyn to play at The Bunker in April. We immediately hit it off and dug deeply into each other's labels. They gave us so much great music but this is definitely one of my favorites from their new imprint. I'd say these guys are a crew to watch for sure—the deepest of the deep music heads.
[35:40] White Visitation – "Blood Revision" (Styles Upon Styles)
We met White Visitation down in Mexico City when we were there for Mutek Mexico. My buddies Phil and Cam put out his most excellent EP on their Brooklyn-based Styles Upon Styles label. This guy is very young and I'm sure we'll be hearing more great things from him in the near future.
[41:50] Cheap and Deep Productions – "Time Stops (Ectomorph Remix)" (Modular Cowboy)
Cheap and Deep is Jay Ahern, who is not only in charge of our digital distribution, but also one of the primary people who really kicked us in the butt to get the label started. His advice was invaluable as we got started. Of course he also makes incredible music. This track is remixed by Ectomorph, aka BMG and Erika of Interdimensional Transmission. We have a really significant bond with I.T. and throw two parties a year with them called No Way Back—one in Detroit during Movement Festival, and one in New York in the fall. We share all of the same favorite DJs and there is significant overlap between us. They also gave us a ton of advice as we launched the label.
[46:35] Atom™ – "Ground Loop 1" (The Bunker New York)
Atom™ is one of my all time favorite musicians, and needless to say I'm thrilled to release his music on The Bunker New York. Ground Loop is Atom™'s project for straight ahead dancefloor devastation, and that's what you get here.
[53:23] Løt.te – "Pressure Chant" (The Bunker New York)
Løt.te is an old friend of my wife Seze Devres, who also handles all of the photography for The Bunker, is a wonderful hostess to all of our guests, serves as a sounding board for every idea I've ever had, and is a crucial behind the scenes person for everything The Bunker does. I met Lot.te when he did a remix for DJ /rupture for a record on theAgriculture. He's been a regular at The Bunker for many years. I asked him for some music to consider for the label and he knocked it out of the park with the first two tracks he gave us. I had to significantly pitch this one down to fit on this mix, but I think it still sounds great!
[59:27] What We'll Be – "Clara Moonglow's Magic" (We Are All Machines)
We Are All Machines is a new label from some old friends in Detroit who I met through a Blank Artists showcase at The Bunker years ago. What We'll Be is their second release, and it's a very unique record that is ticking all the right boxes for me.
[66:18] Ulysses – "Nanook" (The Bunker New York)
This is one of my favorite tracks that we released this year. Ulysses is an old friend who stepped back a bit from the music industry to focus on family, a real job, and buying a house, but he kept making incredible music and let us dig through his archive to pick out some of our favorites.
The Bunker's latest bill rolls through Output this Saturday with appearances by Kink, Atom™, Tin Man and more. For a complete rundown of upcoming parties, head over to its official site here.