Buried somewhere on the second page of Matthew Herbert's Web site is one simple phrase: "We are entering the age of sound." Simple but loaded, as it singlehandedly explains the driving force in his decade-spanning, alias-shifting career, which has given us everything from the sleight-of-hand samples in the producer's sprawling Herbert Complete box set to boundary-pushing work alongside such inter-disciplinary forces as Björk, the Royal Opera House, and the BBC's recently relaunched Radiophonic Workshop, which Herbert was named the new creative director of in 2012.
"After years of banging on the doors of all these institutions," explains Herbert over Skype, "they're finally coming to me and saying, 'Hey, we're really interested in sound; what can we do?' It's a new frontier, you know? A new dimension we need to explore.
He continues, "I never thought people would trust me with their money…I don't know what happened; now that I've turned 40, I'm a part of the establishment. The thought of me being 64 and still playing techno in nightclubs is more terrifying though."
Maybe that's why his latest album (The End of Silence, available now through Herbert's Accidental Records imprint) is his most mangled piece of experimental music yet, a three-movement, 52-minute exploration of a 10-second sample. Which would be enough of an achievement in and of itself, but this three-movement, 52-minute exploration of a 10-second sample happens to be based around Sebastian Meyer's war zone recording of a bomb going off during Libya's Battle of Ras Lanuf a couple years back. And since it's a Matthew Herbert record, it's not so much hokey or heavy-handed as it is upsetting and unpredictable.
"I'd never want to make a record that was easy listening or didn't scare you in some way," says Herbert. "I guess those two things reinforce each other–the way the music was written and the subject matter."
So what does that say about Herbert's next album, an orchestral take on the sort of slippery dance songs that made Bodily Functions such a classic? As it turns out, everything and nothing…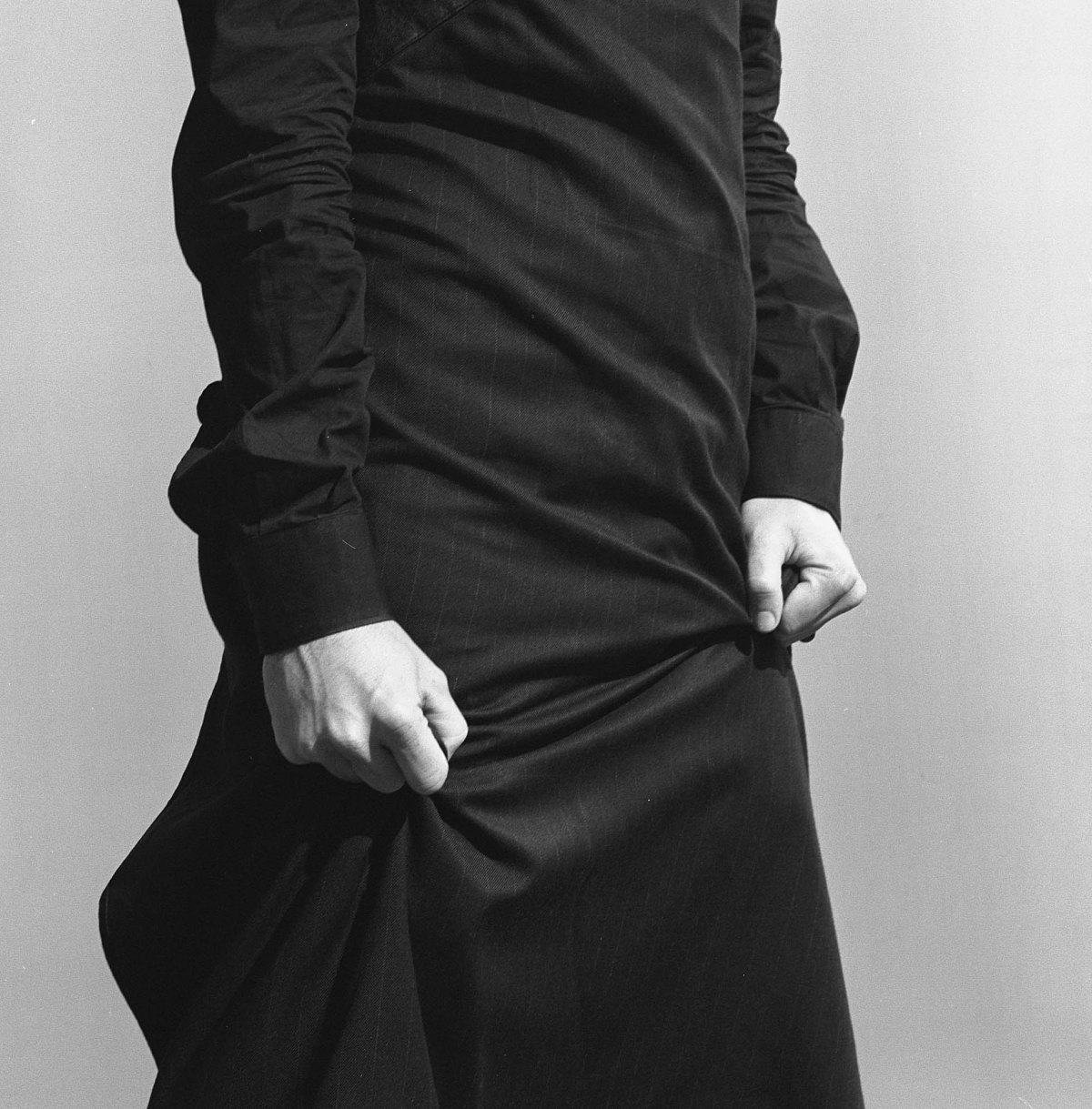 When do you feel like you first fell in love with the possibilities of sound?
I think it came along with the technology. I've read something in the past year, both with John Cage and Brian Eno, where they talk about the first time slowing down tape being a formative moment for them, just realizing how extraordinary the world sounded slowed down, in a different format. I had the same when I first got a sampler, when I was 15 or 16. The first sound I recorded was me biting an apple. The sound of pitching it down was just so extraordinary, unlike anything I'd ever heard before. It's like taking drugs; it just opens your mind to the possibility of making music out of everything around you. That was a mind-blowing experience.
The act of making my music public kinda distorted some of the purity of that discovery in a way. I ended up releasing a lot of dance music because it allowed me to do it myself and be in control. I kind of fell back in love with sound again later on, while doing the Plat Du Jour record just because I'd decided to push things as far as possible just with sound. And I'd just come off doing the big band record, which was a humbling learning experience in many ways. The thing that gets missed a bit from Plat Du Jour is a lot of that was played by musicians. It's pretty hard to make something that's expressive in that way. I've felt really committed since then, keeping sound at the forefront of everything I do.
A lot of people look at Around the House and Bodily Functions as your classic records, but it sounds like you consider Plat Du Jour your masterpiece in a way.
[Laughs] I certainly wouldn't call it a masterpiece.
But it must have felt like an achievement–just the simple fact that every sound had such a deep meaning to it, that you didn't just sample coffee, you sampled a certain kind of coffee, that sort of thing.
Yeah, I did feel proud of it because it was fucking hard. I listen to it differently now. It sounds naive and clumsy in certain places because the technology was not quite there. The record I'm the most proud of is the one I just did because I finally feel like I can play electronic music as a musician rather than a programmer.
But for me, all of it is a work in progress, really. That's the great mythology of the music industry–that it's a product. Really it's a process. And you just expose some parts of your process, while bypassing others.
"The impetus was how crap I was at making music"
As important as the process is to you, there's always been a physicality to your music as well. Like it's not just about plug-ins and production tricks; there's a really human element to all of it as well.
I feel that quite strongly on a number of levels. Probably most importantly, for me, is the political element. When it comes to technology, It's important to acknowledge who's doing what, and why we're doing it. That's a really problem with the way software is developed–it's just constantly telling you what to do. Like the first thing Logic does when you turn it on is it assumes you want to work at 120 BPM, in nice little groups of four. They're making all of these decisions for you. So you have to assert your original impetus for making music. In my case, that's largely, without sounding like too much of a knob, to change the world. So it's not just a physical thing to me; it's political as well. Now that we carry computers around in our pocket, the question is, 'Now what?' It's about seeing these things as tools rather than an end in and of themselves.
So was the act of making your new record a way of scaring yourself again, through making your own instruments and exploring music that way?
Yeah, I had a bit of a breakthrough meeting this guy Yann Seznec when I first started working on the Pig live show. He's actually a great musician, but he specializes in building hardware and software, so he's felt like the missing link I was looking for for years to help do this stuff. It's really a practical thing; when I was younger, I spent hours just building things, but now I probably take meetings three days out of a five day week. And another day is spent on proposals and responses to those meetings, and one day a week is physically spent writing music, so when I actually get to the studio, you gotta get on with it and do the work. You don't have time to experiment in that way. So it's great to have that second pair of hands that can help.
The challenge is always to try and find an element of risk again. The conservative nature of electronic music has vacuumed up all the risk.
Well this record definitely sounds risky. Without getting too deep into the technical side of it, how did all of the instruments work here?
Basically we're all playing samplers with different interfaces–different keyboards or drum pads. The bespoke part of it is in these strings that Yann built for the Pig show. He basically made these hacked game controllers with six-foot-long strings attached to the joystick. And we can all affect different things by pulling these strings. Because they're all playing the same sound, you end up, I'd say when we played for about an hour, there'd be between 15 and 35 times within that hour where someone looks up and says, 'Am I doing that? Or are you doing that?' There's a great feeling of not knowing what you're doing ultimately. And then it comes back into focus where you realize what bit is yours and what you have control over.
Did you incorporate any samples from past recordings or did you really limit yourself to that one sample?
It's just that one 10-second sample. That was really crucial to me, partly as a geek out, acknowledging how extraordinary the tools we have are by making hours of music from such sparse source material.
And that's the thing, too–the record feels more open than other ones you've done because of how much you've done to that one sound. The lack of structure really keeps you guessing.
Yeah, it's funny. I could probably sing the whole thing to you, but it's supposed to be this unsettled meditation with some logic. And I do know that logic pretty accurately…That's what I mean about the process, about building this thing where everything has a reasoning behind it. It's not just there because Yamaha decided it was the best approach to making music.
You must fuck with the knobs on whatever program you're using immediately when you're making music.
Yeah, there's a great software company called Sugar Bytes out of Germany that has this randomize button I wish every bit of software had. It's like the John Cage button.
Is this an idea you've wanted to explore for a long time–constructing an entire record out of just one loop? Or did discovering the sound itself inspire the idea?
I wanted to do it for a while; it was just a matter of working out what the sound was. I was thinking it could be the recording of my second child being born–that that first cry in the world would be interesting but it didn't feel quite right. Maybe I'll do that next. But yeah, I liked the idea of taking the tiniest noise, whether it was the last drip of water as Bush left the White House or the sound of Tony Blair stepping in dog shit, this small moment you could take apart and amplify into something bigger. But I got emailed this sound out of the blue and it self different from the way I'd been experiencing [the war] through Al Jazeera or whatever. The recording is actually longer than I would have liked. I'd rather it was less than a second.
Why is that? Because of how challenging that'd be?
Yeah, giving me 10 seconds of material feels like giving me a library of 10,000 12-inches. There's just so much.
Why didn't you just cut the 10 seconds down to five and use that? Is it because you didn't want to mess with the integrity of the recording?
Yeah, it turns out that Sebastian [Meyers] actually had a two-hour recording, and that was just one little part of it. He basically wandered around Libya with his microphone on while he was taking photos. The issue really, for me, was this whistle just before the bomb exploded. It gave it this human context and a tone I could turn into a melody, which was a welcome thing. There's also a minute narrative in it that's worth exploring–this state of anxiety before the bomb goes off, and then this panic afterwards. You need all of those parts to be present.
"There's bigger stories to tell somehow"
Was the record mapped out then, or was it more improvisational?
I basically had fragments for each of the three movements and we improvised around them. The band is credited as songwriters, as they were co-composers for all of it, really. But yeah, I definitely had three parts in mind–the first part is this stasis; the second part is like 'here it comes'; and the third part is 'it's here'.
Was it important for you to not be overtly war-like with the sounds, to not be too militaristic and literal?
It'd be nice to avoid the obvious with everything we do in life generally but our brains have a way of tricking us into doing things we think are original and maybe aren't. I don't know; I think the meditative quality was really important to me. I wanted to be able to listen to the sounds again and again and again and see if I learned anything new from them at the end of the process.
So did the act of making this make you want to make music that's more drone-y and experimental?
Well the next record is nice pretty songs with an orchestra, so it's not like that. What I love about this record was the act of playing with these different musicians. It functions in a different way; it's liberating, really. Like someone described this record as 'Bitches Brew on Ketamine.' [Laughs] At times, it felt like playing in a jazz quartet as we were doing it but we were playing textures and memories as well as melodies and harmonies.
Did your recent digital box set put anything in perspective in terms of what you did and didn't want to do?
Listening to that stuff was definitely an odd experience. Without sounding too disingenuous about it, it made me realize I've done quite a lot now, and that I need to keep my head down and keep doing stuff. I suppose I am 41 now, but yeah, it made me realize how far I've come and how lucky I've been. There's an incredible naiveté to a lot of the music on that box set that I'll never get back again. Trying to write in that way would be like trying to fake an innocence, which in and of itself feels like a conservative gesture.
Do you mean how playful those songs are?
How they're put together, what their ambition is, the kind of equipment that was used. I mean, I'm obsessed with making things sound as good as possible these days. I've spent far too much money on nice gear. Some of that music was made on terrible gear and still sounds okay, but I can still hear how it could be better. I think there's an ordered, structured simplicity to them that doesn't feel that way anymore. Being alive feels like a mess–scary, dangerous, out of control, unknown and unrighteous.
Well your old records were made during more optimistic times.
Yeah, 1997 was when Tony Blair was elected. I think he's a dreadful human being now, but at the time, it was very exciting–this idea that Thatcherism was coming to an end. There was a change in mood throughout the country, and all of these record labels and clubs were starting. It was the beginning of a proper European electronic music scene, really. So there was a great optimism.
Do you feel the same way about your Radio Boy and Doctor Rockit material–that they're very much of a certain time and place, and can't be replicated?
Yes, it does feel that way. One of the reasons I was able to go back to Wishmountain in the past year was because there was always this secret part of my life that still really thinks that how I was trying to write then felt authentic to me. It was a way of writing I carved out for myself at the time that felt right to me, whereas the other things felt a little diluted somehow. There was a clarity of gestures from Wishmountain that I liked, whereas the other stuff is associated with, as you said, a time and place, really.
But there's still a continuity to what you're doing, even as you change aliases. Like Radioboy tried to address a lot of the same issues you approached on Plat Du Jour.
Yeah, it's all part of the same story, I guess.
Well one thing I wanted to ask you is why you bought a sampler when you turned 15. What led to that decision?
The impetus was how crap I was at making music. The gulf was so vast between the noises I was making in my bedroom and the noises I was hearing coming out of the radio. I was lost really; I didn't even know how to bridge that gap. And I was still quite young, so…1988 was the Summer of Love in the UK, when acid-house happened, and I was just 15 at the time, still a god-fearing, Sunday-going Methodist. I didn't get involved in that stuff until I went to university, really, so dance music was not an obvious route.
I remember going to the record shop and someone sampled "everybody dance now!", just chopped it up, and it sounded brilliant. Just like the record, and something I could play on my keyboard at home. That made my music sound authentic–because it was like the radio, just chopped up. Just like how you could sample drums without having a drum kit. This shortcut to authenticity is one of the reasons I'm so mouthy about the way technology is organized these days–because it panders to that fundamental desire for shortcuts.
Did you spend many years playing more traditional music before this then?
Oh god, yeah. I've written some dreadful, sub-Elton John piano ballads. There's probably 250-300 guitar songs I wrote around that time period that no one will ever hear.
You sure you didn't resurrect them for the One One record?
[Laughs] Yeah, no. I worked that stuff out in private.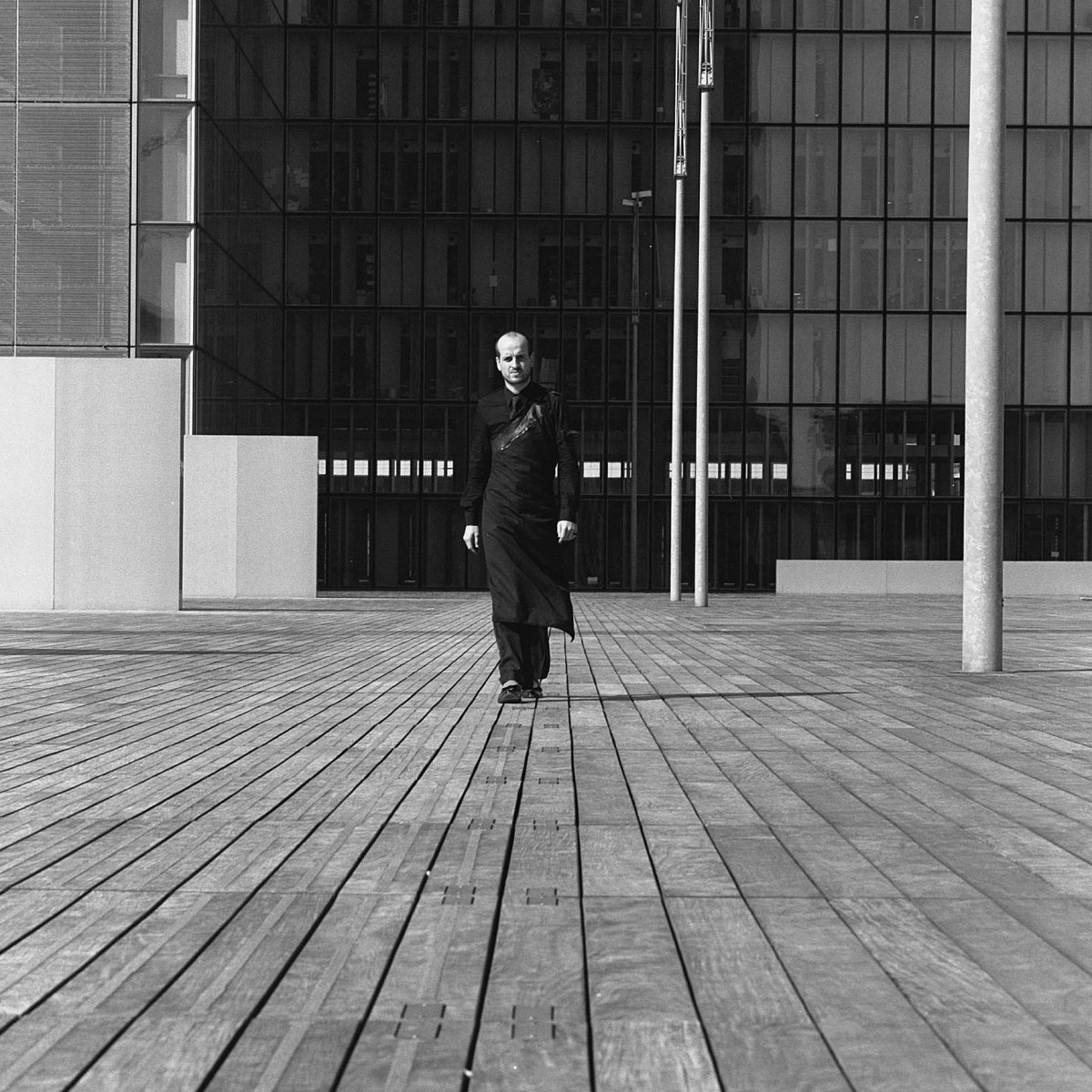 You were really active politically at a young age too right?
Yeah, that's right. It's always been a part of my family life. Like my grandfather lost all his friends during the second World War and went to a labor camp, and was treated very badly. He gave me a leather-bound copy of Marx and Engels when I was like 10. But yeah, you couldn't live through the horrors of the miner strike and Thatcher's policies without wanting to do something about it. They were ending free education, basically, and my mom's a teacher so…it was just part and parcel of growing up for me.
What did your father do then?
He was a sound engineer for the BBC. And since my mom was a teacher, they were both involved in public services in some way.
Is it surreal to be asked to be the director of the Radiophonic Workshop then?
Yeah, it is. It's very nice. The BBC now is totally unrecognizable from the way it was then, though. Like I remember going in and seeing thousands and thousands of cables and patch cords. Now it's just a bunch of computer screens. It feels weird, like you're DNA is tricking you into something. But I'm happy to be there; I'm a big fan of the BBC, warts and all.
Is what you're doing with them still up in the air, or do you have some specific projects in mind?
There's loads of stuff going on. We just don't talk about it a lot. It's everything from theme tunes for radio programs to big stuff I can't talk about unfortunately. It's important for me to maintain the mystery around it. We're so saturated by information about what Justin Bieber had for dinner last night, so I like the idea of working behind closed doors.
Well the timing seems perfect, what with the influx of Radiophonic Workshop reissues lately and all of the modern musicians to try to emulate the sound of library music and old commercials from the BBC.
Personally, that doesn't interest me a great deal, because it's been done already, and done well. We haven't really come out and said this publicly yet, but collectively we feel that there's very little surprising textures that can be achieved through synthesizers anymore. It sounds amazing still; it's just not surprising. So a lot of the stuff we're doing is sound-related rather than based around synthesizers. The other thing about the old Workshop stuff is it was all about thinking about the future. And my contention is we're in the future. Everyone can do it and carry it around in their pocket. The potential is extraordinary in many ways.
Is that why you've set so many limitations for your work in the past–because if you left it so open-ended, it would never get done?
I think of it the way a photographer thinks that they can't take a picture of everything in the world. So it's like, 'Okay, do I take pictures of people or landscapes or buildings?' Then it's like, 'What kind of buildings?' It's really important to apply the basics of artistic principles–why am I doing this, what's the intended result, and what does the listener expect to hear or feel after hearing it, and what's the best medium to express this idea on? All of these basic principles need to be in place before you turn the key on the door of the studio. If you just walk in and start playing, you have to work 100 times harder to do something original.
Do you feel like you've said everything you'd like to say about the food industry through your music? Here in the U.S., that's a topic that just seems to be reaching a mainstream audience, so it seems as relevant now as it's ever been.
That debate is certainly different in the UK, but if you look at supermarket profits, they're still absolutely enormous. Three out of every pounds is spent there, or whatever. The figures are vast, and enormous. And if you didn't want to buy a prepackaged sandwich at your supermarket and you just went to a corner shop instead, chances are the ham that's in your sandwich is just as bad as the one in the supermarket. It's just packaged differently. So I'm really pessimistic about it. It's this vast, destructive system that's designed to do the wrong thing based on costs.
On the other hand, the biggest consumer of oil is the food industry, so once oil prices go up again, it'll just be impossible [to sustain]. Everything will be over.

You had your second child a few years ago right?
Yeah.
So how do you raise them without feeling completely terrified about their future?
Well, we need more good people in the world, people who can stand up and do things. I think having a kid is an expression of love; without being too much of a hippie about it, we need to be prioritizing kinder responses to things rather than violent ones. And yet the messages from gifts for kids, especially boys, is always castles and knights, and pirates with swords, or Star Wars with Legos. It's this constant diet of violence, served everywhere. I find that very hard.
The great thing about having kids is that you're a tyrant for a number of years; you're a dictator who chooses exactly what goes on his plate.
What did you end up buying him for his birthday then?
We're building him this structure in the garden where he can play. A friend is building it out of a tree in the woods. So I'm feeling pretty smug about that. [Laughs] The older one would probably prefer to have a ninja Lego but yeah, it's hard. It's really hard. But you know, kids are amazing.
Do you find yourself compulsively recording them in the same way many parents feel like they have to photograph every second of their kid's life now?
I do, quite a lot. Because the way they speak is quite odd–how they sing songs is so strange. And it often passes so quickly. We'll spend a couple minutes at the end of the day just recording songs or them speaking. My mom when I was 22, and you just get to this point, where I can't even remember what her laugh sounded like. And you think, 'You know what? That'd be a nice thing to have.' So I try to record my kids laughing.
And you record yourself for them as well?
Oh god, the poor kids. There's far too much of me rambling on in interviews on YouTube. I'm over-documented, if that's even a word.
Could you ever see creating a record around your kids? Or is that far too personal?
It feels a bit narcissistic. Like no one else's kids are really that interesting. No one finds them as fascinating as you do. So there's bigger stories to tell somehow.
What's your next record going to sound like? A bit more like your big band ones?
No, it'll be something different. Bodily Functions was like an electronics-plus-acoustic-jazz aesthetic, so I'm thinking about doing an electronics-plus-classical approach, with an orchestra. That's the next ambition. I just need to find someone to pay for it.
Do you already have players in mind?
Yeah, I just have to raise the money.
What about vocals?
It's going to be a vocal record, yeah. I'm looking forward to singing some songs again.
You're going to be singing again huh?
No, no, I'm not. I just mean instead of doing this funky, worthy shit. [Laughs] //
Check out Matmos' guide to key Matthew Herbert tracks here.