In a little more than a week, The Unicorns will play their first headlining show in a decade as part of Pop Montreal, bringing the duo's all-too-brief reunion to a close after a long overdue Who Will Cut Our Hair When We're Gone? reissue and a round of dates supporting Arcade Fire. Seeing as how we already grilled Nick Thornburn about his greatest muse, death (see also: his longtime band Islands and the Sub Pop-endorsed side project Mister Heavenly), self-titled thought we'd ask fellow Unicorn Alden Penner to weigh in with the stories behind the band's most beloved songs.
In the following exclusive feature, he takes us through every track on Who Will Cut Our Hair When We're Gone?, right alongside a streaming version—bonus tracks and all!—of the entire remastered affair…
"I DON'T WANNA DIE"
A prayer of a song, distilled fears common to men, the mystery and taste of death all shall reach, vanity of prayer and life.
"TUFF GHOST"
Love of James (the band). A slow dance about lack of devotion to the recording process—disappearance and appearance.
"GHOST MOUNTAIN"
Search for meaning, territory, loss of innocence. Return from the colony to the desolate kingdom.
"SEA GHOST"
I recently read the Old Testament story on Jonah and the fish with my dad in a family copy of the Bible from the 1800s. Inside the family bible is handwritten the births, deaths and marriages of the family. There is this nostalgia for the old world and wanting to sail but the storm is all around and Jonah is so emotional. I was backstage before we played in Brooklyn at the Barclays Center on August 22nd with the lights off and the door locked, sailing on a memory of an afternoon on the seas with my dad two weeks earlier.
"JELLYBONES"
Recognition of love, the sickness of love. Nick's way with words had a charming effect and provided the lyrical compass I followed in our early days writing each other letters and working on music, learning to play parts. I always came upon lyrics by chance, or evolution of basic sounds into words. This I thought as weakness. But it is kind of like those shred videos on the Internet. I start with the shred. Weakness is not necessarily bad.
"THE CLAP"
Here is an example. It is a lyrical reworking of an older song, "William, Clap Your Hands." I mostly think melodically or rhythmically, so I worked the text into a song I had made while washing dishes and visualizing movements on the guitar neck and wondering what sounds would be produced.
"CHILD STAR"
A reworking of an earlier song. Maybe the shaker didn't need to be there the whole time but it was in the overhead mics so we couldn't remove it. Nick's favorite.
"LET'S GET KNOWN"
Another kind of prayer.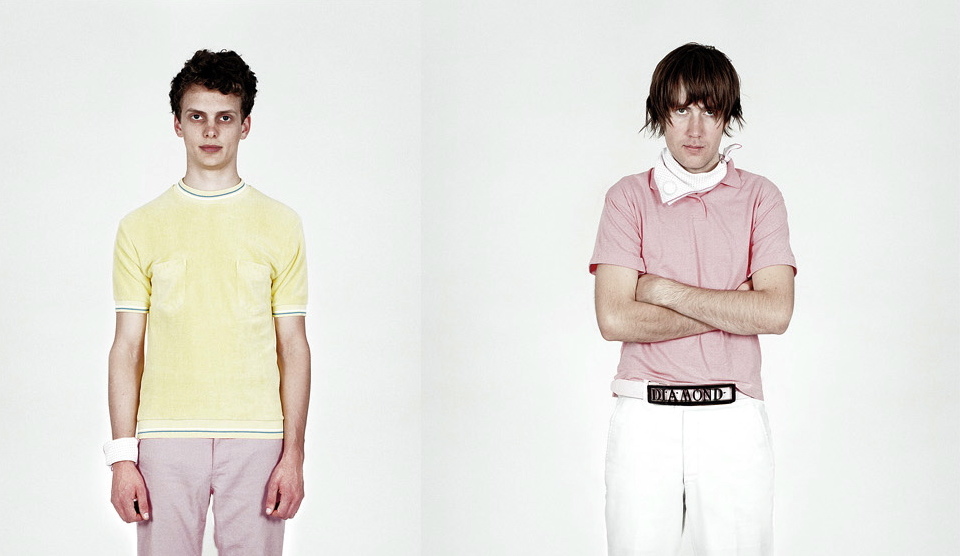 "I WAS BORN (A UNICORN)"
I love highlife music and this style of guitar playing is my expression of appreciation. I was discussing with a friend last night about the advancement of our music from part to part, without return, or at least rare returns to early motifs. It is a five-course meal prepared with great care and each course presented with attention to the guests, naming the origins of ingredients and pairing each course with the appropriate wine.
"TUFF LUFF"
Every kind of intoxication with art and transformation. More prayer. You can hear traces of "Let Me Sleep" (from the newly released bonus material) at the very end printed on the magnetic tape used to record the song.
"INOCULATE"
A rap song, an Orson Welles devotional. Brand marketing. Stomach, brain, staring at screens all day to find freedom through music. Always the biggest hit, no need for substance but the ecstasy of sound.
"LES OS"
Nick called this song "punk beauty" when he heard the demo.
"READY TO DIE"
I love the bass line at the end.
BONUS TRACKS
"ROCKETSHIP"
We are big fans of Daniel Johnston. This might have been one of the first songs recorded in the lead-up to the WWCOHWWG sessions. It was supposed to go on a DJ tribute compilation that was never released. Some overdubs were added in 2014 during mixing.
"LET ME SLEEP"
Nick and I would perform this as a duo early on and I would play keyboard and drums at the same time because I saw a band called Jerk With A Bomb in Vancouver when I was young that did that and it blew my mind. Overdubs were added in 2014, including violin by Sebastian Chow.
"EVACUATE"
My sister just wrote to me saying she was "chilling to 'Evacuate'. I have no idea what it's about but I like it." She included a thumbs-up symbol and a winking smiley face after saying "I'm big time." Sister, this song is about the power of persistent prayer.
"HAUNTED HOUSE (LIVE)"
This song was either great or a train wreck live. We never attempted to record it because it relied so heavily on improvisational storytelling relating to the crowd we were playing for and the experiences we were having on tour. When everyone starts clapping in this recording I get shivers down my spine. We used to have the chords at the very end spell out D-E-A-D, but it didn't sound as good musically as it did conceptually.
Islands are currently on tour. Check out some of their songs below, along with a selection from Alden Penner's last solo LP and his other band Clues…
[youlist pid="PLlxVAExh_bYaAG3FxOQN_I9kWtclYnDrq" width="960″ height="540″]