Photography DANNY NORTH
Words ANDREW PARKS
It's easy to be cynical about seeing U2 perform The Joshua Tree in 2017, easy to argue they haven't made an essential album since 2000's All That You Can't Leave Behind. But let's be real here; there's a difference between The Mighty Mighty Bosstones and Bayside (!) playing their Very Best Albums at Riot Fest and one of the greatest arena-rock bands ever reminding us how they got here.
Many of us are too young to remember it—myself included—but The Joshua Tree was a revolutionary record when it dropped in 1987. This was the pop cultural peak of the glam-metal era, after all, the same couple years when Slippery When Wet, Hysteria, and Appetite For Destruction all served up platinum-certified platters. But unlike U2, they put style before substance.
Co-produced by Brian Eno and the largely underrated Daniel Lanois, Joshua Tree wasn't just hailed as an artistic breakthrough. It was the LP that launched U2 into the stratosphere—selling more than 25 million albums worldwide and earning several key GRAMMYs alongside a legacy spot in the Library of Congress.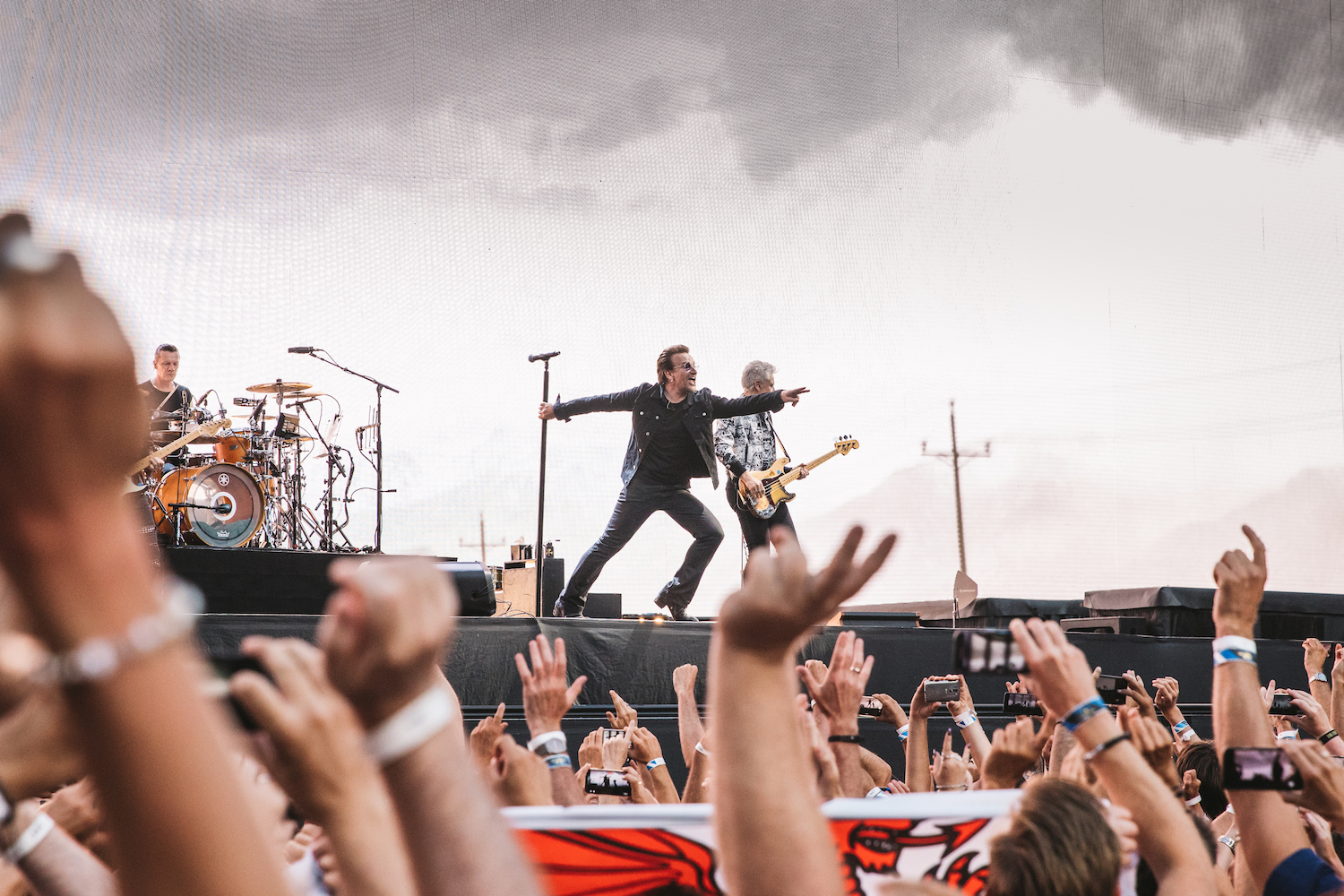 In other words, what did you do today? Me, I spent most of the day processing last night's show at New Era Field in Western New York. The second stop on U2's brief tour with Beck—the latest leg of a Joshua Tree jamboree that lasts through late fall—found them switching between long stretches of pure joy and jagged reminders of just how sharp The Edge can be alongside Bono's soaring melodies and the rock solid rhythm section of bassist Adam Clayton and drummer Larry Mullen Jr.
"Here we still are; there you still are," Bono said after a rousing rendition of "Where the Streets Have No Name." "Nothing's changed; everything's changed."
What he meant to say, and made abundantly clear as the evening approached its midnight curfew, is that the Trump Age shares more than a few similarities with the Reagan administration that haunted the Joshua Tree sessions in the '80s.
Or as The Edge explained in a Rolling Stone interview earlier this year, "It was a period when there was a lot of unrest. Thatcher was in the throes of trying to put down the miners' strike; there was all kinds of shenanigans going on in Central America. It feels like we're right back there in a way. I don't think any of our work has ever come full circle to that extent. It just felt like, 'Wow, these songs have a new meaning and a new resonance today that they didn't have three years ago, four years ago.'"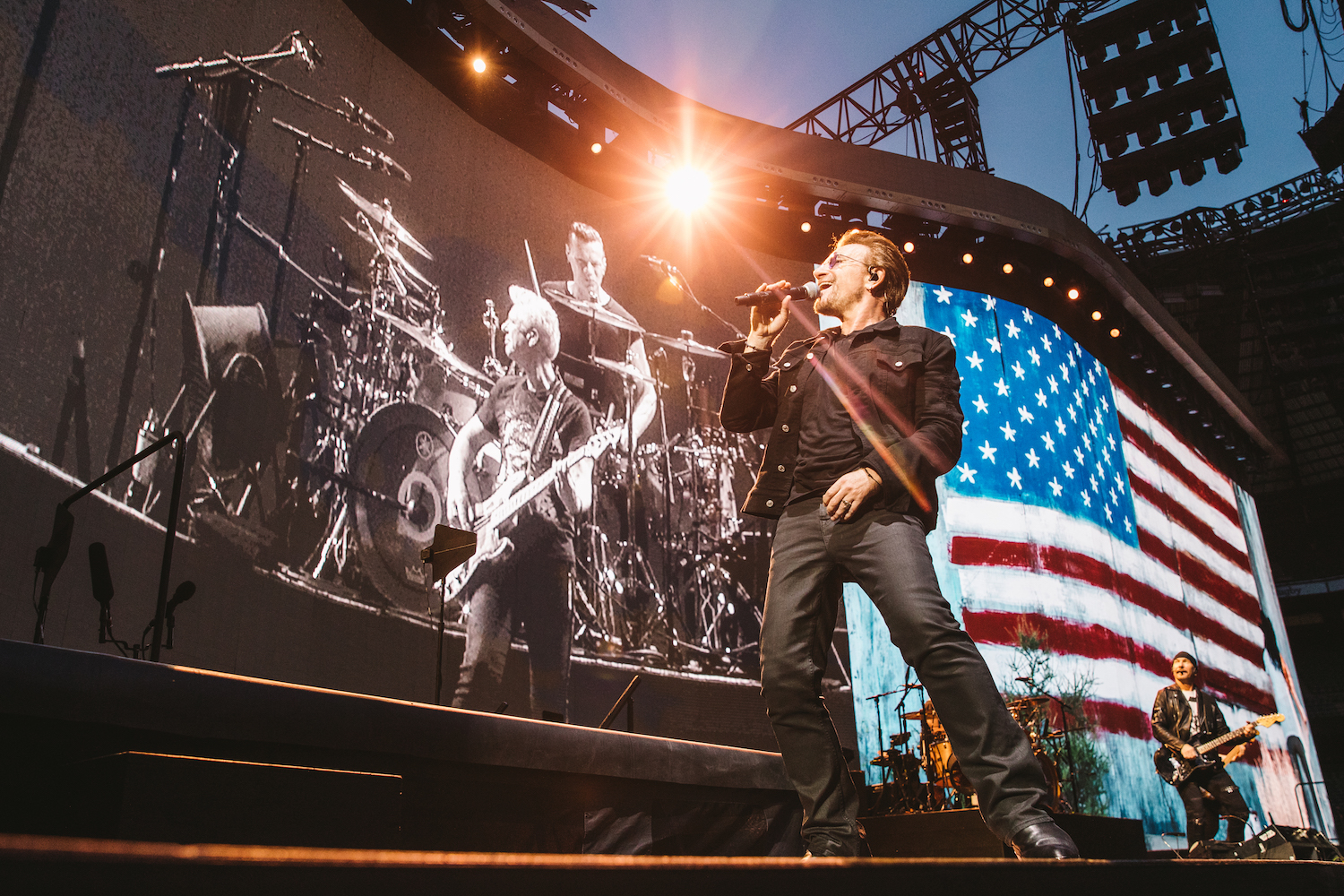 Here's the thing, however: While U2 fans may have welcomed their rallying cries 30 years ago, quite a few of 'em had a hard time accepting Bono's anti-Trump asides last night. Many remained noticeably silent, and some even booed, as the singer aired his views on everything from women's rights to the downfall of DACA.
"This country has been a second home for our band," he said at one point, adding that Irish immigrants were once considered "economic refugees" here. "America—not just a country, but an idea, a great idea, one of the best ideas ever."
That's something else people forget about The Joshua Tree; it's a warts-and-all love letter from U2 to the U.S., celebrating its natural beauty one second and taking us to task the next. ("Bullet the Blue Sky" isn't just a brash anthem; it's a commentary on questionable military campaigns in Nicaragua and El Salvador.)
Maybe that's why a run through of "Beautiful Day," "Elevation," "Vertigo" and "Mysterious Ways" felt like such a relief; because they're examples of when U2 set their politics aside and revel in the raw power of rock 'n' roll.
Sad? Well, yeah. But at least the night ended the way it always does: with an encore presentation of "One" and its dogged faith in humanity. Come to think of it, these opening lines resonate now more than ever: "Is it getting better? Or do you feel the same? Will it make it easier on you, now you got someone to blame?"
U2 SETLIST:
Sunday Bloody Sunday
New Year's Day
Bad
Pride (In the Name of Love)
Where the Streets Have No Name
I Still Haven't Found What I'm Looking For
With or Without You
Bullet the Blue Sky
Running to Stand Still
Red Hill Mining Town
In God's Country
Trip Through Your Wires
One Tree Hill
Exit
Mothers of the Disappeared
ENCORE:
Beautiful Day
Elevation
Vertigo
Play Video
Mysterious Ways
Ultraviolet (Light My Way)
One