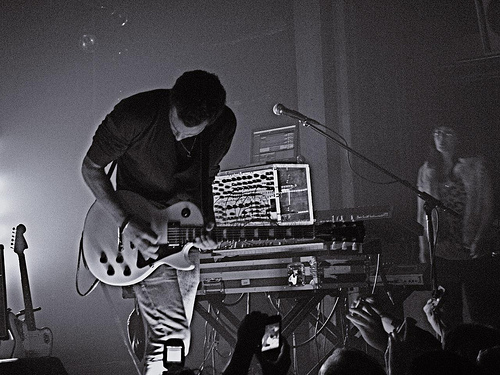 [Color photos by Andrew Parks; Black & white shots by Aaron Richter]
Melodramatic much? That's one way of putting M83's rather epic set at Webster Hall on Friday night. Setting things off with a carpe diem rendition of "Run Into Flowers," Anthony Gonzalez led his airtight backing band through nearly two hours of sci-fi noir scores and widescreen pop that covered most of Saturdays=Youth and just about every back catalogue cut that matters. As sufficiently over-the-top as the whole thing sounded, the band's impeccable mix could have been cranked up a bit. As self-titled's associate editor, Aaron Richter, said, "Black Rebel Motorcycle Club's acoustic show at Webster Hall was louder than this."  Because of this, the edge was taken off such gorgeous and grand cuts as "Teen Angst," "Moonchild," and "Kim & Jessie," keeping M83 from reaching truly transcedent heights.
In other words, we left feeling uplifted instead of what we were really looking for: an experience that bowls us over and sweeps us straight off the ground.
As for M83's openers, we dig School of Seven Bells' Ghostly debut so much that we got to Webster at the crack of 8 to catch their entire set. "Half Asleep" quickly reminded us why it's one of our favorite singles of the year, but the trio's set suffered from headphone listen syndrome. Sorry guys, but Webster Hall is and always will be too cavernous to capture an album as intricate and rich as Alpinisms. That said, SVIIB is a must-see as soon as they start headlining mid-sized clubs. Lots of photos after the jump …