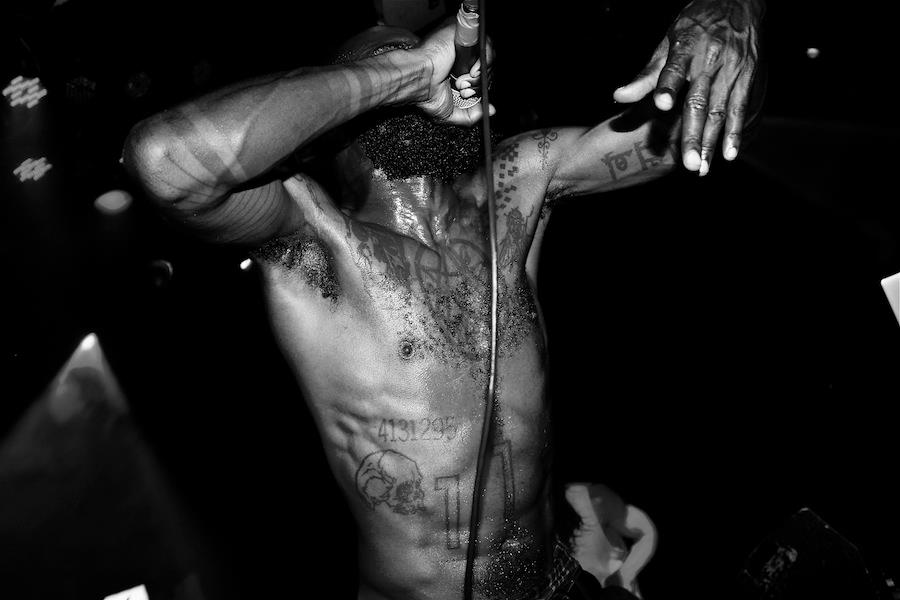 Since self-titled revolves around three very different people, we thought we'd share individual year-end lists from each of our editors, ending with our EIC, Andrew Parks. It'll be followed by further Best of 2012 coverage from our favorite labels and artists in the next couple weeks…
10. Ceremony, Zoo (Matador)
As much as I applaud the audacity of Fucked Up's attempts at making true punk rock operas–hey, it's better than watching Green Day on Broadway–I prefer a more subtle approach. Records like Zoo, a hardcore album that's not afraid of pissing off purists and weak-willed indie kids in equal measure. They don't tour much, but if you ever get the chance to see them live, go. It'll be like seeing this, only in 2012.
–
9. Perfume Genius, Put Your Back N 2 It (Matador)
Remember the suicide attempt scene in The Royal Tenenbaums that was scored by Elliott Smith? Well if Wes Anderson decided to relinquish his music supervisor role for a 2012 reissue of that film, I'd toss Perfume Genius' absolutely devastating "Dark Parts" single into the mix. Or any of the other tracks on this album, for that matter.
–
8. Laurel Halo, Quarantine (Hyperdub)
It can feel like a night spent in a sensory deprivation chamber at times, but that's kinda the point–Laurel Halo isn't out to rehash the machine music she grew up with here. She's in hot pursuit of an avant-pop ideal, something she refines with every record and scrambles completely live.
–
7. Kendrick Lamar, good kid, m.A.A.d city (Top Dawg/Aftermath/Interscope)
When I first heard "Backseat Freestyle"–one of the first leaked tracks from Kendrick Lamar's eagerly awaited major label debut–I loved the beat but couldn't believe how junior high the chorus ("I pray my dick get big as the Eiffel Tower/ So I can fuck the world for 72 hours") was. Little did I know that it was intentional, one of many carefully plotted chapters in Lamar's own coming-of-age story. Between that–a concept album with the telling subtitle "A Short Film by Kendrick Lamar–and the rapper's other mainstream flirtations (hanging out with Lady Gaga at the Pitchfork Festival, performing with Dr. Dre at Coachella), 2012 may be looked at as the year Lamar's career took a Kanye-like turn. While he'll never be that popular–his creative vision is too complex, and he doesn't seem too concerned about denting the pop charts–Lamar shares a similar Napoleon complex, a need to prove us all wrong and push hip-hop in several different directions at once. I eagerly await his next move.
–
6. Cloud Nothings, Attack on Memory (Carpark)
Wondering what it's like to be a high school–or even worse, college–graduate in 2012? Listen to Dylan Baldi's second proper LP at the helm of Cloud Nothings, then go see the band on tour. One of the most powerful punk-not-punk outfits in the country right now, they're not being melodramatic when Baldi leads a vein-popping chorus like "I thought, I would, be more, than this." He's means every line, and won't stop screaming at the rest of us until we start tearing down the walls together.
–
5. Chromatics, Kill For Love (Italians Do It Better)
When we spoke to Johnny Jewel for a couple hours this past spring, he promised new albums from both of his main projects–Chromatics and Glass Candy–and the long-awaited second volume of his label's After Dark compilation by the end of the year. While the latter may still drop on the Italians Do It Better Web store in the next few weeks, the chipped gloss of Glass Candy's next LP probably won't make itself known out until next spring. But that's okay–preferable, really, as Jewel is quickly establishing his position as one of the underground's only true auteurs, an obsessive producer who doesn't put end credits on his record sleeves to be cute. He does it because he never leaves the director's chair.
–
4. Julia Holter, Ekstasis (RVNG Intl.)
Endlessly inventive and–like her myth-making Tragedy LP–nowhere near as academic sonically as it is conceptually (something about Medieval manuscripts and a "desire to get outside of my body and find what I can't define"), Julia Holter's breakthrough album provides a portal into a world only she truly understands. All we need to do is walk through and savor all the surrealism.
–
3. Andy Stott, Luxury Problems (Modern Love)
In a year where countless producers continued to make electronic music that's murkier than the ocean floor and moodier than a drug-free manic depressive, one record clearly stood out above the rest: Andy Stott's drone-y, eminently danceable exploration of operatic despair. To quote one of its echo-laden loops, "it's heavy."
–
2. Death Grips, The Money Store (Epic)
No artist excited and/or angered me more in the past 12 months than Death Grips. With Zach Hill banging out their battery ram backbeat and Stefan 'MC Ride' Burnett spitting whatever he damn well pleases like a Jurassic-era Dilophosaurus, the duo (sometimes joined onstage and in the studio by keyboardist/producer Andy Morin) was as punk as music got in 2012. And while their brief brush with the music industry machine may have felt like one long con, it's ultimately hard to believe that Death Grips did it for the money or to simply look cool. If they cared about either of those things, they wouldn't have walked off the deep end so thoroughly, ensuring that they'd be back where they started–on their own, with little to show for their success but some sold-out shows–by the end of the year. Here's hoping someone who actually understands their vision finds a way to tame their implosive impulses sooner rather than later.
–
1. Swans, The Seer (Young God)
When Michael Gira called the 2010 return of Swans a "reactivation" not a reunion, he wasn't getting swept up in semantics. He was dead serious, nullifying any post-ATP assumptions that this would be a temporary nostalgia trip and ushering in the second coming of Avenue B's most important post-punk band. As thrilling as their last album (My Father Will Guide Me Up a Rope to the Sky) was, it was nowhere near as uncompromising or unreal as The Seer. Centered around side-long songs and slightly suicidal flights of fantasy, it's pretentious in theory and downright therapeutic in practice. If you have the patience to sit through a two-hour double album, that is. When music's ballsy and breathtaking in equal measure, I do.
Couple that with a live show that's an endurance test for everyone within earshot, and Swans aren't just enjoying a resurgence. They're on their way to surpassing a high water mark most would groups would never even graze. Still not convinced? Stream the rest of the record here, along with Gira's track-by-track commentary.