STEPHEN MALKMUS & THE JICKS: That girl in the hat sure looks familiar, eh?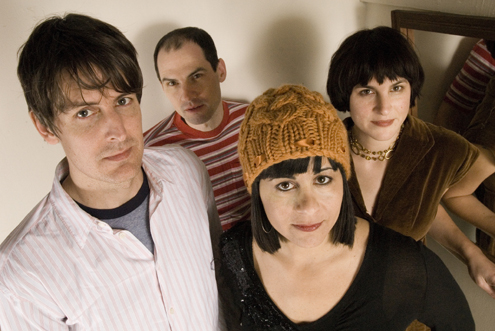 [Photo by David Torch]
By Aaron Richter
As you all certainly know by now, new releases hit record-store shelves and digital-download services each Tuesday. So every week self-titled presents a new release you'd be stupid not to own (Buy It), one worth checking out if you're the curious type (Burn It) and something you might have heard about but probably should avoid (Skip It). Simple, ain't it?
"Out of Reaches" (sound check version)
[youtube=http://www.youtube.com/watch?v=NP8vUFxYsJU]
Buy It
Stephen Malkmus & the Jicks, Real Emotional Trash (Matador)
Why bother with an endorsement of Stephen Malkmus, really? From an indie music Web site? Please. We're preaching to the converted. Why waste the keystrokes? Of course, we've grown accustomed to liking (and pretty much just liking) dude's consistent, never full-blown fantastic post-Pavement output. But Real Emotional Trash is the type of record that gives us a new high-water mark with which to hold Malkmus accountable. First off, it's the product of a full band. The nonsensical verses we love so dear are present but tamed far from the centerpiece, a position taken over by the Jicks as a whole. Bright keyboards tinkle "Cold Son" while organ and piano build the simple "We Can't Help You." A few Television guitar solos scatter the record, leading to aggressive bits such as the swirl of haze that engulfs "Elmo Delmo" in Sonic Youth distortion or "Baltimore," which is rough in all the right areas, including a champion turn-of-pace midway through. Though none of the full-band moments can really top the repeating of "Richard Avedon" (Richard Avedon) on "Gardenia," a super-bright track littered with female cooing, as one of those shining Malkmus snippets of toss-off turn-of-phrase brilliance. Ex-Sleater-Kinney drummer Janet Weiss (a new Jicks recruit), despite dealing with relatively lighter fare than vitriolic S-K anthems, tones nothing down behind the kit. Her trademark brutality on the skins propels songs such as "Hopscotch Willie," which could easily have been a noodley wander-fest, to explode with a newly re-ignited vitality. In all, Real Emotional Trash is the kind of career benchmark significant because it stands out among, oh, so many career benchmarks that have passed. It might even be better than all but two Pavement albums. Guess which ones!
MP3: "Cold Son"
MP3: "Baltimore"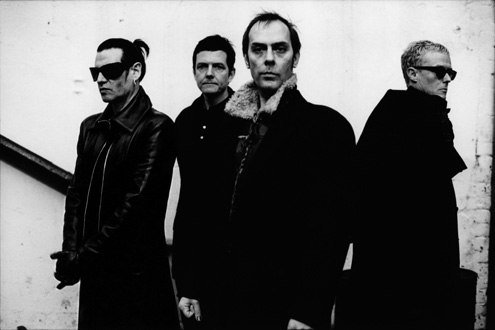 Burn It
Bauhaus, Go Away White (Bauhaus Music)
It goes without saying: Bauhaus did not need to make this record, and the English doom-mongers' catalog isn't any stronger with Go Away White as a closing bookend. In fact, in five years' time, probably no one will remember it. But please, if you will, take a few minutes to listen to how Peter Murphy intones the word "exhausted" near the beginning of the studio-bantered "Mirror Remains," and you might rediscover a slithering gothic urge you haven't felt since your last tube of Kohl dried up and you got a real job. Crisp and demonic, Go Away White is surprisingly hyper-produced, as if it were performed by session musicians rather than the real band members. Daniel Ash slings his slicing guitar with exact precision, and David J's bass lingers and snaps in perfect time. They even toss in some disconcertingly cheery  "doodoo doo doo doodoo" vocal accompaniment on "Black Stone Heart." What's going on? Much of the record feels like one of those pesky Gang of Four reunion concerts–a bit stiff, a bit old, a bit confusing–but that's absolutely no reason you shouldn't be able to enjoy it.
Listen: Official MySpace page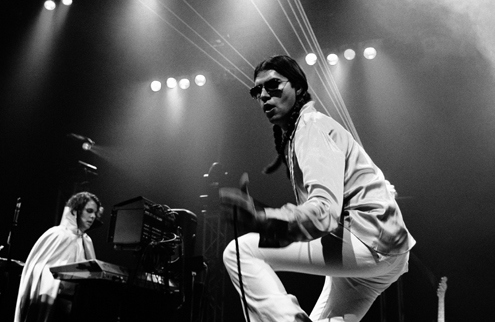 Skip It
Ghostland Observatory, Robotique Majestique (Trashy Moped)
Please. Stop. This. Band. Ghostland Observatory's third disc of–I guess you would call them songs–unfolds like a Cobrasnake photo gallery, all saucy build up and wasteoid PG-13 hijinx without the money shot. But we're left waiting for that LastNightsParty titty glimpse on the bathroom floor, that Urban Pinup, that gritty, drug-addled underbelly. We know the consequences, and though our judgment might be a bit impaired at the moment, we're fully prepared to accept them. Now lay it on us. But vocalist Aaron Behrens is too busy singing like he wants to be signed to MySpace Records. For anyone hating on Chromeo: Nah, kids. This, right here, is how you absolutely ruin a perfectly fine musical fetish. Nitzer Ebb would be ashamed.