MY MORNING JACKET: Coming to an elementary school play near you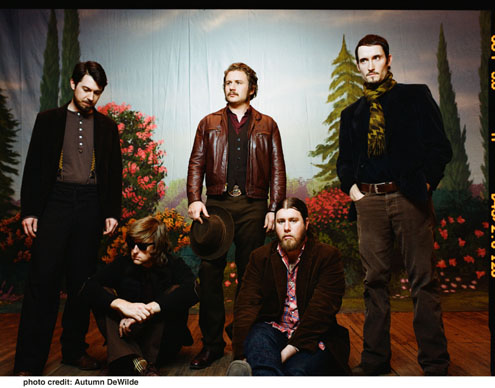 By Aaron Richter
As we all know by now, new releases hit record-store shelves and digital-download services each Tuesday. That's why self-titled presents the following every week: a new release you'd be stupid not to own (Buy It), one worth checking out if you're the curious type (Burn It) and something you might have heard about but probably should avoid (Skip It). Simple, ain't it?
Buy It
The Twilight Sad, Here, It Never Snowed. Afterwards It Did (FatCat)
For anyone who dug the Twilight Sad's widescreen debut (Fourteen Autumns & Fifteen Winters) as hard as self-titled, this six-song EP is an absolute must-have. Forgoing new material (for the most part) to rework old songs, the songs herein are vast and expansive–pleasantly directionless, whereas the epic buildups were much more obvious and expected on the original versions.
On "And She Would Darken the Memory," the accordion, stretched long and slow to create eerie sound blankets, leaps into the foreground alongside post-rock piano keys. The new version of "Cold Days From the Birdhouse," on the other hand, rumbles through jet-engine guitars, never exploding like its predecessor. The title track is the only "new" song. Though it was cut from Fourteen Autumns, the simple, swelling lullaby fits nicely into this moody short collection. "Mapped By What Surrounded Them" swirls and grumbles like a My Bloody Valentine track, disintegrating the visceral strength of the "And you shot her down" repetitions. "Walking for Two Hours" is subdued and delicate–relatively unremarkable. And "Some Things Last a Long Time" is a solid, accordion-driven cover of one of Daniel Johnston's best tracks, last overlooked on the hit-and-miss covers album The Late Great Daniel Johnston.
So here's the gist: Listen to the debut for the songs. Listen to the EP to disappear into them.
Stream it online: http://fat-cat.co.uk/fatcat/release.php?id=264

Burn It
My Morning Jacket, Evil Urges (ATO)
Good. Not great. Should be better. Prince falsetto. Over-praised. Sorta experimental. Gorgeous production. "Librarian" is odd. Strange wankery. Cheesy at times. "Highly Suspicious" = mistake. Z = more enduring. Evil Urges = more immediate. Worth hearing.

Skip It
Lil Wayne, Tha Carter III (Universal)
A "Fost" (Friend of self-titled) forwarded us a missive from the Mayo Clinic earlier this week detailing the clinical studies that have been completed in order to conclude that Lil Wayne is officially the world's first retarded rapper. Although the notice had us LOLing for several hours, the only evidence we needed to come to this conclusion ourselves is the much-delayed Tha Carter III, an unlistenable pile of poorly-produced gobbledygook that not only fails to showcase any of Wayne's talents as an MC but also embarrasses hip-hop by dragging one of the genre's most critically lauded stars into territory as dumb as snap music–though Wayne's probably too zonked out of his mind to even notice. In a mainstream hip-hop age where even the most mindless beats sound sonically fantastic, the collection of knockers offered on this record are plastic, flimsy and amateur (check "3 Peat," "Lollipop," "You Ain't Got Nuthin'")–exceptions being Kanye's slow, guitar-guided "Shoot Me Down" (one of the record's lyrical highpoints, as well) and Swizz Beatz's clever, David Axelrod-sampling "Dr. Carter." "A Milli" was great last year when it was called "Hustlin'" and didn't have a line that calls menstruation a venereal disease. Huh?
Wayne's more content to whine, complain, squeak, squawk and sputter than deliver captivating verses or even eye-winking one-offs. At times, you'll find yourself listening to this record missing Lil Wayne The Rapper, as his legitimately spit rap verses seem few and far between amid the bullshit. Maybe if he didn't try so obviously to be weird (check "Phone Home") and just let his eccentricities shine through, this record wouldn't be so awful. Instead, Tha Carter III plays like Weezy is drinking his own hype like codeine.