Considering its cover art was designed by a 4AD alum (Timothy O'Donnell) and its music was engineered by one of the lovely folks behind Loveless (Guy Fixsen), it probably shouldn't be a surprise that Beyond.Desire is such a welcome throwback to a time when shoes were things you gazed at as intently as the stars. Here's an early listen to the lustful LP—due out physically through Moon Sounds and digitally through PaperCup this Friday—along with a complete track-by-track commentary from its two core guitarists/singers….
Brooklyn's Dead L

"DESIRE"
LG: The motif of the album, both thematically and lyrically. This instrumental version of the song appears in the beginning and the end of the album, but always slightly altered. It also appears again with vocals from Ana in the middle of the album, as the title track "Beyond.Desire."
"TEMPLE"
LG: The song is about complete devotion to someone. You can find a desire for someone and make that your primary passion. You strive to put them on a pedestal and build the relationship stronger than just lust.
Ana B: People have been saying how this record is closer to our live show. This song, however, is one where I like that there is a sound and mix on the recording that has a certain balance and feel which is really driving and dynamic and the live version has a punkier, more forward vibe.
"STRAWBERRY.SKIN"
LG: An attempt at reunion. The love of something or someone that will never die. The "strawberry.skin" title was initally inspired by? ?Ruby my red jazz master?. ?Very fun song live that people seem to connect with.
AB: One of my favorite tracks on the record to play! I was thinking of a kind of punk-twee vibe when I came up with the backing vocal. I like that the song keeps the upbeat pop feel while always staying driving, fuzzy and heavy.
"LEMONHEART"
AB: This is a really fun song, thus the fun, crazy video we did to go along with it. I had been wanting to do a song where the vocals we sing are different lyrics and kind of go against and together with each other at the same time. That's really hard to do and only actually made it into the third verse but the sentiment of "sweet and sour" and harmony and friction occurring at the same time is at the "heart" of this song. I like how Lemonheart isn't even a real word but you kind of just know exactly what it means.
LG: Pretty much what Ana said here. It's a person that is grey. That has a sweet heart but can also be sour at times as well. A lemonheart can be used as a defense to numb the pain temporarily, but there's always a price to pay when the pain comes back.
"TEAR.THE.HEART.IN.TWO"
AB: I always think of being lost at sea or diving very deep underwater, disoriented, looking for something lost when I sing this. It's a beautiful song but has a dark undertone and a bit of a non-traditional structure to it that makes it really interesting. The build up at the end is cathartic and painful. It's the experience of working out your own heartbreak.
LG: It's a very sad song. Giving someone permission to destroy you despite still loving them so you can feel what they went through. Our only song in 6/8 on the record.
"BEYOND.DESIRE"
LG: As said before, this is the motif of the album with vocals. The lyrics are about growing and building your character. Searching beyond your basic primal needs to find something deeper and hopefully that discovery is about yourself and the truth in you.
"CLOUDANCING"
AB: This song came together from a band improvisation during a studio recording day session, which is not how we usually write songs. I didn't think it would turn into any thing real but with a lot of work, LG was able to edit it down into a 'story'. We've been working on now re-learning the song to play live, but for me there's still an element of improvisation to it that I always want to keep in it.
LG: The attempt to communicate (dancing) on a higher level with someone after years of miscommunication. To get to the point where you can both be on the same plane or 'cloud' and dance together. While simultaneously working in the lyrical motif of desire and that some people are still constantly distracted by their basic needs of sex and greed. That eventually it causes them to make mistakes and bad decisions thereby holding them down and failing to reach their potential. We recently played it live for the first time and are still trying to find the right balance of structure vs. improv.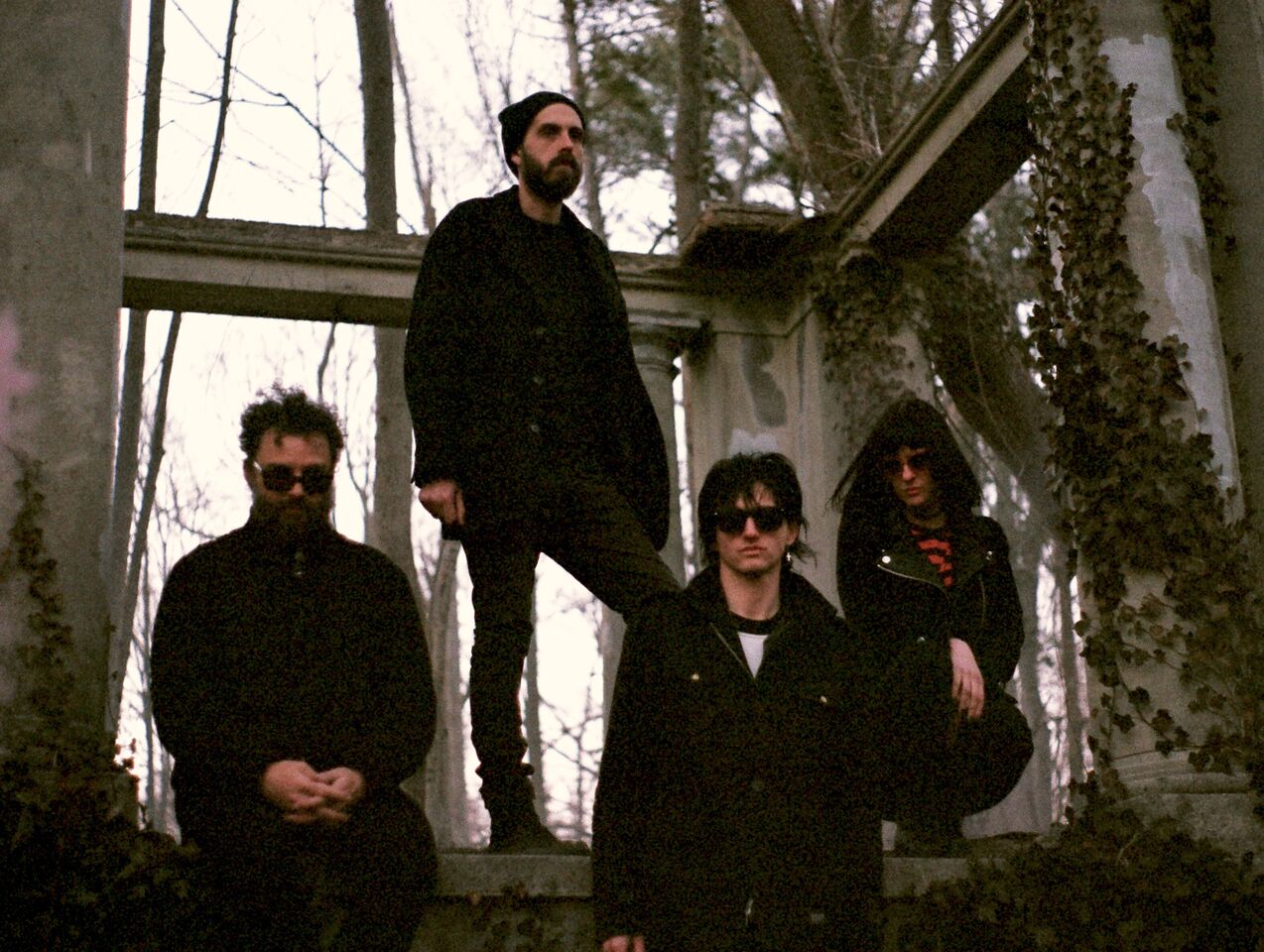 "SUNLESSSOUL"
LG: Was going for a Sundays vs The Ocean Blue Song. The song is about darkness with no hope. Don't be betrayed by its sunny melodies. The lyrics are a view into something that is deceptively evil about the human condition. The song is partially inspired by agoraphobia—"learn to live outside". Ana and I were watching Twin Peaks and Harold Smith was a spark for some lyrics. He dies lonely but hopefully the listener can learn that by keeping your emotions inside, you will never be human.
AB: I was trying to [mimic] Harriett Wheeler from The Sundays when I sing the backing vocal and title track lyric in the chorus. There's a bell-like little arpeggio I play on guitar that draws on what I like about the Ocean Blue and there's a little lyric nod to that band in the song. Those two bands were some of my first favorites so I like the idea of putting them together spiritually in a song that I am playing.
"DRIFTING.INSIDE"
LG: Going for something completely different. I really enjoyed creating this one by myself and having John Cep from The Stargazer Lilies engineering the mix. The songs's lyrics are quite pathetic and sad.
Seeing a loving person turn dark and it's on you for their change: "Darling please don't go to the place to the place deep in my soul where there's nothing left but cold." It's about not knowing where to go in your life. Making mistakes and getting older and having nothing to show for the time you've spent with someone. Pining away.
"IT'S STARTING TO HAPPEN"
LG: An epic barnburner designed as a closing number. It's the moment when you think you might get something back that you had lost forever. It's full on with no holding back.
AB: This one will blow the roof off the house! It's a big song but one of my favorites to perform. There's no way to do this one without being 100-percent fully committed, so that's how we do it every time.
Dead Leaf Echo tour dates:
10/13 Brooklyn, NY – Knitting Factory (record release party)
10/27 Cleveland, OH – Beachland Ballroom
10/28 Hudson, NY – OR Gallery
11/2 Barnsville, OH – Albert S George Youth Center
11/3 Chicago, IL – Quenchers
11/4 Kalamazoo, MI – Bell's Brewery
11/5 Davenport, IA – Baked Beer & Bread Co
11/7 Salt Lake City, UT – Diabolical Records
11/8 San Fransisco, CA – The Knockout
11/9 San Jose, CA – Back Bar Sofa
11/10 San Diego, CA – Whistle Stop
11/12 Los Angeles, CA – Part Time Punks