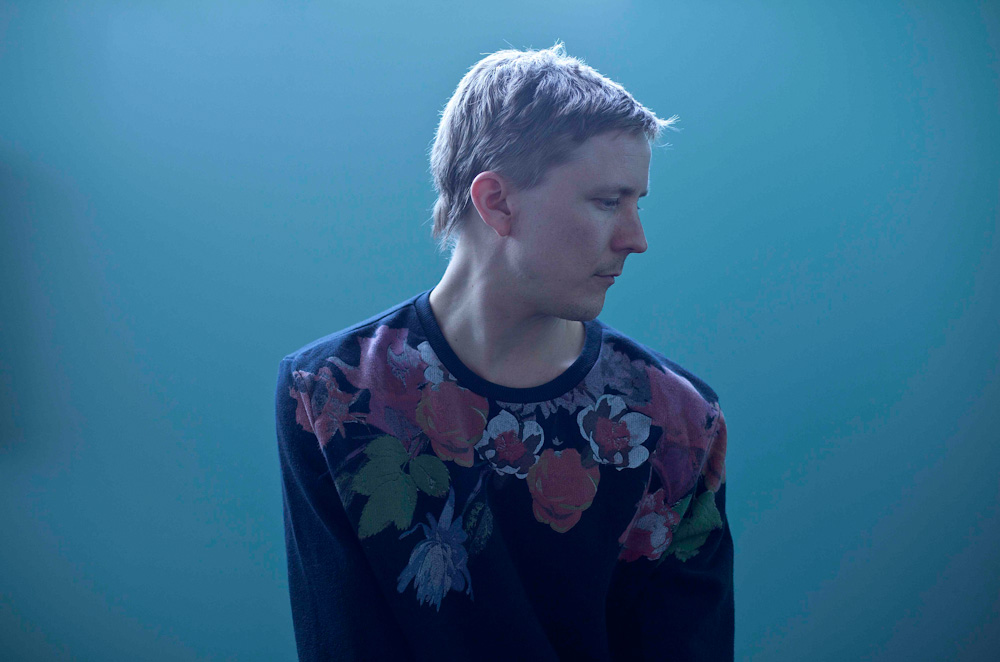 [Photo by Ari-Pekka Auvinen]
Every time self-titled stares down a deadline, we ban our managing editor's extensive power ballad collection and play nothing but drone tones and subterranean techno. Not because we're trying to be contrarian or 'cool'; because everything else is just noise, a distraction from what needs to be done.
One office regular is Sasu Ripatti, arguably the greatest shape-shifting producer of the past decade. Name a mood and Ripatti's got an alias to match it, whether you're feeling melancholic and manic (Vladislav Delay), club-ready and contemplative (Luomo), or feverish and a bit freaked out (The Moritz von Oswald Trio). That last project gets its U.S. premiere at (Le) Poisson Rouge on Saturday, February 6, as part of New York's first-ever Unsound Festival. Tickets are available here. Ripatti will also roll out his popular Vladislav Delay guise on opening night (next Thursday, February 4), as he performs a free-flowing A/V set with Lillevan at Lincoln Center. Details for that free event are here.
In the meantime, we got Ripatti to run through most of his records (19 in fact!), from the first Vladislav Delay EP (1997's The Kind of Blue) to the his least favorite Luomo LP. The Finnish artist even drops a couple hints as to what comes next.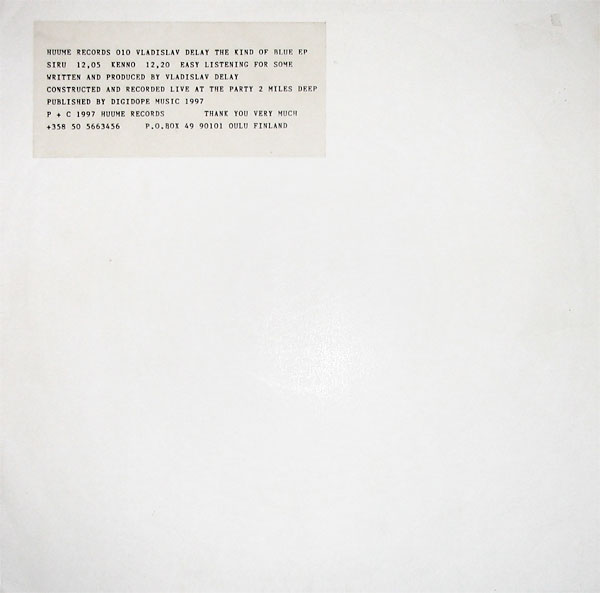 Vladislav Delay, The Kind of Blue EP (Huume, 1997)
My first ever release. It seems like a long time ago already. I wrote these two tracks and wanted to release them myself. I remember sending a cassette to a Czech Republic pressing plant and receiving white labels a month later. I had absolutely no idea what was going on, or what I was doing. The music is still great I think.
Multila (Chain Reaction, 2000)
The Helsinki period. I have no clear memory of it, as there was lots of freewheeling in the studio–a period of power producing, where I wrote lots of music and didn't do anything else.
http://youtu.be/cDkMB-mDI7Y
Entain (Mille Plateaux, 2000)
See Multila.
http://youtu.be/RbAxbvWCSOQ
Anima (Mille Plateaux, 2001)
Inspired by the movie Hurly Burly and lots of substances. I let the movie play with its soundtrack on repeat and began playing music over it. The album was done in few days. Back then, I was inspired to make an interesting piece of music that would take up a whole disc.
Demo(n) Tracks (Huume, 2004)
The first album I did after having moved to Berlin. I lost the whole thing due to a hard disk failure, so I was left with raw demos and just redid the record very quickly, keeping the demo feel all over the album.
The Four Quarters (Huume, 2005)
A concept album somehow. I had an idea to write an album in four parts. It's very dubby and the poppiest of the Delay albums.
Whistleblower (Huume, 2007)
The Berlin period. I tried pushing electronic stuff as far as I could back at that time.
Tummaa (Leaf, 2009)
Somewhat a code breaker, the first step towards making "Delay" type music with real instruments and sound sources. It's also the first release in a lonng time not released on my own label [Huume]. It gives way to the Vladislav Delay Quartet album, which is coming this year.
http://youtu.be/YmZD8-r0lvY
Luomo, Vocalcity (Force Tracks, 2000)
The album that started my interest in club and house music. It's the worst Luomo album by far, practicing and all. I can understand the charm that people see in it, but am sick of the stigma it gave and left for the whole project.
http://youtu.be/sajOlO-k1cw
The Present Lover (Force Tracks, 2003)
The second best Luomo album for me. A massive fuck-up with labels who were involved. It still hurts to think about it.
Paper Tigers (Huume, 2006)
As dubby and experimental as Luomo could be.
Convivial (Huume, 2008)
The best Luomo album in my opinion–hugely missed and mistreated, unfortunately. Lots of guests and collaborations.
Uusitalo, Vapaa Muurari (Force Inc., 2000)
Some mixing and remixing of Entain stuff ended up this album. See also: Multila.
Tulenkantaja (Huume, 2006)
I wanted to continue with Uusitalo years after the first one, with more straight grooves in mind. The artwork of this and the next Uusitalo album is great.
Karhunainen (Huume, 2007)
The second part of the new Uusitalo project, largely a studio effort.
AGF/Delay, Explode (AGF Producktion, 2005)
A very fragile and nice piece of music, done after spending months in the wilderness in Finland, inspired by silence.
Symptoms (BPitch Control, 2009)
Pop music as we like it.
Moritz von Oswald Trio, Vertical Ascent (Honest Jon's, 2009)
My chance to play beats and grooves, but with my hands. Nice to be back in that chair and play with people again. (Ripatti was a drummer before he became a producer.)
Sistol, Sistol (Phthalo, 1999)
Apparently I sent one disc to a US label a long time ago and they didn't want to release it. Dimitri [Fergadis] from Phthalo heard it and wanted to put it out. A new Sistol record should be out next year.