Photo MATTEA PERROTTA
Having recently discovered the delightful New Age nods and snow drift synths on Eddie Ruscha's (see also: Secret Circuit) first album under the alias E Ruscha V (Who Are You), we were psyched to hear the multi-medium artist recently tapped Woo for alternate vocal/dub mixes of the record's title track. Not only that; he was down to break the immense discography of the Ives brothers (Mark and Clive) down for us in an exclusive guide.
Listen and learn below, then be sure to dig through Ruscha's many releases, which deserve a cult following of their own….
When I sat down to try and pick my favorite Woo tracks, I immediately realized it was an impossible task. Every single track is amazing because they work together to shape each Woo album. You give yourself over to Woo's music and try not to over intellectualize it. To do that would mean peeking behind the magician's curtain, and I would not want to do that with Woo.
In any case, for the sake of going forth, I may as well start with the first one I heard….

Whichever Way You Are Going You Are Going Wrong
(The Sunshine Series, 1982)
Stuart from Emotional Response sent me a load of WAVs from different upcoming releases. The files weren't labeled and I was drawn to one of the albums without knowing who it was, when it was made, or anything else about it. After Stuart identified the files, he told me it was two brothers from England that called themselves Woo.
This band works in perfectly mysterious modes for me—mixing all kinds of music I loved, much in the way that a band like Can took all manners of influence and created a sound distinctly theirs. I felt like I met a new friend who I'd known forever. Music that you can listen to at any time of the day and feel a sense of wonder.
"Swingtime" sets the tone perfectly for what follows throughout Whichever Way. Interesting to note that the Los Angeles label Independent Project Records originally reissued this album and It's Cosy Inside in the late '80s.

It's Cosy Inside
(Independent Project Records, 1989)
Around the time Stuart was working on his version of Whichever Way, Drag City reissued It's Cosy Inside. It felt like a bit of a Woo storm was brewing. I thought, "could It's Cosy Inside be as magical as Whichever Way?" I was knocked back by it right away, and I realized that Woo could get even more strange, unpredictable and experimental. Like searching through an old toy chest in a dream, this record has a light, mysterious and playful air, with a dash of heartbreak. Such a special album.

Into the Heart of Love
(The Sunshine Series, 1990)
Must be one of my favorites, if that's even possible. So many moments of bliss spread across this record. There was a nice YouTube rip of the actual cassette of this record, steeped in a muffled haze, that I'd listened to for a while before Stuart reissued it. Emotional Response's remastered version is no less incredible. My oh my, the first three songs…. And it never loses you from there.

When The Past Arrives
(Drag City / Yoga Records, 2014)
The Ives brothers supposedly wrote and recorded their music late through the night, trying not to wake up their downstairs neighbor. These recordings reflect that sense of quiet playfulness. How can it be that there are so many great records by Woo? Can they be all as great as the next? This one proves that.

AWAAWAA
(Palto Flats / New General Catalogue, 2016)
Focusing a bit more on Woo's dubby, rhythmic, Fourth World sound, AWAAWAA was taken from their massive back catalogue. I love the title track as well as "Sympti" for its Afro-cosmic feel. Another masterpiece.

A La Luna
(Grunki Records, 1991)
Freshly (re)released (again by Emotional Response), and another moment of instant love. The strange and wonderful sound of Woo with some slightly different instrumental back drops, as if digital instruments are not immune from the Ives brothers' magic touch. So much to enjoy on this record, from the slow, bizarre digital trumpet tones of "The Sounds Of Earth" and "Stardust" to the warped xylophone preset on "Ready For The Moon Trip" to the jewel of a vocal song "Magic In The Dark."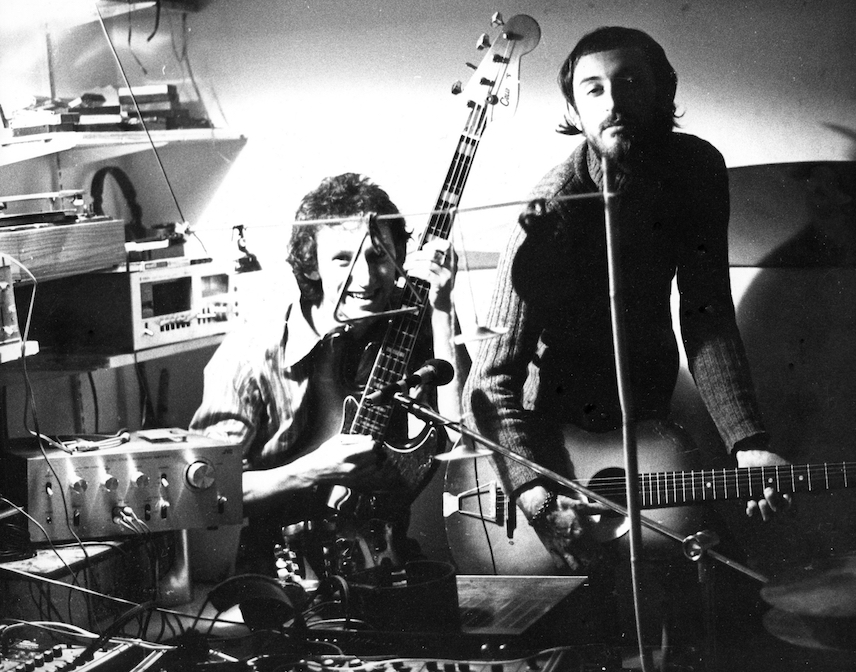 CONTINUED EDDIE-WOO-CATION
Woo also have a vast amount of material on their Bandcamp page, ranging from entire albums with accompanying singers, a Christmas album, meditation music, and a children's opera. I highly recommend exploring and digging out your own special findings. Here are a few favorites of mine: "When The Past, Future And Elsewhere Unite," off Live From Venus; "Ruby Ruby" and "Individually Speaking" from Ruby Pastlives; "Starlight" from Woo Romantics; "Whistling Home" from Xylophonics; and "1234" from All Is Well. There is so much more to discover, however, it's all part of the journey. I feel so fortunate to listen Woo every time I do and I hope you do too.
FURTHER LISTENING