Photography RYAN MOLNAR
As the week winds down and President Trump continues to embarrass the rest of us, Hot Flash Heat Wave has an antidote to it all: Soaked, a dream-pop diversion produced by Jeff Saltzman (The Killers, Blondie, Fischerspooner) and mixed by DFA former house engineer, Eric Broucek (Hercules and Love Affair, Holy Ghost!, Little Boots). Crank it in full below, right alongside the Bay Area band's exclusive track-by-track commentary….
"RAINDROP"
Adam Abildgaard: This song is about turning away from the dark times of my youth and opening a new chapter in life. It's kind of like that unstoppable feeling of anticipation when you're looking forward to something great that's right around the corner. I wanted to meld that sentiment with a dreamy, '90s-ish kind of sound that makes you either jump around or sink deep into a couch and bob your head.
"GOLD YEARS"
Nathan Blum: A sun-soaked track about nurturing your creative flow and finding a space for love and mystery within the constraints of a capitalist society. This song is about finding the balance between doing what we love and the sacrifices we make to simply be a human and pay the bills.
"LONELY TIMES"
Ted Davis: The chorus of this song was actually something Adam and I had come up with years ago when we were housesitting a place in Davis. I listened back when we were demoing this album and decided to revamp it. I wrote the lyrics about my experience moving to San Francisco from Davis and feeling super lost before I made friends and spread my roots.
"HOW I FEEL NOW"
Nathan: I wrote "How I Feel Now" when I was working almost every day in San Francisco. There was a period where I worked so often that I begun to feel like a zombie going through the motions of life. This song is about the fantasy of a girl who lifts you out of your everyday routine to be somewhere fresh and exciting. Being away from the city "where the tree's blow" is a place so fresh and pure that you can tell this lover how you feel in that moment.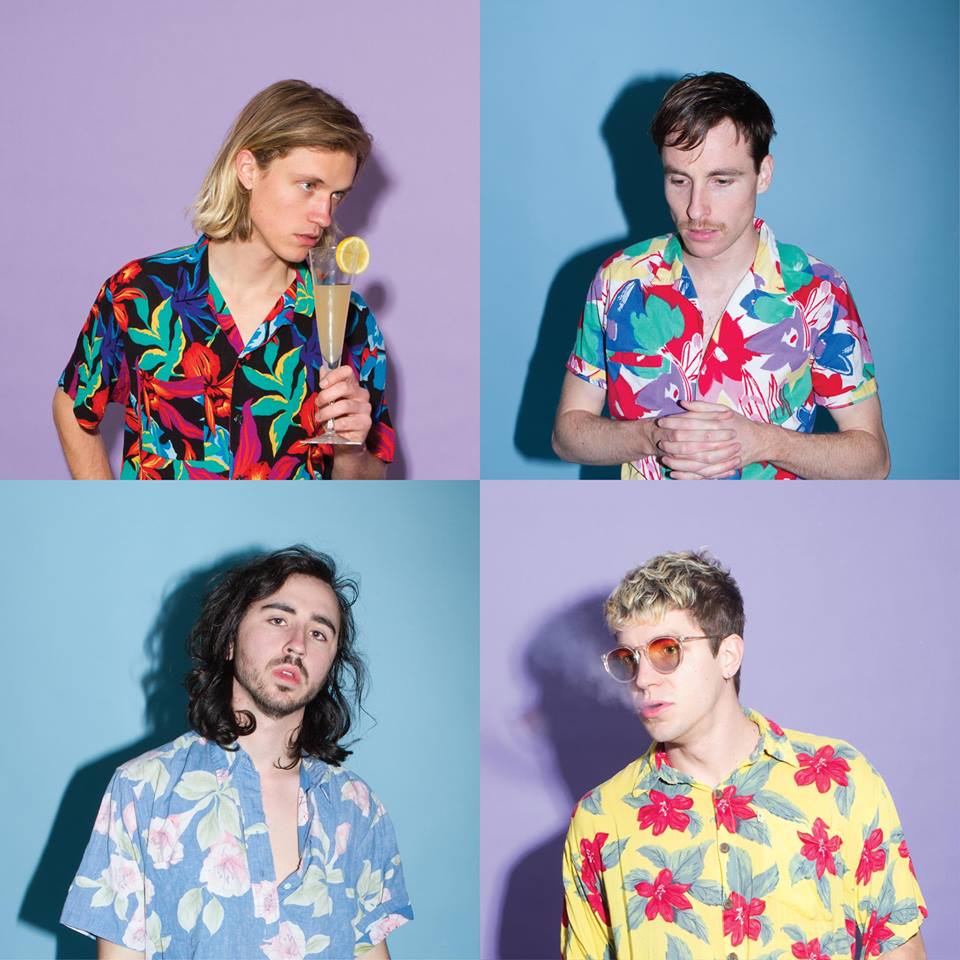 "MAKE IT RIGHT"
Nathan:The first half of "Make It Right" is about our drummer Nick moving into the shed in our backyard, and struggles with anxiety and depression. Sometimes even when everything is going well in your life, you are unable to see the good parts because you have a cloud of depression hanging over you.. This song is about the moments of clarity when you see the light and feel yourself pulling forward.
"SAN FRANCISCO DATING LIFE"
Adam: "SFDL" is a jangly rebuttal to society's standards for love and happiness. It's a reminder to not get lost in the crowd and find what makes you truly happy—to surround yourself with the one that make you fall in love with life and yourself.
"SHE'S GOTTA GO"
Nathan: First of all, this girl broke my heart. I was sitting around moping and being a sad boy when I thought to myself, 'I don't want to write another sad song.' Soooo I imagined what it would be like if I had broken her heart instead. Writing/playing this song gave me hope in a time of sadness and heartache.
"BYE BYE BABY"
Ted: I intended this one to be a cathartic breakup song. I wrote it when the relationship I sing about in "So Many People" ended abruptly, and I wanted to write something that expressed my feelings without being too vindictive. I first thought of the title phrase walking through the mission, and the rest came from there.
"SO MANY PEOPLE"
Ted: This song is about the feeling of pure foolish love. I wrote it when I had just started seeing someone who I had a big crush on. I wanted to portray the idealized, starry-eyed view I had of her, and the feeling of wanting no one else in the world.
"SHOTGUN"
Nathan: "Shotgun" is about the bridges I've burned throughout my life and the overarching fantasy that one day I could just cruise out of town and leave them all behind. The girl in shotgun is a metaphor for transcending mistakes that you've made and being in company of people who accept you 100-percent for who you are regardless of your flaws.
"BLUE"
Ted: I wrote this one when one of my best friends was diagnosed with bipolar disorder and experiencing manic episodes. I tried to be there for them when a lot of their friends were falling out. One day at work, I was really inspired by the song "Don't Stop Me Now" by Queen, and the tune of this song came to me later that day as I was driving around. I decided it should be about trying to convince a holed-up friend to get out of the house.