When we heard Ascetic House was hosting a series of "guerrilla club nights" (read: ripping after-hours parties) at Tucson's HOCO Fest, we asked an obvious question: Does anyone want to make us a mix? Destruction Unit drummer Andrew Flores answered the call with a killer set from his Jock Club alias, a fitting introduction to the alternate Threshold x Semiotic Sunrise reality that'll be rolling through Arizona on Labor Day weekend.
"The mix is an approach to a less conventional form of electronic music," he explained over email. "The new wave of club-informed home listening. Influenced by early industrial, ambient, new age/avant-garde electronic, and UK music. Also features unreleased material from Bookworms & D Tiffany."
Check it out below, right alongside a complete rundown of the HOCO lineup, which will be documented by NTS and unfold as follows:
Each night, after the main festival ends, will transform into an incendiary club dialogue at a secret location to be announced day-of. The lineup of artists includes VIA APP and J. Albert, NON/PTP affiliate Violence, iDEAL Recordings project JH1.FS3 (the collaborative project of Puce Mary and Liebestod), Deathbomb Arc recording artists Lana Del Rabies, plus a cast of Ascetic House affiliates and Arizona locals such as Jock Club, Deep Pill, Speed Boat, Sunfucked, Bank Notes DJ's and more. The Semiotic Sunrise Series will also feature unannounced surprise guests and special one-off collaborations by artists playing the main festival over the course of the weekend.

TRACKLISTING:
Ashtrejinkins – Alternative Facts
Paul Hares – Internal Dialogue
Glochids – Caress Stab
Bookworms – Track03
Powell – Wormhole
Doxa Sinistra – Entomorbide Via Del Latte Murray CY Edit
Jon Hassell – Darbari Bridge
Siamese Tease – Smokbell
Dom Unique – Future Is Not Set
Glochids – Washiir Pulse
Spectre – Master Of Nothing
Claro Intelecto – Resonation
D Tiffany – I Feel The Love
E20 – Riddim Selecta Op4L Mix
Laurel Halo – Moontalk
High Functioning Flesh – Hunger Cries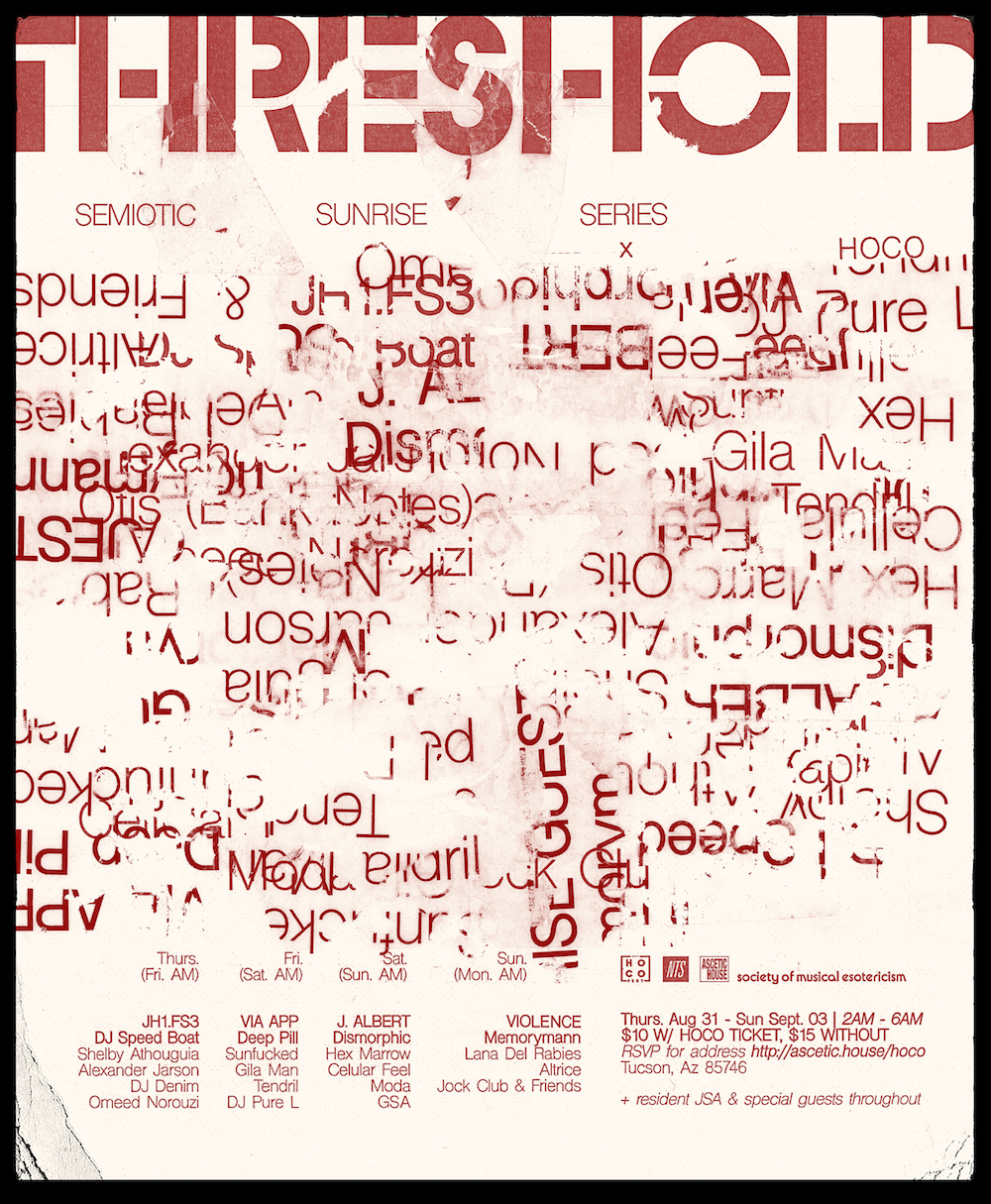 Thursday, August 31 (Friday AM)
JH1.FS3 (Live PA)
DJ Speed Boat (DJ)
Shelby Athouguia (DJ)
Alexander Jarson (Live PA)
DJ Denim (DJ)
Omeed Norouzi (Live PA)
Friday, September 01 (Sat AM)
VIA APP (Live PA)
Deep Pill (Live PA)
Sunfucked (Live PA)
Gila Man (DJ)
Tendril (Live PA
Pure L (DJ)
Saturday, September 02 (Sun AM)
J. ALBERT (Live PA)
Dismorphic (Live PA)
Hex Marrow (Live PA)
Cellular Feel (Live PA)
Grey Sweater Audio (Live PA)
Moda (DJ)
Sunday, September 03 (Mon AM)
VIOLENCE (Live PA)
Memorymann (Live PA)
Lana Del Rabies (Live PA)
Altrice (Live PA)
Jock Club & Friends (DJ)
Aug 31 – Sept 03 | 2AM – ?AM
$10 w/ HOCO Fest Ticket, $15 without
RSVP for address http://ascetic.house/hoco
Tucson, AZ 85746
https://www.nts.live/