Photo AJ KORKIDAKIS
Kid Koala has revealed the second album in his Music To Draw To series. Much like last year's Satellite LP, Io is split between soothing instrumentals and spot-on sessions with a guest singer. Trixie Whitley appears on six tracks this time around, bringing her bruised avant-blues to the producer's artful rendition of a Greek myth. (Io was one of Zeus' ill-fated love interests.)
Here's what Kid Koala had to say about the spare melodies and melancholic hooks of "Allotropic"—a beat-less beauty that came out of a visit to Calgary's National Music Centre—along with the album's trailer and a previously shared Whitley collab….
If you're a little obsessive about sound like I am, visiting the NMC is like being a kid in a gigantic audio candy store. They have some of the rarest keyboard instruments in the world (even dating back to the 1600s). I had already begun work on the instrumentals for this instalment of the 'Music To Draw To' series, so I decided to spend most of my time in their Live Room B "sound lab," an entire floor of the building that houses an incredible collection of electronic instruments, effects and synthesizers. Many of the machines are one of a kind prototypes that never went into production. They also have working examples of all of the classic synthesizers from every era, fully operational and calibrated to factory spec.

It was a really incredible place to work and I tracked a lot of the 'Io' album there including layers for "Allotropic." Once I had the soundscape recorded I later found this junky old guitar at a flea market and played it on there too. It was a bit of an odd combo but seemed to fit somehow. I was thinking to myself what it would sound like if you were standing on an icy beach in outer space.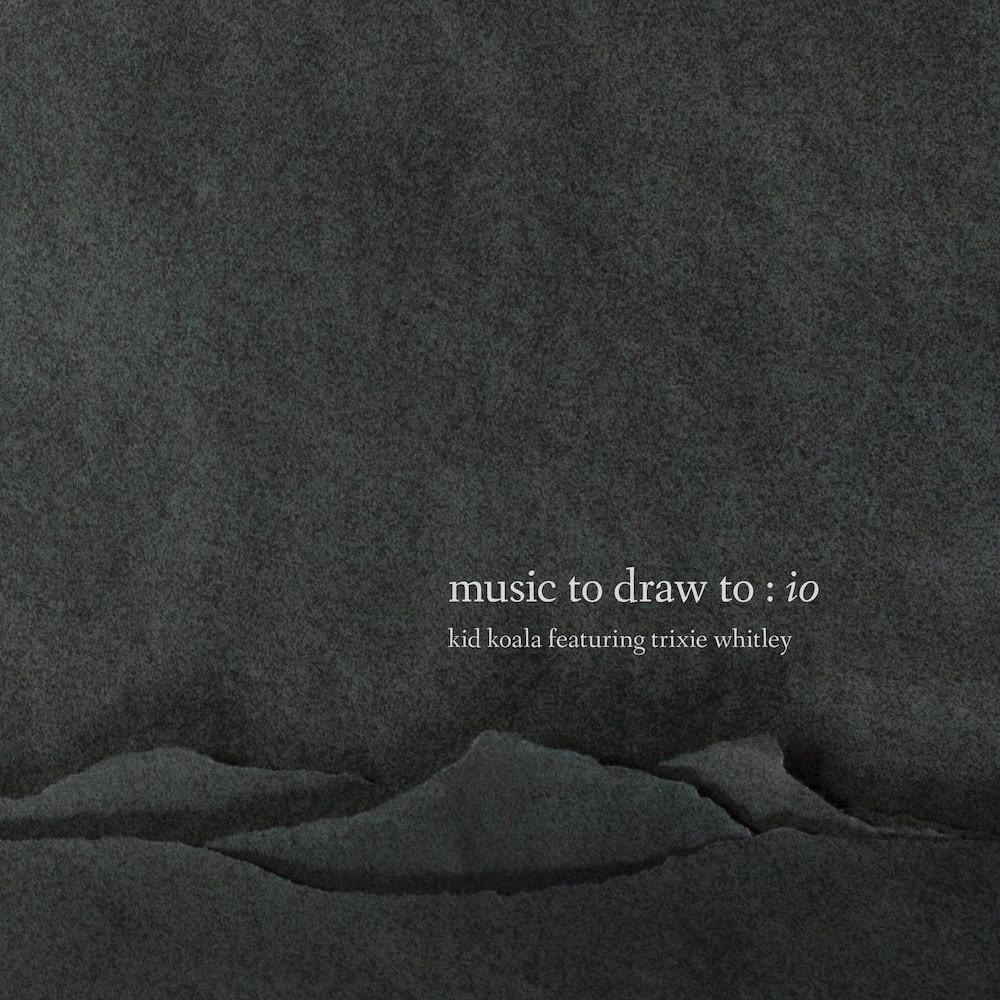 Kid Koala
Music to Draw To: Io
(Arts & Crafts, January 25th)
1. Circle of Clouds
2. All For You (Featuring Trixie Whitley)
3. Torus
4. Transmission 4
5. Lost at Sea (Featuring Trixie Whitley)
6. Shielded
7. Liminality
8. Transmission 5
9. Hera's Song (Featuring Trixie Whitley)
10. Transmission 6
11. Allotropic
12. Diamond Heart (Featuring Trixie Whitley)
13. Resonance
14. Escape of Io (Featuring Trixie Whitley)
15. Emuii 16. Aphelion
17. Look-Back Time (Featuring Trixie Whitley)
18. The Moons of Galileo
Kid Koala tour dates:
1/24 Montreal, QC – SAT #
1/25 Montreal, QC – SAT #
1/30 Ottawa, ON – Black Squirrel Books
2/6 San Francisco, CA – SF Jazz
2/7 San Francisco, CA – SF Jazz
2/8 San Francisco, CA – SF Jazz
2/9 San Francisco, CA – SF Jazz
2/10 San Francisco, CA – SF Jazz
2/13 San Jose CA – Hammer Theatre
2/14 San Jose CA – Hammer Theatre
2/18 St. Catherines, ON – FirstOntario Performing Arts Centre
2/19 St. Catherines, ON – FirstOntario Performing Arts Centre
2/20 St. Catherines, ON – FirstOntario Performing Arts Centre
4/26 College Park, MD – MilkBoy ArtHouse
4/27 College Park, MD – The Clarice Smith Performing Arts Center
5/2 Chapel Hill, MD – Current ArtSpace + Studio
5/3 Chapel Hill, MD – Current ArtSpace + Studio
5/4 Chapel Hill, MD – Current ArtSpace + Studio
5/5 Chapel Hill, MD – Current ArtSpace + Studio

# with Trixie Whitley