A cursory look at Dark Entries' Label of the Month mix should give you a good idea of where Josh Cheon's head has been at for the past five years, an occasion he'll soon celebrate with a two-week anniversary tour. Aside from the artist that earned his Bay Area imprint some long overdue props last year (disco pioneer/gay porn composer Patrick Cowley), Cheon's set features such familiar industrial—and we're using that term loosely—faces as Cabaret Voltaire, Martin Gore, Psychic TV and Ministry alongside cult favorites like Charles Manier, Jeff and Jane Hudson, and Crash Course in Science.
The moonlit side of the dance floor, then, which makes sense when you consider the single Dark Entries is named after…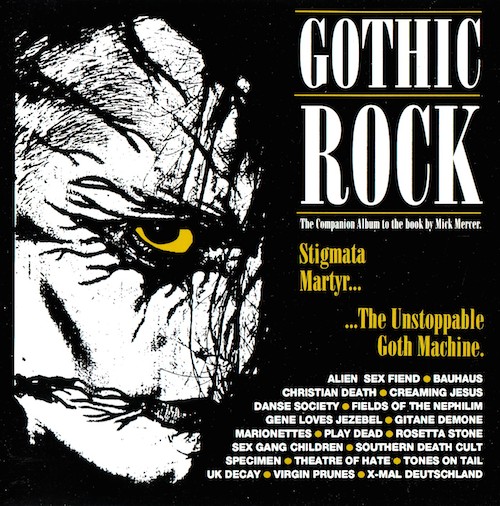 Can you start by telling us about the Bauhaus song you named the label after? When did you first get into that band and why did they resonate with you so deeply?
It was the first song on a compilation called
Gothic Rock
that my friends and I would blast on a boom box driving to Denny's at 1 a.m. in rural Pennsylvania. That compilation was pivotal to my 15-year old self. It was my introduction to post-punk and non-commercial '80s music. I had already been collecting everything I could find by the Cure and Siouxsie & the Banshees so this was the next logical step. When I was thinking of names for the label in 2008, Dark Entries just hit me in the head and made sense. I wanted to give each release a catalog number—"Entry 1," "Entry 2," etc.—like a diary.
You grew up close to New York City right? Did that mean lots of sneaking into clubs at a young age to see and/or hear music?
Before I had my drivers license, I would take a bus into the city when I was 14 and 15 and wander around the East and West Village by myself. My friend's father was a cab driver and he would also drive us from Jersey to Manhattan on the weekends. As soon as I got my car I would drive in to see shows and dig for records. I never snuck into a club but as soon as I turned 16, I went to my first concert at CBGB after winning free tickets off the "Industrial Nation" radio show on WSOU.
What's one of the earliest memories you have of connecting with a piece of music? Could be an album, a show, a single—anything, really.
I loved handling my dad's vinyl as a kid. He had an extensive collection of 45s since he was a teenage DJ at local CYO dances. I remember dancing around my parents house to the Seekers' "Georgie Girl" when I was a kid. I think the upbeat rhythms and dramatic vocals hooked me immediately.
How did you first get introduced to New York's goth club The Bank? Was getting to dance there as formative as any record you'd heard around that time?
My friend who's father was a cab driver introduced me to the Bank. She had been sneaking in for a few years and when I turned 16, I started to join her. My cousin Kara was a huge synth-pop and new-wave music collector and went to the Bank every weekend. When I wanted to know what song was playing, I would see her dancing and run up to her and ask her first rather than annoy the DJ.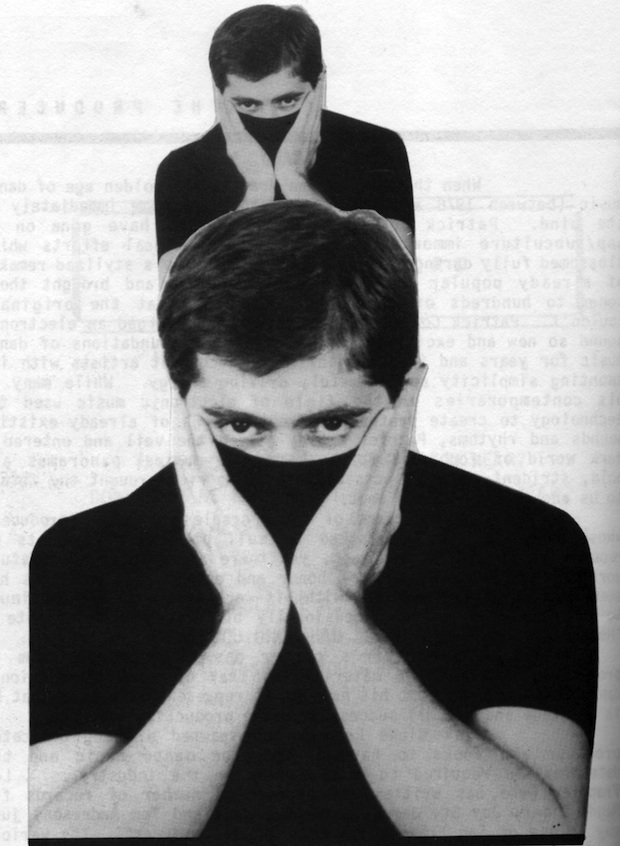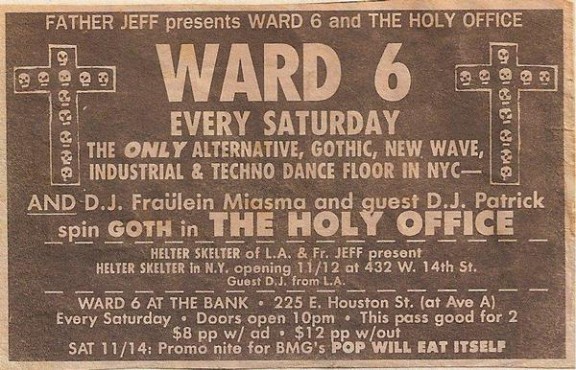 What's one night that stands out from your time hanging out there?
That's easy—the night I finally discovered who the band was that sang the song that Buffalo Bill dances nude to in Silence of the Lambs. I was in the back room and immediately ran up to the DJ and asked who the band was. He told me Q Lazzarus and I soon found the song on the Married to the Mob soundtrack and bought the vinyl, CD and cassette formats.
What did you learn from your first music-related job at Metropolis Records?
Shrink-wrapping returned CDs gives me bloody noses. I also learned about the early demos of Leaetherstrip and Die Form that they reissued. I was into post-punk and more obscure synth-pop during these years, and would bring in new discoveries and the older guys at Metropolis would share stories about seeing Bunnydrums and Executive Slacks in Philadelphia in the '80s. Also, Metropolis distributed thousands of titles through their mail order; I would get lost scanning all the import titles and that carries over to the hundreds of titles I distribute through Dark Entires mail order.
What did you study at Rutgers and how did you end up applying what you learned there to Dark Entries?
I double majored in neuroscience and psychology in hopes to be a behavioral neuroscientist like Clarice Starling. The psychology classes have certainly helped me dealing with egos and esteem issues when talking with bands. At times I've had to mediate between band members who have not talked to each other in many years, remaining neutral and nurturing both sides.
How did working as a music director at Rutgers help shape your musical tastes?
I started off as the RPM music director, which encompasses all the electronic genres. I was in charge of reviewing dozens of albums each week, scanning through for offensive language and updating the library, which kept new releases on the shelves for six weeks. I also had to report to CMJ and build relationships with many of the music reps who I still am friends with today. We would turn each other onto current weekly favorites and were intensely passionate about independent bands from all over the world. I guess I still have that passion today when I discover a new or old band that I want to release.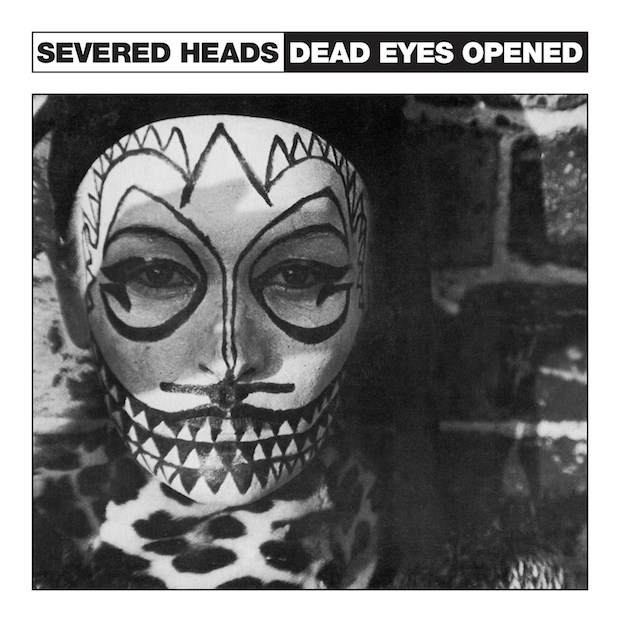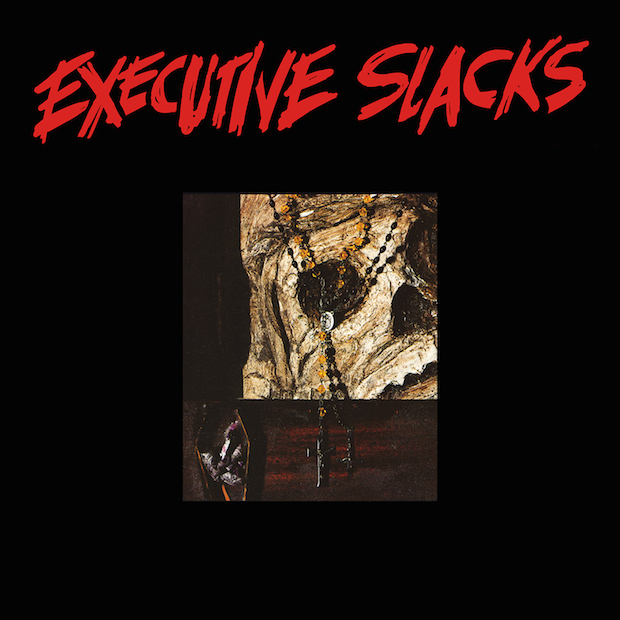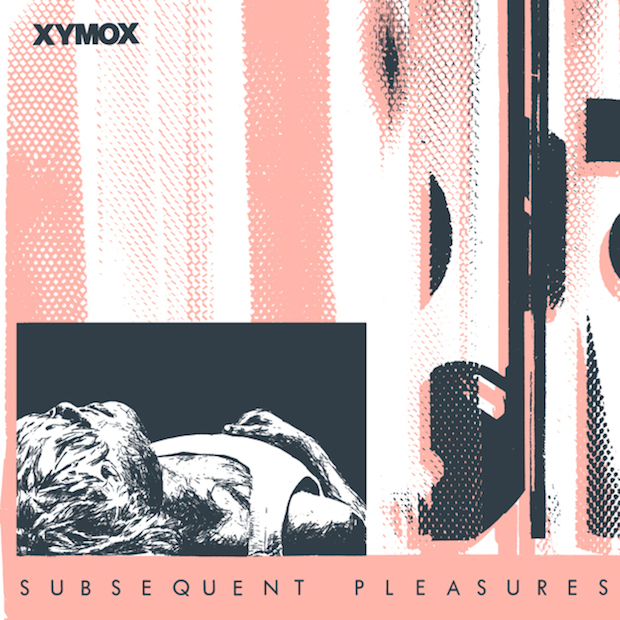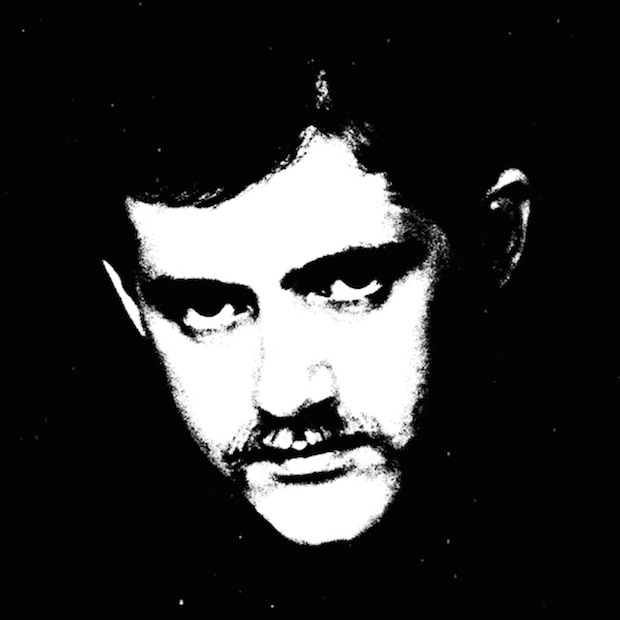 You interned at Beggars and DFA, two very different labels in some respects. What were some key takeaways from each of them that you later applied to Dark Entries?
At Beggars I was helping with radio promotions—mail outs and swag packages for on-air giveaways. I would weigh them and use the postage meter to generate a label then cart them over to the post office for shipping. All these years later, I pack every order that comes through the Dark Entries Web shop as well as all the wholesale orders and take them to the post office. DFA had me stamp all their white labels and promos. I would pick up new stamps each month for the new titles. When I started Dark Entires, I stamped my logo on the back of the first two titles, a carry-over from my DFA days.
Why did you decide to move to San Francisco in 2006? How would you describe the music scene there at the time?
I wanted a change. I spent the first 25 years of my life in New Jersey. I felt trapped and stagnant; San Francisco was a fresh start and helped me come out of my shell. I would attend parties almost every night of the week, from disco to house to goth. There was so much going on and I made friends quickly with the local DJs and music dorks.
Did you already know a lot of people in the Bay Area when you moved there? Or did you meet people once you got settled and started going to shows and parties around town?
I didn't know anyone really. I had to make all new friends from the parties and concerts I attended.
How did your Radio Lines party at the Transfer go in the beginning, and how did your DJ style compare to your co-promoter, Phil Mailer? Do you still throw parties around San Francisco occasionally?
A few people came out; mostly friends of the DJs, but some new faces as well. Phil was far more eclectic in his sets and would jump around from fast post-punk to dark-wave and I was more obsessed with beat-matching and testing out records I was hoping to reissue on the dance floor. I currently throw parties with Honey Soundsystem, a collective of DJs who lean towards house and techno rather than post-punk or dark-wave. But I'll DJ those kinds of parties when people ask me.
Much has been said about the way San Francisco's art and music scene has been impacted by the influx of tech companies and the rising cost of living. How has it all affected you and the way you approach Dark Entries?
Luckily I moved to San Francisco just before the boom so the prices for rent were more affordable and stabilized. Many of the contemporary bands on my label have been directly affected by the rising rents and evictions and that impacts their creative output.
You've interviewed many artists on the Dark Entries blog yourself. Is that one of your favorite parts of running a reissue-heavy label: meeting some of your cult heroes?
Yes, I love talking with the bands and the research side of things. I guess I have always wanted to dig deeper for knowledge and connections. I think its fascinating to learn about the environments and time period the songs were recorded in and under. Also I love to hear about the meaning behind the songs and the artists were drawing inspiration from.
What's one artist you've met over the past few years who really surprised you in person?
Claus Larsen from Leaether Strip who is really tall in person!
Reissue-driven labels have gotten very popular in recent years, leading many to wonder if the 'vinyl bubble is going to burst' sometime soon. How do you feel about the future of that medium?
There is so much music out there. Often when I ask a band for unreleased material or demos they say there is none. Then a few months go by, or sometimes years, and they contact me saying they found tapes of demos. I think there is so much undiscovered music waiting for labels to release it.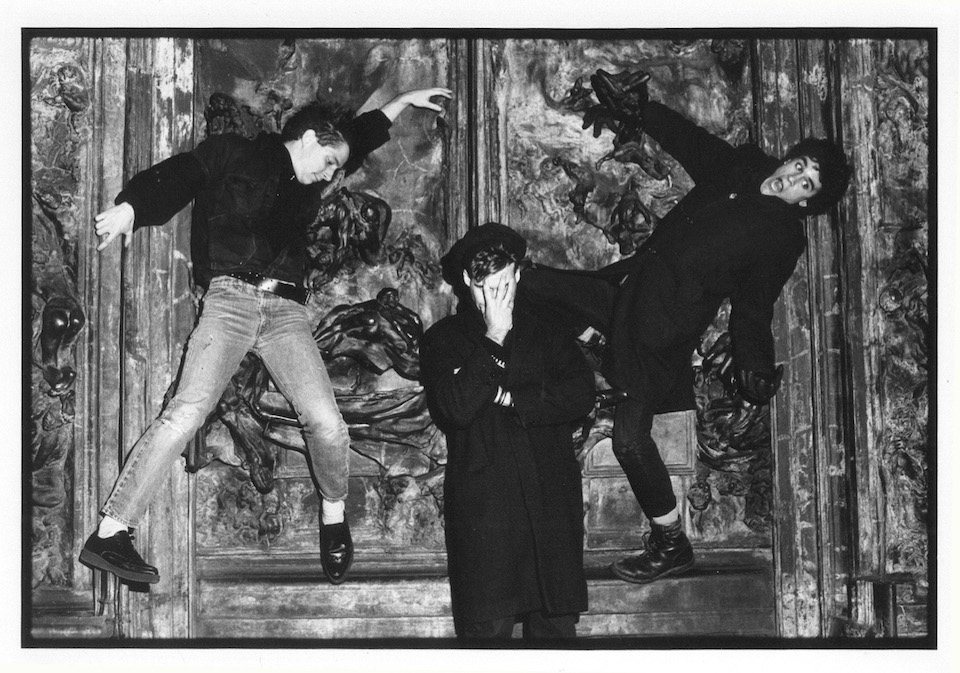 Let's say someone wants to start their own label—one that's similar in scope to yours. What should/shouldn't they do?
Find an engineer not a magician, there are too people out there trying to pump out records without understanding the physics and science behind sound and audio and cutting a record. Don't limit the pressings; that drives the eBay/resale market once the title is out of print. Don't press less than 500 records; they will sell out, eventually.
Has the process of getting a record approved for reissue been frustrating at all? Who's been one of the hardest artists to track down?
Some are easier than others. Depends if the band members are still talking and agree on the details of the reissue. It took me over five years to track down Tomo Akikawabaya because that is not his real name. Often artists have a stage name that render them unsearchable. Luckily I have a Japanese co-worker who helped me write emails and eventually we found the actually musician behind the project.
You work with new artists as well. Has the success of some of your reissues left you constantly explaining to people that you're 'not just a reissue label'?
Yes, people constantly assume I only do reissues but since the very beginning I've been sporadically releasing contemporary bands that fit the aesthetic of the label. Guess I'll just keep explaining until they get it.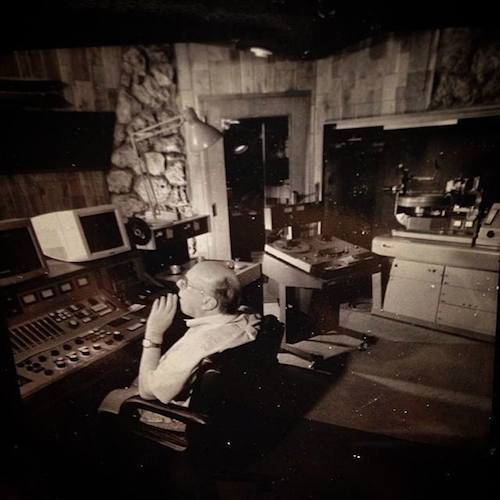 Tell us a little bit about George Horn, the engineer you use to remaster all of your releases. Given how long he's been in the business, he must be quite a character and someone you've learned a lot from on both the creative and business side of things.
George is one of a kind—a true professional—and after working with him for the past six years, a close friend. In the '60s and '70s, George was the head mastering engineer at CBS Studios in San Francisco and worked out of the Automatt cutting records for Janis Joplin and Simon and Garfunkel. I love when an artist I am releasing is able to join us at his studio for the mastering session. George spends some time dispelling myths about recording and acoustics and cuts through the industry bullshit right away.
Outside of the obvious—like 4AD's classic era—what are some labels that have influenced Dark Entries on a deeper level?
I used to collect everything from all the west coast indie labels like Deathbomb Arc, Hand Held Hart, 31G, Gravity, etc. I think how they packaged their vinyl informed my silkscreened, stamped, ephemera laden releases. Musically I was buying up all the Creation, Factory and Mute releases I could find in high school.
What are some of your non-musical influences when it comes to the aesthetics and general direction of the label?
My designer Eloise Leigh is my barometer for everything when it comes to aesthetics. She carefully balances retro ideas with clean or messy art direction creating the most beautiful designs that get a rise out of me each time.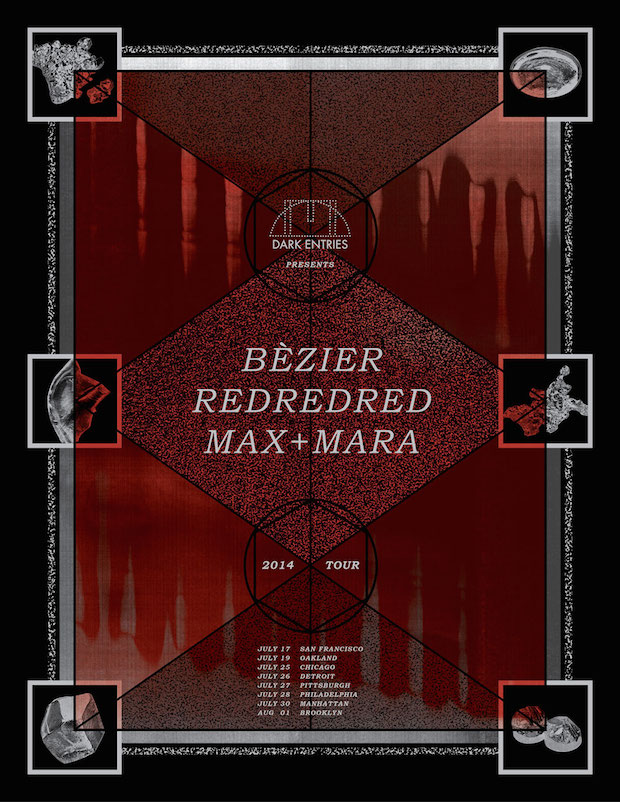 Can you tell us about the acts on your anniversary tour?
Bezier is the solo project of Robert Yang, a.k.a. Robot Hustle from Honey Soundsystem. His sounds are dark-NRG—one foot on the dance floor, one in the witches cauldron. Max + Mara is a duo of Max Brotman from Brotman and Short and Mara Barenbaum from Group Rhoda; they make electronic body music full of danceable rhythms and an the occasional acid line. REDREDRED is the solo project of Michael Wood who used to play with Primary Colors. He conjures a raw primal industrial landscape where you have to dance to survive.
If someone were to ask what the Dark Entries sound is, what would you say?
I like melody and rhythms and have been listening to music with my ear tuned in since I was a kid. If I hear something I like and you can't find an affordable copy or it was never released on vinyl I guess that's where I come in. I guess I stick to mainly 'underground' bands so perhaps we can call it underground NRG.
What else can we expect from the label in the coming months/year?
We have the debut EP by French trio Opera Multi Steel from 1984, then the earliest material from Italian new wavers Kirlian Camera on an LP with bonus flex disc. We're also releasing the "Holland Tunnel Dive" 12" by NY no wave act impLOG and another compilation of Bay Area Retrograde (BART), including songs by Chrome, Factrix, Tuxedomoon, Indoor Life and more. Then the solo work of Tom Ellard from Severed Heads circa 1981-82 will finally see the light of day on vinyl. Plus more Italo reissues and our first Detroit Electro reissue from Nu Sound II Crew/Magnus II aka DJ Maestro from 1986. In October we're releasing the Patrick Cowley/Jorge Socarras "Catholic" project on double vinyl LP in collaboration with Honey Soundsystem's HNYTRX… and much much more!
Tracklisting:
factrix – night to forget
executive slacks – the bus
borghesia – a.r.
velodrome – capataz
max + mara – no one
sumerian fleet  – on to you
charles manier – sift through art collecting people 
patrick cowley – pagan rhythms
smersh – beat this 
psychic tv – alien be in
tom ellard – 303b the east is red
crash course in science – flying turns
anne clark – sleeper in metropolis
stanton miranda – wheels over indian trails
magnus II – space age
ims – dancing therapy
cetu javu – situations
ministry – i wanted to tell her
cabaret voltaire – the web
simona buja – passing masks
psyche – dreamstreet
martin gore – compulsion
victrola – maritime tatami
nagamatzu – magic
jeff and jane hudson – mystery chant
die form – re-search