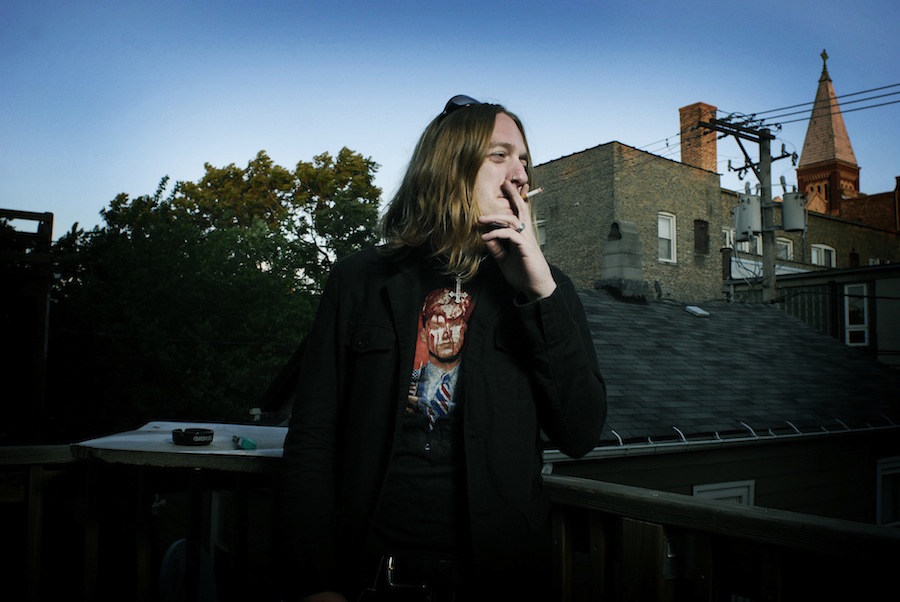 Considering how Nachtmystium's last two LPs explored the psych (Assassins: Black Meddle, Pt. 1) and synth-infused (Addicts: Black Meddle, Part II) sides of Blake Judd's record collection, it's no surprise that the band's new album is being touted as a return to the frontman's black-metal roots. A fair assessment given how frenzied the full-length feels, but he hasn't exactly changed his name back to Azentrius either.
If anything, Silencing Machine is simply the next logical step from Nachtmystium's breakthrough record Instinct: Decay, the point where Judd's undying love of Pink Floyd collided with charred chunks of Darkthrone and Bathory. To help us make sense of it all, we asked the singer/guitarist to share five of his favorite records, from Ministry to Radiohead…
http://www.youtube.com/watch?v=foCzlvXKWTA
1. Pink Floyd, Wish You Were Here (Columbia, 1975)
This is my favorite rock record of all time, hands down. It features the song "Welcome to the Machine," which is my favorite piece of music ever recorded, right next to Black Sabbath's "Planet Caravan." The rest of the album is really amazing as well. "Have a Cigar" makes so much sense to me now that I've been involved in the music business as long as I have, so that song has actually grown to mean more to me over time as a result of the lyrics and how they match up with my life. So that's neat. And of course the "Shine On You Crazy Diamond" series of tracks are all amazing. It's just a perfect record I think and one that I couldn't imagine living without.
–
http://www.youtube.com/watch?v=zLISqqS8foM
2. Ministry, Filth Pig (Warner Bros., 1996)
This is my favorite Ministry record ever, and one of my favorite albums of all time. It's heavy, nasty, gritty and most importantly, it's honest. The lyrics are sinister and I can relate to quite a bit of what's said in them from things I've dealt with in my life. It's just a really special record for me and has been since the day it came out, which was the day I bought it. Stand out track: "The Fall."
–
http://www.youtube.com/watch?v=DsHAS3aoK5k
3. Bathory, Blood Fire Death (Black Mark Productions, 1998)
I think this album is a perfect representation of black metal. I love the vibe of each track; it has epic parts, totally thrashing metal parts, tons of feeling and a great performance overall. It's just such an important record for black metal, and certainly is one of my all time favorites–definitely my favorite Bathory record.
–
http://www.youtube.com/watch?v=1T1M1tmUbq4
4. Radiohead, Kid A (Capitol, 2000)
When I want to listen to something totally out there and creative, I turn to Radiohead. This band has continued to make what I consider to be some of the most interesting and original rock music on the market today. Kid A was my introduction to the band and has always been one of my favorite records by them, but I also really enjoy Hail To The Thief.
–
http://www.youtube.com/watch?v=uHw4LbeKs_E
5. Slayer, Hell Awaits (Metal Blade, 1985)
In my opinion, this album is the bible of extreme metal. It's like a blueprint for black metal, thrash metal, death metal–it's got it all. And it's definitely the most evil Slayer record, both lyrically and sonically. This is just a perfect, vicious metal assault from beginning to end. Can't ever get enough of this classic!
–