Photography ANNA SPYSZ
Words MITCH STRASHNOV
When self-titled was asked to cover the 2014 edition of Unsound (a.k.a. "The Dream"), a wave of anticipation came over us. In the four years this particular writer hadn't attended the festival, it's gained countless glowing reviews—from the press, patrons and performers alike—and garnered substantial growth, extending the Unsound experience from Krakow to Adelaide, New York and London. Needless to say, returning to its original home was a nostalgia trip—not only welcoming, but more wondrous than ever before.
Having first arrived late on the 14th, we snuck in enough time to get to check out Stian Westerhus, creating a monumental vibe for a Tuesday night at an already packed Manggha. Somewhere between the catharsis of Westerhus manipulating his guitar through a bevy of electronics and the craving for a pint of Zywiec was the sound of Polish and British youth, magnified by the fact that was little-to-no seating at the show. (Hundreds of people from Poland and beyond had come to see the experimental showcase, and most foreigners didn't even appear to know who was playing.)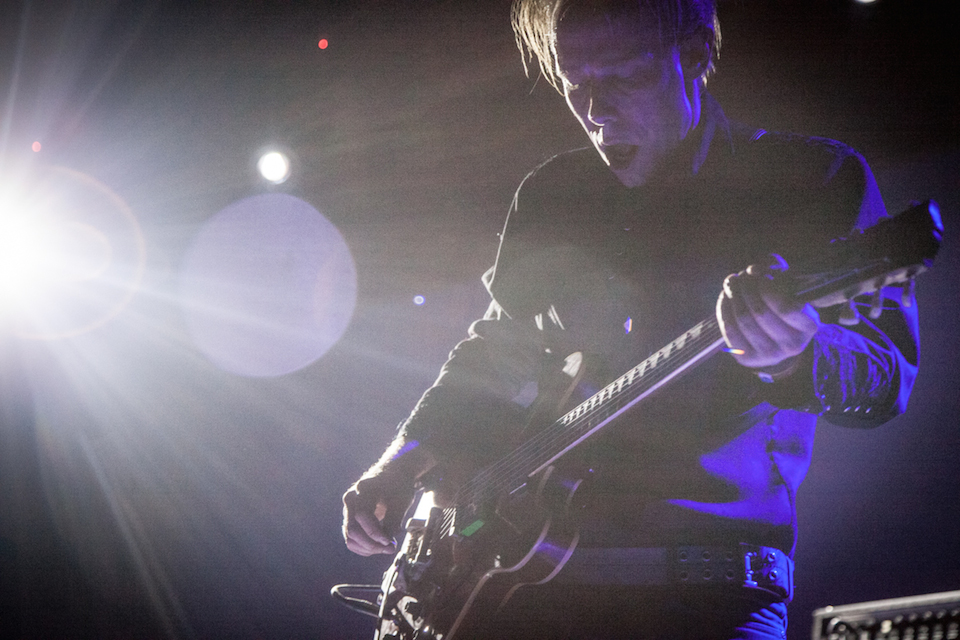 This was a massive leap from a few years back, when Unsound was more of a low-key affair at venues that encapsulated the spirit of Krakow—places like Manggha, the Engineering Museum and Klub Re. This edition proved that on any given day and time, you could find something to grasp onto and at the very least, absorb and discuss. The next day at Manggha, Kaptial & Richard Pinhas smashed it with a corrosive set of moody brilliance, while Container closed out with a special performance consisting of himself alongside drummers Kenneth Kapstad and Tomas Jarmyr. While Container was good, Kapital & Pinhas were the stars of the night; setting up the environment and building up the room to a fervor at points—a room that was twice as packed as the night before. After a quick pitstop at Alchemia for some whiskey and whimsy alongside artists and festivalgoers, we went to bed knowing that the next three days would be packed to gills with must-see acts.
Still recovering from Alchemia, we slowly made our way to the venerable Hotel Forum, the bastion where bass reigned supreme throughout Unsound. Wonderfully quoted in the 1999 edition of Krakow In Your Back Pocket as a piece of "…a legacy of the era of Soviet hospitality", one walks into the abandoned relic of a hotel befuddled—confused by what goes on inside and somewhat enthralled at the prospect what will happen throughout their time inside. Hotel Forum is a magical place where the oppressive nature of the '80s works in the favor of Unsound and all who play and attend it. Walking in at 10:30 sharp, Vessel was hammering away in Room 1 and left a rapidly-growing crowd hungry for more of his anchored techno aggression. With an iPhone in his mouth—which he bit through—providing the light to his set of fucked-up fury, the crowd reciprocated his terrific energy with applause and vigor. Soon thereafter, Carter Tutti Void took the stage and presented a set of methodical, mercurial tracks that gave way to people in the crowd screaming wildly whilst meditating to the brilliance presented to them.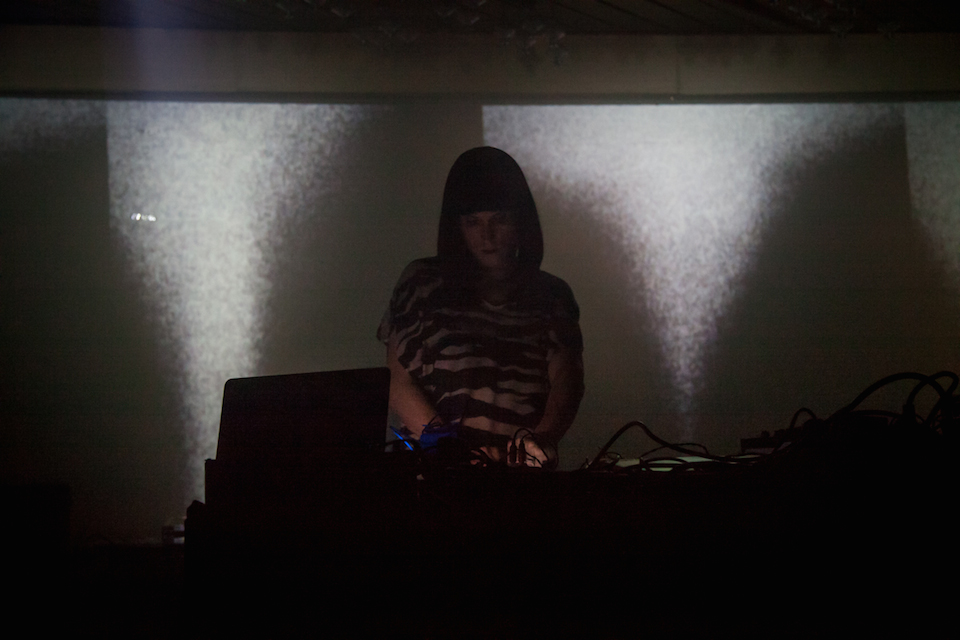 After a short trip to Room 2 to see a heavily-layered live performance by Robert Piernikowski, Ben Frost had already began his A U R O R A live set, which while good, was a bit underwhelming due to the acts who came before him. Perhaps if Frost played earlier the crowd reaction would've been more heightened, as everyone appeared positively drained from Carter Tutti Void and Vessel's efforts earlier. After a quick run for a beer, Room 1 began to shift in tone as Rrose took complete control of the crowd and spun her web for everyone to get tangled into. There was really no choice at this point on our end—almost everything Rrose threw the crowd was executed so vividly, so brilliantly that stepping away would've been troublesome, as the room was packed with barely any paths to lead to the outer hallway.
Thankfully, a freak occurrence of someone dropping their glass bottle caused the crowd to disperse and opened up an avenue to walk towards Room 2 and see the tail-end of SOPHIE' set. We're grateful we took the chance, as it was truly a mesmerizing experience to behold. SOPHIE has rapidly become a polarizing figure in dance music, even before the advent of QT, his collaborative project with A.G. Cook. His saccharine sonic demeanor is either going to swallow you whole within its sugar rush or give you ear cavities. Thankfully, seeing him live at Unsound did not disappoint. People were humorously frozen in time; trying to figure out if dancing to his selections was the right thing to do for themselves, for their demeanor and their image. Ultimately, even after their very public dancefloor realizations, people gave into the sugary guilt; they gave into "QT" and they gave into the world that surrounds SOPHIE. It was a memorable moment for the beginning of our descent into Hotel Forum's controlled chaos.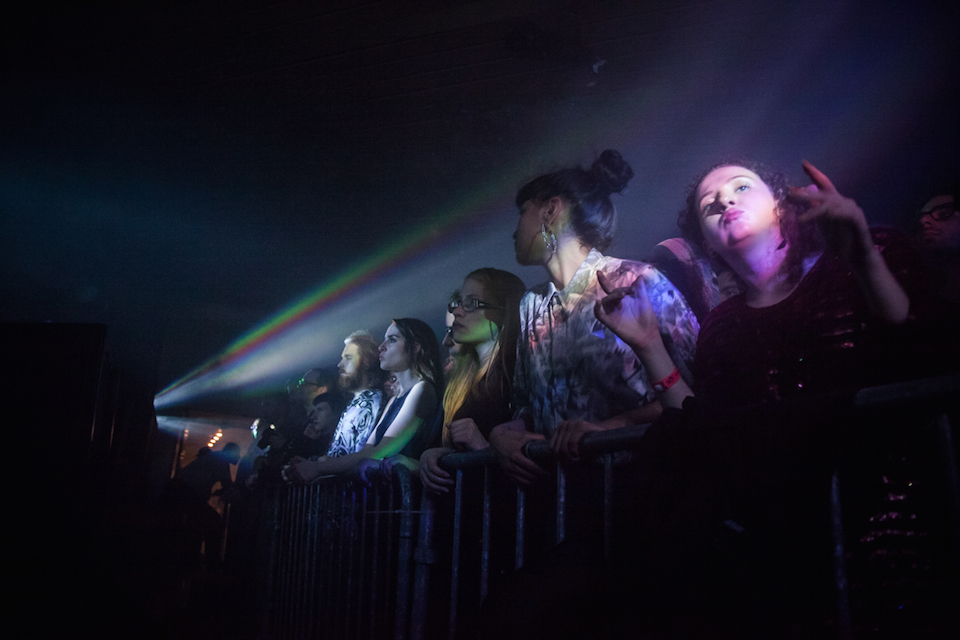 Friday presented another form of controlled chaos with a collaborative effort from Atom™ and Robin Fox, as they took over Krakow's Engineering Museum with "Double Vision," a performance commissioned by Unsound in partnership with Australia's Adelaide Festival. A vivid marriage of lasers, video and experimental pop music, it was an immersive experience, leaving people looking perplexed as they left the Engineering Museum and returned to Hotel Forum for another night of heady techno. Walking in at around 11:30 p.m., Dopplereffekt had already settled in quite nicely, unveiling new material in front of a crowd marveling at their rare performance. The performance was solid; nothing too spectacular and unsurprisingly segmented to the point where there was no transitions between rhythm tracks or tempo changes. That would work out for Room 1; as Detroit's very own DJ Stingray took control and pulverized the room with ravishing electro and techno from light years away. After a quick jump to to Room 2 to see Russell Haswell be Russell Haswell, we ran back to Room 1 to see what was good with Robert Hood.
Channeling a fervor that was unmatched throughout the night, Robert Hood, simply put, smashed it. Playing bits of Ben Sims, Gary Beck and a huge chunk of his own catalog as Floorplan, it was an ongoing reminder that Robert Hood is only getting better every time we see him. The control, the poise he had, was stellar as always; which is probably what made Bok Bok going back-to-back with DJ Funk seem a bit less impactful. The set was solid, especially as Bok Bok impressively weaved club constructions with classic DJ Funk cuts and well as other Dance Mania classics, but the shift in rhythm was too much for a crowd that didn't know how to dance to ghetto-house. The room had a good energy, but a confused one, a shame because shaking your ass is the healthiest thing you can do at a festival. Hopefully next year we'll see more of the Polish patrons back it up and drop it low, as it was a great collection of tracks to get down to. Closing out the night, we saw Traxx provide a magical set in Room 2; weaving between lush Chicago house and pensive, positive techno tunes. The DJ himself got into his own world at times, getting so immersed with the track that seeing this a couple weeks back had finally made sense once it was presented in context.
[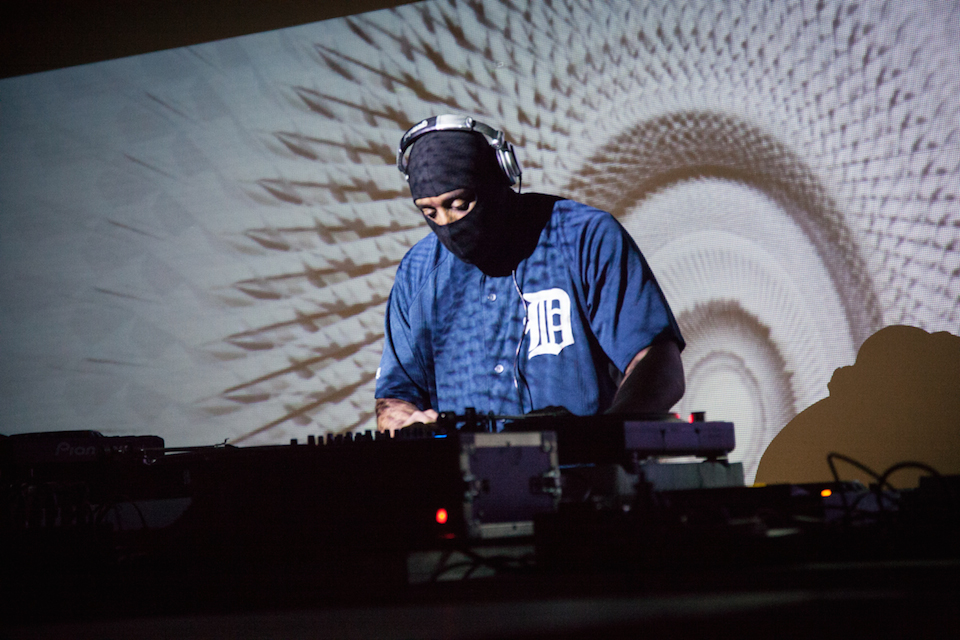 Once we realized we were approaching the 5 a.m., we ran to our place in Kazimierz and passed out, excited for what would grace us on Saturday. That excitement never wavered, as sleep didn't really happen. After eating toast and guzzling down instant coffee(s), we went to Laznia Nowa Theatre to see the massively stacked bill of Stine Janvin Motland, Pharmakon and Swans. With Unsound providing buses to the show—it was east of the central part of the city—this was a special event with a crowd that was already abuzz and packed out by 6:45 p.m. By 7, Stine Janvin Motland took to her post, but not onstage. The Norwegian artist had people in the crowd puzzled, wondering where she was throughout; even though she was behind the curtain, recording all our conversations—sampling, manipulating and singing over them to an impressive and wide reaction from the crowd. Some were appalled, some were curiously unnerved, while we were intrigued and impressed that Motland used us as part of her performance.
Then at 7:30 sharp, Margaret Chardiet took the stage, donned a pair of black leather gloves and made us hold on to dear life with one of the best performances of Unsound 2014. Domineering, demonstrative, personal yet impersonal, Pharmakon provided a thirty-minute performance that was memorable, to say the least. Playing bits of her new album Bestial Burden, the noise-knackered vocalist screamed, smashed and engaged the whole crowd in one fell swoop. At times, Pharmakon would grace us with face-to-face confrontations, with people responding in weird ways like one guy in glasses and long hair who was clearly falling in love with her, mouth agape to the sight of a powerful voice ramming her message down his puny throat. When Pharmakon was done with her session of therapeutic love-rage, Swans began with a 30-minute opening track, which built to a massive crescendo of awesome. Such was Swans, albeit like Gone With The Wind, a venerable classic that just ran a bit too long. Swans went through around 10 tracks in two-plus hours, giving new meaning to the word "atmosphere". We were all engulfed by their presence, their mangled brilliance and stirring bravado, but also realized probably 45 minutes into the show that we probably wouldn't be able to hear again. It was pretty friggin' loud. We left knowing Hotel Forum might be troublesome today with our hearing in the balance, but fuck it. It's Unsound. Onward to glory and goulash.
As we walked into Room 1 once again, hoping our ears would hold steady in the sounds awaiting us, we were treated to Vladislav Delay playing intricate footwork-centric tracks to some intense crowd reactions; people were already chomping at the bit at 11:30 p.m. for a club night that would go way past 6. This particular night was the most packed Hotel Forum ever was; as it was even hard to move inches to any direction in the hallways. Getting to perch in a room was tough as people were all-up on each other without any compassion; saying "excuse me" is the most foreign thing one could ever do at Hotel Forum. We perched for a while in Room 2 and saw a great set of organically-charged live wire techno from Blondes, and slithered back into Room 1 just as The Bug was preparing to unleash his sonic fury. He struck us with his furious anger and made sure we would never forget this performance; the room acted as a sub-centric powder keg of energy—a performance that took us back to 2008 all over again. It was a wonderful time warp that we will never, ever forget. Bless you Kevin Martin, for making us feel #feels.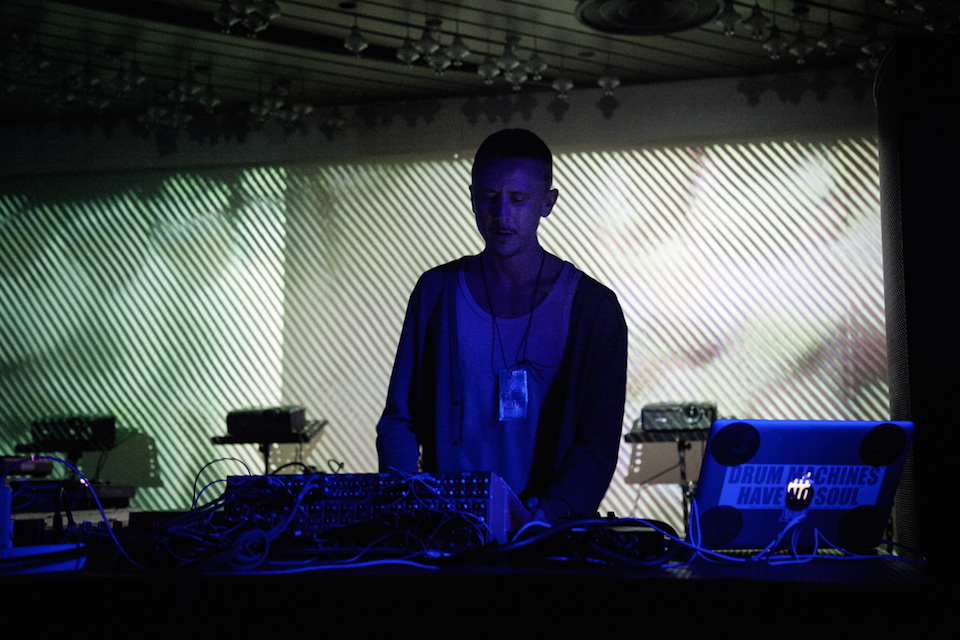 Continuing with that theme, we went to see the last bit of Joey Anderson's set and were thrilled to see his brand of house and techno translate quite well to the faithful vibesters in the room. The last bit of the night was a bit convoluted, as Evian Christ unfortunately ran into some sound issues, but carried on strong with a classic set from the young Tri Angle badman. Mumdance was impressive, albeit a little short due to time constraints from issues beforehand. His set was still impactful though. Running back to Room 2 shortly thereafter, we saw Lee Gamble turn into a chameleon—a man possessed by giving us all the tastes of a techno set while not uniformly staying in tow with its structures. Keeping on that tip, we went to Room 1 and saw Pinch and Logos join Mumdance with a special back-to-back-to-back set that knocked the room down to the very end. All in all, Saturday was brilliant and beguiling, making us stagger back in the early morning, wondering how time passed by so suddenly.
Finally, the closing night was meant to be taken considerably slowly, as we encroached upon ICE Krakow for the likes of Grouper and Craig Leon. Grouper began the show with her electronics on the foot of the stage, with the sound of a film projector up above courtesy of Paul Clipson. What followed was a harrowing, heartfelt performance that transcended the constructs of a musical performance. It was a riveting performance that deconstructed the idea of live visuals being done on a computer completely, with a soundtrack by Grouper that blurred the lines between emotional and emotionless completely. The crowd had to make its own decisions—grasp what they could relate to and challenge themselves to find more if that wanted to. Personally, we had goosebumps almost the entire time, and were amazed at how divisive the crowd response was during intermission.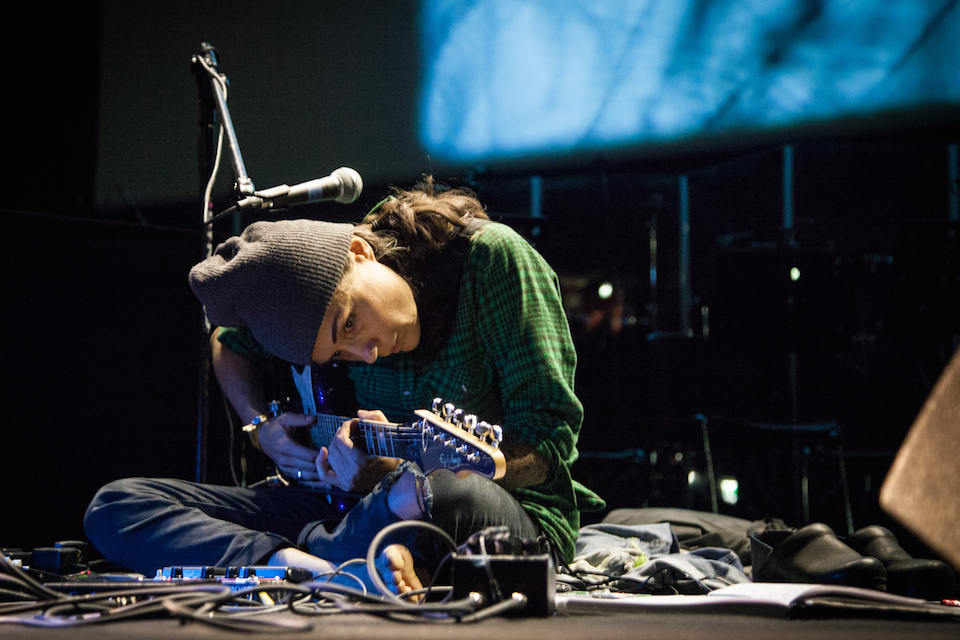 Craig Leon came on for the latter part of the night 35 members of Sinfonietta Cracovia for a performance of his seminal work Nommos, which was solid. The visuals were a bit tame, and the music itself provided most of the experience, providing a vivid exploration into electronic and classical minimalism while maintaining a sense of whimsy. Slowly, the crowd dispersed from ICE and hours later approached the bar/library/board-game house known as The Lucid Dreams Association, where we walked in and immediately felt strangely at home. We were puzzled as to why until we walked upstairs and saw New York's very own Willie Burns take control over the dancefloor and provide a taste of our town to the people at this special Krakow institution. Soon thereafter, Los Angeles' very own Total Freedom took a turn to his own coast and provided a set with flavors of soca, grime, and jungle that engaged the crowd, but not to the point that Willie had them shouting at the top of their lungs for more Inner City. Later, Call Super went back-to-back with Objekt under the Everything is True (EiT) umbrella, playing tracks you wouldn't regularly hear them play out and smashing the place to bits until closing shortly after 6:30 a.m.
Unsound was a brilliant deluge of friendly what-the-fuckery; we laughed, we cried, we ate a lot of great food and talked to a ton of like-minded schmucks like ourselves (while drinking a metric ton of vodka throughout the week). We engaged with our environments, let in all things weird and wonderful and exorcised ourselves through dance for hours upon hours, all while Krakow served as our home-base. There were no hot dog carts, no subways, no buildings towering over us oppressively; instead there were cobblestones roads, trolleys, castles and zapiekanki along the way. We were honored to cover Unsound 2014 this year, and we were sad that this dream had to end sometime soon. However, that doesn't mean we can't come back to it next year to continue the next phase of our dream state. However, the one question that lies with Unsound is—what lengths will they go next to get to the theme of 2015?
Only one way to find out. See you next year, Krakow.