Photo DAVID NAUGLE
Deerhunter drummer Moses John Archuleta has revealed the latest record from his Moon Diagrams project. Due out August 2nd through Geographic North, Trappy Bats features three new tracks and welcome reworks from Shigeto, Angel Deradoorian, and Jefre Cantu-Ledesma.
Archuleta says the record was largely inspired by the tour cycle behind his debut album Lifetime of Love, and "spurred into action by my being arrested and incarcerated while the Charlottesville riots were taking place. In a sense, that was the spark that lit the fuse for me to make all of these recordings, but I don't want it to be interpreted as a political piece of art, but rather… anti-political. For me it was really just a darkly fun(ny) reaction to all the dark energy of the news and sociopolitical climate. It's meant to function as a cathartic musical escape hatch."
As for where he sees Moon Diagrams headed next, Archuleta says, "I've been very busy working on demos and planning out the next full-length LP. Very happy, personally, with how the project is coming along and being received, considering I'm trying to make 'techno' and electronic music, but have no idea what I'm doing or what I'm trying to do. So, it's a project that is allowing me to happily tap into my intuition and make music with an aesthetic and sonic palette all my own outside of Deerhunter."
Check out a complete rundown of the record below, along with tour dates and uncut / video edits of its title track, which Archuleta describes as "somewhat inspired by time on the road with Algiers. We all went to a goth club in Dublin after our show one night and the experience inspired 'Trappy Bats'. Just imagine a small room trapped full of bats frantically moving about, like a lock-in. Kinda frantic and anxious and wild, kinda partytime excellent dark energy all compressed into a small space"….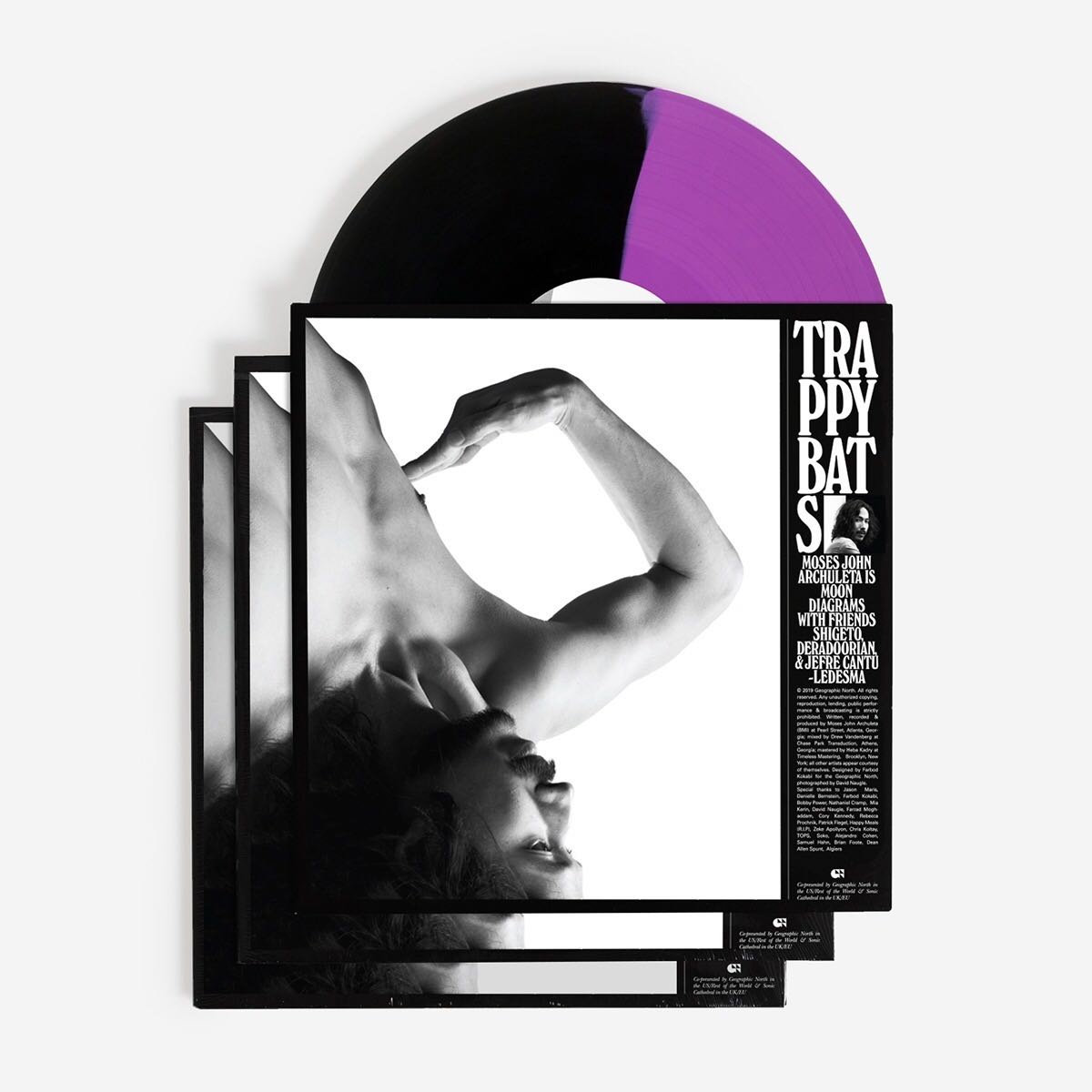 Moon Diagrams
Trappy Bats
(Geographic North, August 2nd)
1. Trappy Bats
2. Trappy Bats Meets Shigeto
3. Wipeout
4. Daisychain
5. Daisychain Meets Deradoorian
6. Wipeout Meets Jefre Cantu-Ledesma
Moon Diagrams tour dates:
6/25 Kingston, NY – BSP *
6/26 Brooklyn, NY – Elsewhere +
6/27 Washington, DC – Black Cat *
6/28 Philadelphia, PA – Boot & Saddle *
6/30 Boston, MA – ONCE Ballroom *
* with Cate Le Bon
+ with Cate Le Bon and Vivien Goldman