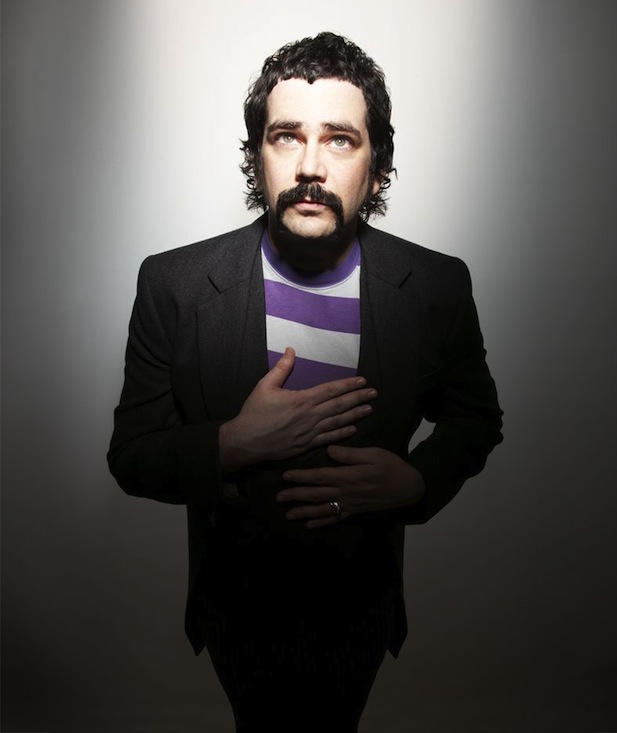 Like most of the DJs/producers on Thievery Corporation's ESL Music imprint, Ursula 1000 builds his heavyweight hooks from a bottomless record crate; one that's capable of catering to a martini-swilling bar crowd or a peak hour pack of ravenous club kids. In the case of the Hi-NRG set below, that means a half hour of bruised breaks, teeth-gnashing rhythms, and speed freak snippets of techno, hip-hop, soul, and funk that obliterate the notion that Ursula 1000 is merely a nostalgia trip away from scoring the next Austin Powers sequel.
Like what you hear? Then head over to Central Park's SummerStage this Saturday afternoon, as Ursula 1000 DJs at a special show related to the Latin Alternative Music Conference…
1. Ursula 1000 feat. Isabelle Antena, "Repetez Le Repertoire (Linntronix Remix)"
I caught a couple of pieces from Germany's Linntronix and really dug his sound. He's done production for Kris Menace and remixed the likes of LCD Soundsystem and Depeche Mode. This is a world exclusive of his remix for one of the upcoming tracks off Mondo Beyondo (ESL Music, August 9th), my new album.
2. Anna Lunoe and Wax Motif, "Love Ting"
Australia's Sweat It Out Records finds a way into my DJ box all the time and this tweak on the Whispers classic is a summer must!
3. Q45, "The Funky Get Up (Hugga Thugg Remix)"
3am Jam Records is another label down under putting out insane party monsters. Love the old school breaks vibe of this one.
4. Jose Nunez and Antranig, "Are You Ready?"
Cheeky peak time jam featuring bits from the awesome 70's disco classic from Musique.
5. ACN and Alexander Avilla vs. Busta Rhymes, "Acid Jack (Ursula 1000 Mash)"
This is an exclusive floor filler of the fab acid track "Acid Jack" with a little Busta Rhymes riding on top of it that I did.
6. Ursula 1000 feat. Ms.G, "Baby Laser Love (Basement Freaks Remix)"
Been loving Basement Freaks production on Jalapeno Records and asked him to rock a remix for another of my new album tracks. This is a killer!
7. DJ Twister aka Vinyl Cat, "Mahna Diggi"
Kooky boot of the '60s lounge classic "Mah Na Mah Na" by Piero Umiliani that gives it some extra balls!
8. A.Skillz, "California Soul"
The UK's breakbeat giant does a huge party bomb on this classic Marlena Shaw jam. Another perfect rocker for the summer!