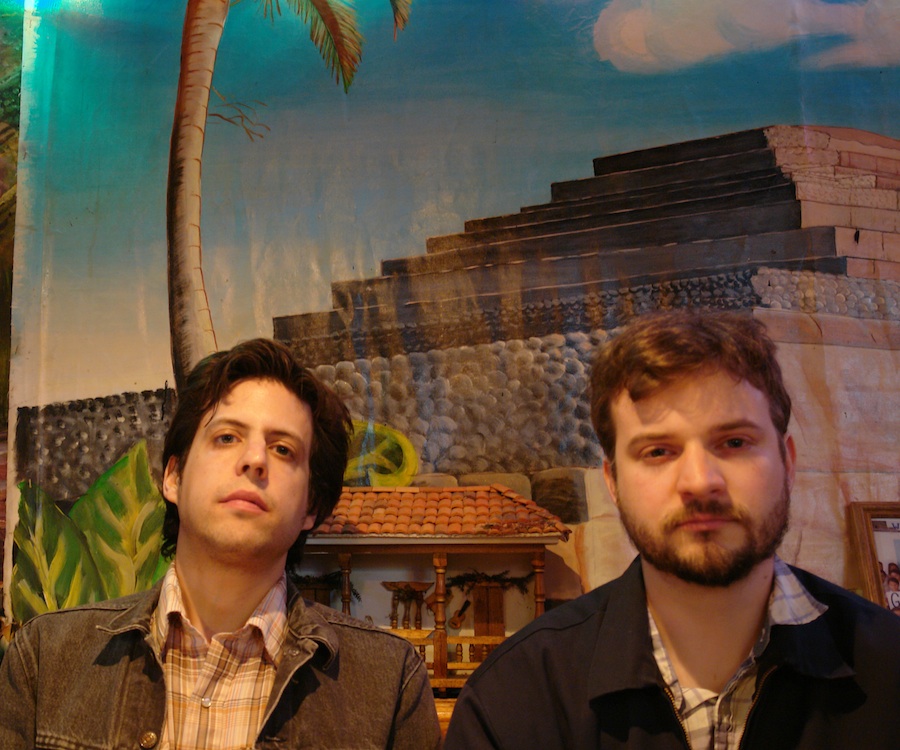 Words and Mix by Protect-U
So far, Protect-U has been more of a studio-based jamming and live show-oriented endeavor than a DJ thing, but we do have a lot of records hanging around and our practice sessions tend to involve more than a few minutes spent hanging out and showing off new/weird tunes. These tracks were plucked out of the stacks pretty randomly, but looking at it now, I guess it gives an indication of where we're heading with our own music–trying to strike a balance between the slow New Age zone-outs and and the more stripped down and bumpin' techno stuff. I guess the latter wins out here…
Uku Kuut, "Soft Fashion" (PPU, 2012)
Aaron Leitko: Our friend Andrew Morgan, who runs the label PPU, put this record out. It's from Visions of Estonia, a compilation of home tapes and demos recorded by the Estonian producer, Uku Kuut, during the early '80s. It's mellow synth funk–very much like the stuff that they used to play in the background on the Weather Channel. But listened to outside of that context, it's eerie and borderline-psychedelic, I think.
Chayell, "Tropic" (Antler, 1987)
Mike Petillo: It can be hard to find flawless new beat (Belgium's late '80s style of house), as a lot of it is just ridden with cheesy vocal samples and
over-the-top orchestral synth stabs. But this track from Chayell is definitely a gem. Slow tempo industrial percussion and pounding insect-a-zoid tribalism.
Sinewave, "Barrier" (Chill, 1991)
MP: UK bleep! Anything on the Chill label catches your eye as the sleeve just says "C-H-I-L-L" in big yellow trippy letters. Some nice stuff on the label
(and some less-than-stellar British acid) but this Sinewave joint is massive. Atmospheric pads and demented bass over a great skittering beat. Aaron and I (along with Andrew Max D) obviously like to layer ethereal chords over top our drums so it's really cool to discover these older tracks that worked off the same blueprint.
X-Ray, "Untitled" (Transmat, 1986)
AL: Mike dug this track up on YouTube and sent it my way, probably because he thought I'd get into the super-drippy arpeggiator action that's going on
here. (And I did.) We were both on the lookout to score a copy. It's funny, though, because it turns out Mike already owned it–it's an untitled
track on the "Let's Go" 12", which he had, and he just didn't remember. This is his copy, since mine's pretty scratched up.
Scottie Deep, "C.H.A.N.T.S. (Deeps Outa Phucken Control)" (Thumpin!, 1994)
MP: Scottie is the brother of the famous deep house producer Mark Kinchen. Really feel the elasticity of this track and the way the bass and drums are
flanged out to bend around your brain stem a little while you do a low-intensity AM calisthenic bus-seat-groove-jack and get caffeinated on the S4 on the way to work in Silver Spring, Maryland.
Juju & Jordash, "Chelm Is Burning" (Golf Channel, 2011)
AL: I love pretty much everything that Golf Channel puts out, but this was a big deal record for me when it landed. It's like sepia-toned house music or
something–faded and murky, but with a really heavy bass pulse. Mike and I drove up to Philadelphia a few months ago and caught Jordash's live solo
set, which was improvised on a fairly stripped down set-up of all old school gear. It was pretty epic. In my fantasy world, we'd play live with these
dudes at Pompeii.
Armando, "151 (Alternate Version)" (Hot Mix 5, 1988)
MP: My current favorite version of this track. You can't step to this shit. A master of the body groove, Armando should always be at your party.
Reel by Real, "Sundog" (Interface, 1991)
MP: Genius Detroit producer Martin Bonds–respect is due! The best record score of my life: walking down a street in the East Village in NYC one summer day, stumbling upon a flea market, and finding an original copy of the "Surkit" white label (on Juan Atkins' little label Interface) in a pile of records for a dollar. A techno holy grail just sitting there while who knows how many Manhattanites and amateur diggers strolled by and passed on one of the most primitive yet soulful expressions of electronic music ever produced.
Luv Jam, "Untitled" (Vibrations, 2011)
MP: A wild ride through a 707-squelched, scorched earth. On the Vibrations label, run by the esteemed Roots Unit & Soft Rocks crew.
Bell Towers, "Scavengers" (Hole in the Sky, 2011)
MP: A wonderful single by Rohan Bell-Towers, an Australian-based producer. Have heard this track played several times on Noise In My Head radio. (If you're not at least a casual listener of this Melbourne radio show, be sure to start tuning in/out every Sunday night.) Absolutely feeling the WBMX vibes mixed with some Belgian deepness on "Scavengers," and really looking forward to all Bell Towers productions in the future.
Mike Perras, "Beginning of Life" (Bassic, 1991)
MP: The synths whisper and sing in this track. In Protect-U's music, we sometimes attempt to evoke some vocalizations using our Yamaha CS01 that we filter to make it talk.
–
Protect-U's new Planet Mu 12", "Motorbike," is available now. The DC-based duo play a live set at Pittsburgh's In the Machine Age party on Friday, June 8th.