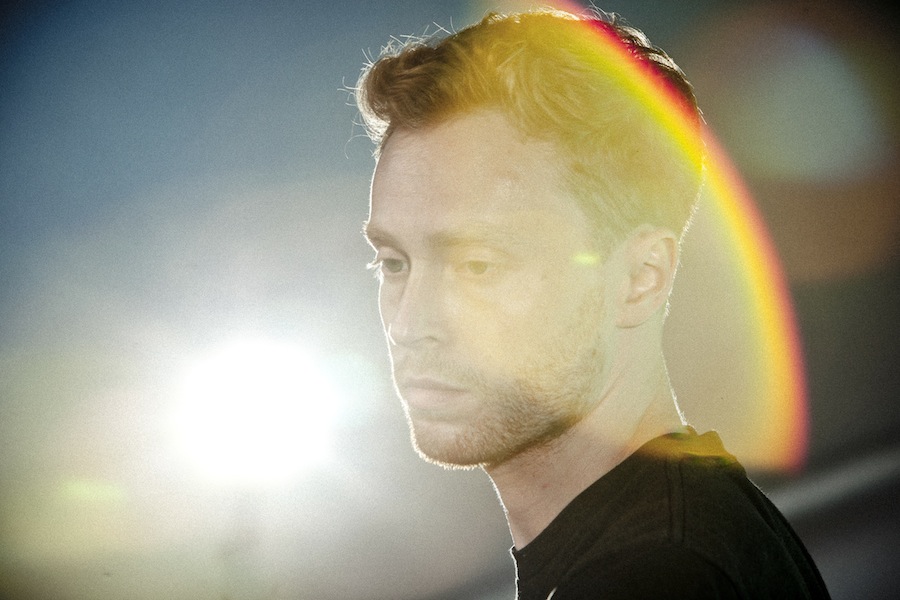 Words by Mitch Strashnov
Drew Lustman has gone from burgeoning underground dance producer to sonic specialist within a handful of years; announcing that yes, he's that damn good at his job. Under the guise of FaltyDL, Lustman has created a vivid sense of emotional entanglement within his albums, and with his debut Ninja Tune LP, Hardcourage, he takes another big step by letting even more of his soul pour out. To say it's more emotional is too easy–considering that bits of the album are lush, refined and even a bit slower than his previous two LPs–but the overall vibe presents an artist that's grown up with a mindful presence to the music around him.
self-titled spoke to Lustman about getting signed to Ninja Tune, the album process and how he's taken leaps and bounds to get to the place he's in now. Oh, and he also shared an exclusive mix for our Needle Exchange series, a set he cut while staying in Barcelona earlier this winter…
self-titled: This is your first LP on Ninja Tune but you were signed to them a while back; how has being signed on such a label changed your general process?
Well, Ninja Tune has been around for a while and they've learned how to sell records; I was a huge fan of them 15 years ago and recently became a fan again, but the signing process took a while because the Atlantis EP was a one-off. The "Hardcourage"/"Our House Stab" 12" was a try-out and soon thereafter, talks of an album started piecing together. Since the album has been finished, I haven't been making tunes in a couple of months, maybe because there's more press to do and travelling. There were some growing pains in the beginning, such as on putting things together like a T-shirt, artwork and album/tracklisting–that whole process. But it all worked out for the best, and it also helps that they're very sweet people, who are genuinely invested in putting out the best musical product.
Was there in a difference in approach or perhaps a different goal in mind when recording?
If you listen to my first album [Love Is A Liability] and this one, they are worlds apart. My sound has changed so much over the years due to what I'm into; it's also small bits of what I'm making. Right before I went off to Spain, I made a jungle tune, as well as a hip-hop tune. However, this album is a love letter to my lady, in addition to the addiction of being in love. Not entirely lust, but the chase of it all; I had to wrap my head around the journey and not hold anything back, let it all out in this record.
Almost every release you put out has had that FaltyDL vibrancy–a penchant for airy jazz melodics and shuffling drums. With this album, you had a good chunk of tracks in a slower tempo than what I remember previously. Was that conscious effort on your part to take it easier for your listeners or were you just in a different state of mind?
Surely a different state of mind due to the last year; I've been kind of listening to slower, more deeper grooves. Also, things became more stripped down in the production process; some of the tracks on my last album had 25 channels of audio and distortion. This album has tracks that are more simpler and "chiller." I have a hard time just sitting and waiting, giving time to breathe. I might have to do the same with more music that I have lying around now. I'll make dark tunes but I'll be back with light tunes counteracting as well. Currently, I'm clamoring to find inspiration in something right now, whether it's a new sound to employ or the need to find a production technique and use it in my own way.
There's some welcome surprises on the record. You delve into some Detroit vibes on "Finally Some Shit/The Rain Stopped"; you take on another vocal track with a feature courtesy of Ed MacFarlane; and "Re-Assimilate" brings us back to a part of your production techniques that's been quiet for years. Tell us how you came about the trajectory of this album…
Ninja Tune had an idea of what they wanted the first album to sound like and I did as well, but within our similarities and differences, quality control is necessary. It's good to have them banter and butt heads about it. Ultimately we were both happy with the outcome, but initially I was not that happy. However, now I stand back and can appreciate it. Some of the tracks were very clear indicators to be on the album; "She Sleeps" was definitely going to be on there. "Finally Some Shit" was necessary for me to be on my end. It's like putting together a jigsaw puzzle, finding the corners and then working within all the pieces to see the bigger picture. As the artist, you know you work and all its intricacies, but Ninja Tune has done this so many times before, so after finding a good compromise, Hardcourage is where it's at for good reason.
Were there any particular influences–people, places, tunes–that brought Hardcourage to fruition?
The figure that shadows above all this was this woman. The artwork of the album is her actually. I was initially apprehensive to put on "For Karme" but it's on there for that reason solely. The producers I listened to extensively during the album process were Theo Parrish and Moodymann. Also, Theo just churns out music constantly and it sounds fresh; it made me appreciate finding my own sound and finding my process and being productive. Making music is all I want to do in my life and I'm trying to figure out what's next in that journey.
How did your Blueberry imprint come about? What's the focus with that right now and for the rest of this year?
Ninja Tune is really cool about not completely owning things; but what I wanted to do is start my own label and co-release my own material, so I can build up a history and then put someone else's music, such as this kid, Brrd. This kid's got a very abstract and unique hip-hop viewpoint that I'm really excited to share in the coming year. I'm also interested in doing a few Blueberry nights in New York City with some producer friends all night long. However, I don't want to be overly ambitious, but the sky's the limit, so we can do a bunch of stuff.
Finally, what's next for FaltyDL for the rest of the year?
I have this zany idea that I want to release another album this year. I'm going to do some touring in Europe, Asia and the United States. Hopefully get to tour China and St. Petersburg.
–
FaltyDL plays Justin Carter and Eamon Harkin's Mister Saturday Night party on Saturday at Brooklyn's House of Yes.