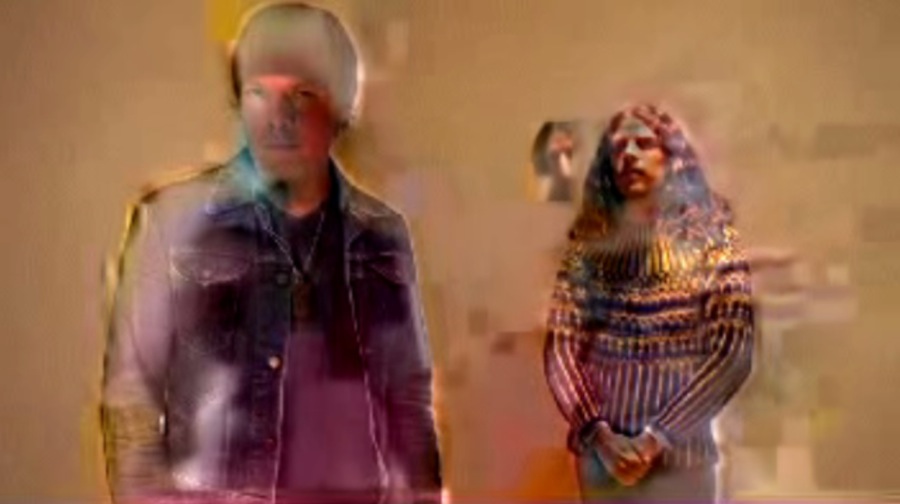 After taking a brief break, our Needle Exchange mix series is back with a burner from Mark Van Hoen's recently reactivated Locust project. Now rounded out by the robust synth lines of Louis Sherman, the duo will unveil its first collaborative recording through Editions Mego on April 16th (You'll Be Safe Forever) and a new live show this Friday, in the supporting slot of the Bunker and Nightvision's one-off Public Assembly party with Tropic of Cancer, Black Rain and more…
1. Locust, "Presence & Gifts" / "Faith Grows On Trees" + The Carpenters, "Rainy Days & Mondays"
Mark Van Hoen: In my early teens, I would listen to things like Eno & Cabaret Voltaire while my parents played their 70's pop records downstairs. I was always fascinated by the two mixing together, when I was halfway up the stairs. This is a recreation of one of those moments.
Louis Sherman: A wonderful experiment! I enjoyed this immensely! I remember thinking about things like that when I was a child.
2. LFO, "Mentok I"
Mark: LFO were for me the first time I heard dance music that also had the depth to listen to at home.
Louis: An unstoppable force in electronic music. I first heard L.F.O in 1992 at 13 when my neighbor gave me a cassette with "L.F.O." on it and I wore it out. They always have
such wonderful, catchy hooks and compelling dark beats. They are a big influence on what Mark and I did together.
3. Andy Stott, "Hatch the Plan"
Mark: My attention was drawn to Andy Stott when several people said it sounded like my '90s music. I agree, but I think he does it better.
Louis: An excellent track that I love to put on repeat with haunting vocals and a beat that is so hypnotic.
I think that Stott has eloquently turned something that Mark touched upon into a whole sound, for which I am thankful.
4. Seefeel, "Charlotte's Dub"
Mark: This has until now been my favorite Seefeel track, but I heard something from Mark Clifford the other day that may well change that.
Louis: Seefeel shows such wonderful restraint in this track. I love the empty spaces between beats.
5. 69, "My Machines (Reprise)"
Mark: To me, Carl Craig is the greatest of the Detroit techno artists. I just love the fine control of abstraction and rhythm that he commands.
6. Hype Williams, "Untitled"
Mark: There's a darkness and mystery to Hype Williams' music that is unique to them, and while I like Inga & Dean's solo material, there is something about them together that is magical.
Louis: A dense cloud of pot smoke. Is it a party or a funeral? One of the most moody and psychedelic bands out there. It's clear that they are the perfect band to do what they are doing.
7. Sensations Fix, "The Dark Side of Religion"
Mark: I discovered this only recently, when my wife Jayne bought the recently released retrospective Music is Painting in the Air. It's one of the best things I've ever heard.
Louis: Franco Fulsini is such a rare talent, able to blend guitars and synthesizers effortlessly. It's worth looking up his studio diagram from the time. He really made some of the most progressive progressive-rock of the '70s. It really is the best of both worlds.
8. Hertsi, "Kohina"
Mark: This is one of the early releases on Sahko, many of which are seminal techno releases.
9. Cabaret Voltaire, "Doublevision"
Mark: CV were an inspiration to me from a very early age. Their recordings still carry so much potency and mystery, especially from the time Chris Watson was in the band.
Louis: I absolutely love wobbling, woozy sounds like this. Isn't this amazingly just like Oneohtrix Point Never?
10. Orchestral Manoeuvres in the Dark, "The Messerschmitt Twins"
Mark: The first four OMD albums are pop masterpieces, almost flawless. I could happily include any track in any podcasts I make, and frequently do!
Louis: I admire the minimal industrial sounds within a pop oriented song, so daring! Mark has really showed me just how innovative these guys were.
11. Pram, "Pram"
Mark: This is from their first release on Too Pure–in 1993 I think. I saw them live many times around that time, and always loved their sound.
Louis: A great band, like Seefeel's wallflower sister who couldn't afford as many echo pedals and I love it for that almost Raincoats sound.
12. Oneohtrix Point Never, "Time Decanted"
Mark: This is from the vinyl boxset of Rifts, which finally came out last year.
Louis: My brain always feels twisted when I listen to O.P.N. Really a very visual music. So happy he has been recognized for his talent.
13. Kraftwerk, "Ruckzuck"
Mark: Over the years I have been more and more drawn to Kraftwerk's pre-Autobahn releases. This Conny Plank-produced track is a fine example.
Louis: I heard that they brought a cricket into the studio and recorded it for this album but it didn't make the cut! This track is a stomping, uncompromising masterpiece!
14. Four Tet, "A Joy"
Mark: It's strange; I completely disagree with Kieran Hebden's approach and philosophy to music making, but I often love the results.
Louis: I have always disliked Four Tet but this track has something very cool about it. He has a polarizing sound that I truly respect.
15. Aphex Twin, "Polynomial C"
Mark: Classic R&S era Aphex, the first track I heard from Richard.
Louis: Whenever I hear this track I fall to the floor convulsing with joy or run around in circles of delirium like a child. 'Nuff said.
16. Slowdive, "Avalyn II"
Mark: This is from 1990, and it must seem like another lifetime for my friend Neil. We got him to get his FX pedals out of the cupboard last year, formed a new band called Black Hearted Brother and now the album's done and signed to Slumberland. It'll be out this year.
17. Locust, "Conversations Beyond the End of the Sky"
Mark: One of the drone tracks from CD2 of the Wrong album, used as a link here. It's a very useful album for that!
Louis: I loved the dual CD player idea; I don't think that Locust got enough credit for that innovation. It really is magical. Get out there and try it yourself!
18. Michael Rother, "Feuerland"
Mark: It can't really go wrong when you have Michael Rother, Jaki Leibeziet and Conny Plank together in a studio in 1976, can it?
Louis: Gods among men. I love Conny's work with this record.
19. Tangerine Dream, "White Eagle"
Mark: The last track from the last great TD album. Just a beautiful piece of music, with Chris Franke's amazing sequencers and Edgar's soaring melodies.
Louis: Perfection. Music that is NOT AT ALL within a pop format. They taught us what to do and the rest is history. Could not love this band more.