The following exclusive feature is taken from our free iPad magazine. Omar Souleyman just launched a lengthy international tour that'll keep him on the road throughout the summer. Check out dates and details here. He plays Glasslands tonight as part of Brooklyn's Northside Festival.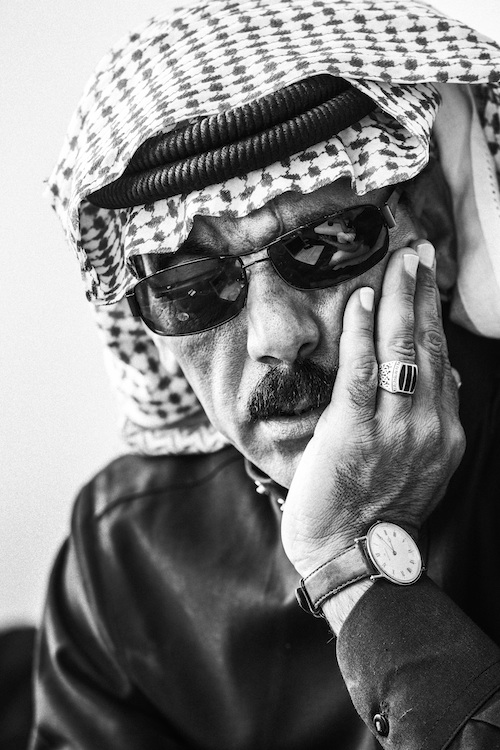 Photos by Aaron Richter
Interview by Miles Raymer
Whether you speak Arabic fluently or don't even know how to say hello, arranged marriages, tenuous family ties and ill-fated love stories aren't the first things that come to mind while cranking the techno-charged folk tunes of Omar Souleyman. The music itself is, a head rush of dabke hooks, chromatic keys and ecstatic choruses that blaze right on by in a manner best described as wham-bam-thank-you-ma'am.
That's why turned our rare in-person interview into more of a storytelling session—a way to crack the lyrical codes (via a Skype-tethered interpreter) in Wenu Wenu, Souleyman's Four Tet-produced answer to years of being Syria's most bootlegged wedding singer…
"WENU WENU"
It's just a song about a girl. It's so simple. "The one I love/ Where is she?" All of these stories come from his community. [Storytelling] is a tradition that's popular in his community. Everyone has their own story and problems.
"YA YUMMA"
It's the story about a girl who's being asked for marriage by someone. And she's begging her mom that she doesn't want to marry this man. What she wants is to marry her loved one, not this man who doesn't know anything about her. He might be her cousin. In his region there are such problems, and he's reflecting them.
"NAHY"
It's a traditional Iraqi song. In Arabic they call it a soudassi, where every line has six words in it.
"KHATTABA"
He's the wedding singer. He used to sing every kind of music they asked for. It's different from [an American wedding] DJ. He has a band. He has a poet. He's fully equipped.
"WARNI WARNI"
He has an experience about this. He used to love someone. There was a lot of problems. This one he couldn't see more than once a month. Then she left, and that was it. The line "you're like the water and the air for me"… anyone without air and water would die. That's how it is for him. Everyone in his life has a sad story. All love is sad and difficult. Everyone is affected by such stories.
"MAWAR JAMAL"
It's a story about two brothers. One of them betrays the other. The other is mourning his brother. Mourning the acts of his brother towards him. The story here you've heard before. Two brothers, and their dad died and left all he has to one brother, and he didn't look after the other brother. It's a complicated situation.
"YAGABUNI"
It's kind of a common story which happens a lot in his area, where two neighbors fall in love with each other. When you're neighbors with someone and you see more often than anyone else, sometimes it turns out to be a love story. There are some doubts in it: Is this person really suitable for me? Is this the one for me?