Photo KATE YOUNG
If the ecstatic pop experiments of Petra Glynt are any indication of what to expect from Damian Taylor's new Vibe Over Method imprint, then we won't be hearing people refer to the producer as "longtime Björk collaborator Damian Taylor" much longer. He'll simply be known as a champion of cutting edge music.
In the case of Glynt's looming This Trip LP, that amounts to samples and synths that sputter, scream, and spray your speakers right alongside robust rhythms, operatic melodies, and lyrics that cut straight to the chase ever so cryptically. Take today's #selftitledpremiere, for instance; its highly theatrical hooks sound like they belong on Broadway and read like a wry protest anthem.

"'Up To The People' comes from the year 2013," explains Glynt. "It's about the end of the Occupy Movement and the globally internalized realization that the world is controlled by a 1-percent elite and how strong we really are as the 99-percent for our sheer numbers and diversity. There's power and beauty in feeling that. That year was a poignant brain shift for me and I was empowered by my own rage and in awe of brave people and community organizing for the sake of challenging capitalism. This song is basically giving props to those people."
It's also a perfect fit for a Doldrums remix that foams at the mouth:

"My remix of 'Up To The People' is influenced by power drills and machines in pain," he says. "I'm very lucky to know and be playing music with this human Petra Glynt, who I met in Toronto where we lived in an old ammunition warehouse. She is one of the trippiest people on the planet. GO N GET HER DEBUT ALBUM."
Indeed. Here's the breakdown of This Trip along with its last two official videos….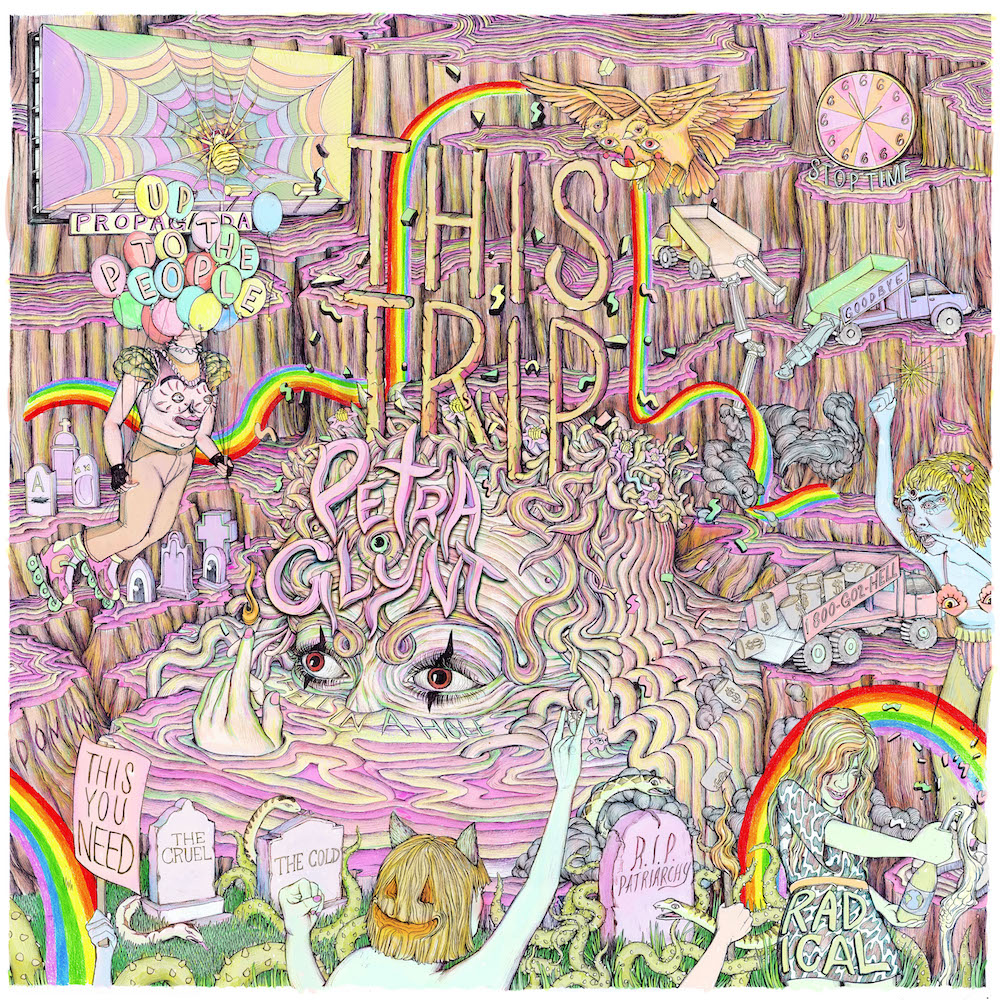 Petra Glynt
This Trip
(Vibe Over Method, October 27nd)
1. This Trip
2. Fell In A Hole
3. Radical
4. Up To The People
5. Domino
6. Propaganda
7. Stop Time
8. The Cold
9. The Cruel
10. This You Need
Petra Glynt tour dates:
10/11 Hamilton, ON – HAVN ~
10/12 Kitchener, ON – TBA ~
10/13 Guelph, ON – Ebar ~
10/14 London, ON – (UPPER) ~
10/15 Detroit, MI – Trixie's Bar ~
10/25 Toronto, ON – Baby G ~
10/26 Montreal, QC – Bar Le Ritz ~
10/27 Fredericton, NB – Shiftwork ~
10/28 Halifax, NS – TBA w/ workshop ~
10/31 Manchester, UK – Rebellion *
11/3 Karlsruhe, Germany – Substage*
11/4 Vienna, Austria – Nina Psi *
11/5 Brno, Czech Republic – Fleda *
11/6 Krakow, Poland – Klub Re *
11/7 Warsaw, Poland – Poglos *
11/9 Sopot, Poland – Dwie Zminy *
11/10 Berlin, Germany – Urban Spree *
11/11 Copenhagen, Denmark – Stengade
11/14 Montreal, QC – Le Belmont ^
11/15 Toronto, ON – The Garrison ^

~ with Bobbypin
* with Doldrums
^ with EMA, The Blow