The steady rise of Jim Coles' Om Unit project—from his Kode9-endorsed Joker remix to a profile-raising string of Civil Music EPs and Phillip D Kick edits—hits new heights today with the London producer's long-awaited debut LP. Simply titled Threads, it indeed connects the dots between Coles' various aliases, welcome diversions (including his Dream Continuum duo with Machinedrum) and personal tastes.
In the following exclusive, Coles shares a complete stream of the record and helps us make sense of it all, as strains of Drexciya, the Police and restless stylistic shifts guide us through left-field grooves and hairpin turns…
[youlist pid="PLF3JYGPo0a4Qo_SviPOb7FqsGPGg00QFA" width="960″ height="540″]
1. "Folding Shadows"
This track is rooted in the work I've done before. It was actually originally written for a vocalist but since that didn't work out, I added more toplines and filled it out. It's called "Folding Shadows" because I like the fleeting nature of the elements in the track, almost like these shadowy movements.
2. "The Silence" (feat. Jinadu)
I wrote this one afternoon; it was sunny, all played, no samples. It was really fulfilling writing a simple string arrangement, something I want to learn more about and experiment with more. In terms of a vocalist, I had actually sent this to a couple of female singers, and it didn't quite work out right for me. Amongst the album writing process, I had the opportunity to remix an artist by the name of "Naibu" and picked a track off his album which featured Jinadu, I love his distinct tone, he reminds me a little bit of Sting actually and remembered that in school I used to listen to the Police quite a bit in the art block, so probably some nostalgia in there.
3. "Healing Rain"
This is a beat I wrote a while back, and kept coming back to. I liked the idea of a kind of ritualistic ceremony; the "woop" on the off-beat made me feel like there was some kind of shamanic raindance thing going on. So I chose to take it that way—added the thunder and rain, etc. It makes me feel like I'm outside my old best friend's house when I was a kid, in the rain, dancing! Healing rain.
4. "Jus Sayin'" (feat. Gone the Hero)
This beat I put together a while back as well. Kutmah has a rough mix and had been playing it on his radio show and stuff for a bit. I sampled pieces of a New Age cassette tape, something I learned about from my good friend Tom Wilson (Take). I approached Gone via Jneiro Jarel, someone I'd made contact with prior to the album about working together. Gone is a new character on the Label Who imprint. I like what he did here; it's not showy, braggy cartoon shit, but something sincere. Very happy to have pulled this off.
5. "Drift Interlude"
"Nothing is original. Steal from anywhere that resonates with inspiration or fuels your imagination" —Jim Jarmusch
"Non-dance dance music;
basically, it's a tripped-out one."
6. "Reverse Logic"
This one touches on my early slow-house work, except it's right down at 88bpm. I love slow "chuggers" myself and wanted to try something with a bit more warmth and depth to it. This is perhaps similar to my remix of Kromestar and Jay 5ive's "Wishful Thinking" in essence, but maybe a little more sparse. I actually used one of my favorite drum breaks for the main rhythm—the classic "Boymerang" break—but used it in a very gated fashion, just letting it off at the end of an 8-bar sequence or so. It's called "Reverse Logic" because it's kind of a backwards way of using a break, and also because I reversed the main sound at some point in there which gave it a new vibe which allowed me to finish it.
7. "Corridor 2013"
I like the idea of revisiting earlier work and making updates; it's quite fun to remix yourself, I think. This one took me about a year of fiddling with it to get it right, though. My girlfriend was so over me checking it on the speakers at home by the end. And to be honest, me too. For those that don't know, "The Corridor" is the lead track from my first record as Om Unit, which was picked up by Plastician for Terrorhythm and helped me get out there. I used some original stems and replayed other bits; there's also the sound of a fire hearth from some crazy record I found that has over-compressed recordings of someone stoking a fire. It sounds mental; perhaps it was made for people who were cold?
8. "Nagual"
I love the word and connotation of Nagual; I love high-strangeness in general. This track is like a few styles in a blender; it sort of morphs and never stays still. One of my faves—quite subtle, but I had a lot of fun making it.
9. "Patients" (feat. MC Jabu)
Who doesn't love Jabu's voice? I heard him rapping on the Young Echo podcast and loved what he was saying and moreso, how he delivers. I managed to track him down through one of my collaborators, Sam Binga, and originally sent him "Healing Rain." The vocal from this was originally over "Healing Rain," but I rebuilt something else underneath and crafted it to fit. I quite like to reverse engineer and rebuild stuff; it's healthy to deconstruct your own work in that way I think.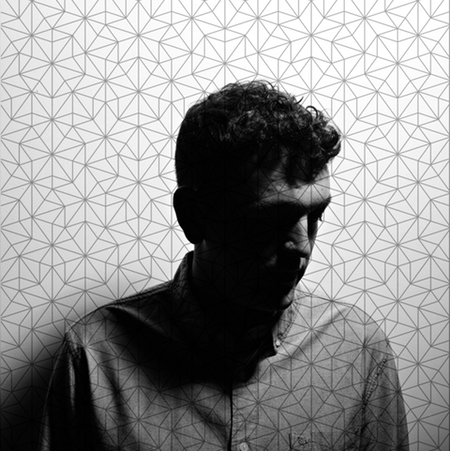 10. "Deep Sea Pyramid"
I made this at about 8 a.m. after very little sleep one night. Just got up, went to the studio and made it in about two hours. It reminds me of Drexciya, so the name is a nod to Stinson and Donald. I like the idea of making more weird footwork-inspired stuff like this. Non-dance dance music; basically, it's a tripped-out one.
11. "Wall of Light"
More high strangeness. This one made me feel meditative, as if there was a presence in the room within the music, if that makes sense. And visually, it made me think of watching out over an ocean at some sort of UFO in the moonlight. I had previously sampled a quote from a film called Ships of Light: The Carlos Diaz UFO Experience, about a man who had all this footage of these plasma light ships. The story is very compelling, and in his stories of having met these aliens, he says they come out a wall of light.
12. "Jaguar"
The jaguar warrior in Aztec times essentially were the elite warriors. This track has the rainforest feel to it, and essentially it's like a hunting diddim.
13. "Wicker and Pearl"
I have no idea why this tune is called "Wicker and Pearl." This one is an experiment in "quarter step," the idea of a beat sequence going over two bars. I love how you can get almost three diffrent feels working together with that cadence; it's quite powerful, I think. It's obviously a take on drum 'n' bass production techniques in a sense but something a bit "different."
14. "Governer's Bay"
I made the bulk of this in a beautiful guest house in Governors Bay, New Zealand, which has to be one of my favorite places on earth. It's a half-step d 'n' b-style tune; no frills, just a viber.
15. "The Road" (feat. Charlie Dark)
I met Charlie via my flatmate Laurent, and sent him this track and the idea of something motivational but real. I told him to write a message. Charlie has achieved so much, from Attica Blues to Blacktronica to Run Dem Crew, amongst being a poet and curator. He's definitely someone I see as a cultural figure in London's maze of art and music. It was a pleasure to have Charlie bless me with something so to-the-point. I myself have walked a musical path, and struggled much in the past creatively so I can say he know's what he's on about here.
Stylistically, I wanted something cinematic. One day, I grouped up a bit-load of samples. This originally was ambient but I felt it needed to switch. I think it could have potentially been the opener but I'm happy that it's the closer, perhaps sending the listener off inspired? Who knows.