Longtime Slumberland fans in need of a new Literature record are gonna have to switch their attention over to Très Oui this week. Spearheaded by Literature frontman Nate Cardaci and longtime friend/bandmate Steven Garcia last year, the band is rounded out by Literature bassist Seth Whaland and keyboardist/erstwhile Waterloo Records employee Ian Jensen on their looming debut LP Poised to Flourish.
Check it out a couple days early here, right alongside with Garcia's complete track-by-track commentary, and look out for Shrimper/Revolver's official drop this Friday. A record release show is also happening at Austin's Hotel Vegas venue on February 17th, so mark that calendar, Texas!

"LOOKING FOR"
I really love the way we start Poised to Flourish. First there's drums and bass, followed by some jangly guitar, and then this bright lead line tying everything together. It's like the band is saying "hello." Also, I think out of any song we are playing right now, "Looking For" is the most reflective of our personalities. Much like the song, the band is playful and inviting, but pensive and honest.
I definitely want to point out Nate's verse, which is probably one of my favorite things he has written. It's this amazingly catchy, moving melody that gets stuck in my head all the time. We were really lucky to have our friend Mary Bryce sing these pitch-perfect backing vocals. They add this great back and forth dynamic throughout the song.
"RED WINE & DRY ICE"
This is the second single from the record and probably one of the first songs we wrote after we finished recording our EP. Nate once told me that the song is about Goth kids feeling like they are stuck in their boring town. I'm not sure if that's totally true, but I love any song that sounds this fun and talks about pentagrams. Fun fact: we've been known to trade out the third verse for the lyrics of "Atmosphere" by Joy Division when we play it live.
"OFF THE RAILS"
I don't think this song has changed much since the very first time we played it. Seth wrote the bassline, brought it to practice one day, and we all immediately clicked with it. My favorite part is the rolling guitar line I play right before the choruses. It sounds like my guitar is barreling down a bumpy road and trying to find a safe place to stop. I love it. Plus you gotta love any song where the singer earnestly sings "kicking it so extreme."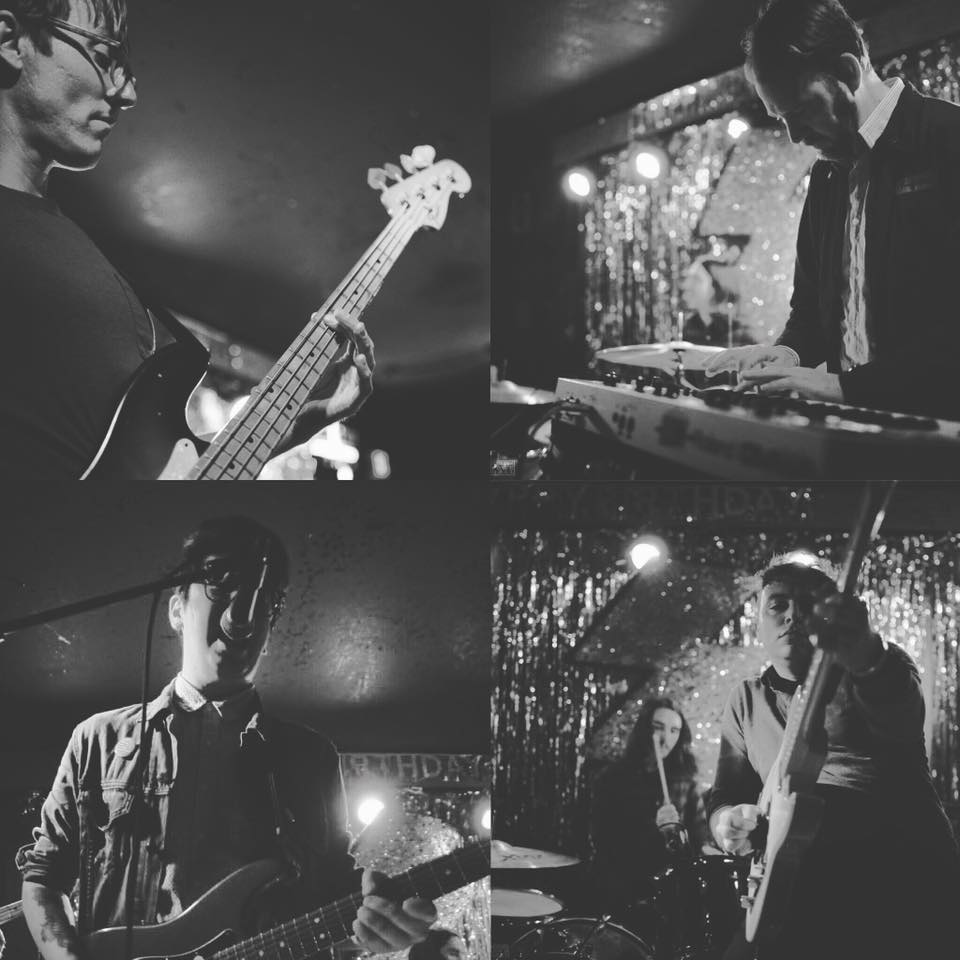 "ONE TRACK"
We all agree that this is our favorite song on the record. I originally wrote the guitar part as a fast, jangly pop song, but Nate and I eventually decided to slow the whole thing down and try a different approach. After that, the song really started to take shape and all the pieces fell into place. When we added the horns the song started to become more of an '80s-inspired ballad with a bit of Destroyer thrown in, which is a far cry from where it started and I think it's all the better for it.
"SONG 4 U"
The working title for this was "Song for Steven." I'm not sure how we got to calling it, that but I've always felt this special kinship with this song as a result. That being said, it's not exactly the most biographical song, but if I had another kind of life, I bet it would be. Keep an ear out for the shiny dulcimer triplets that are played in the chorus. It's the first time I ever played one and I think it sounds pretty good.
"SÉANCE"
I love 7th chords. There, I said it. I think every pop song should have like a million 7th chords. They're these perfect bittersweet bundles of notes and I think they can add so much to the emotion of a pop song. My favorite part about "Séance" is that it is basically the same progression throughout the entire song but the changes are based on these dynamic shifts. I also really like the idea of holding a séance to speak to the ones you miss—very bittersweet, much like a 7th chord.
"SHY"
I think it's pretty obvious this song is about a vampire. So make sure to include it on all your Halloween playlists.
"ALEX TO THE RIGHT"
"Alex to the Right" was almost completely written in the studio, so we have to give most of the credit to Michael Landon at Estuary. We really wanted to try and write a song from the ground up as a challenge to see what we could make with whatever instruments, effects, drum machines, etc. were available to us at the time.
"Alex to the Right" was originally called "Jangle No. 5," a mid-tempo pop song that we were never totally satisfied with. We actually recorded the entire song but then scrapped it and took the vocals and some of the guitars and rewrote the entire thing. So in a sense, "ATR" is almost a remix of a song that only a handful of Austinites and some people in a San Diego bar once heard.
"SUNDAY'S CROWD"
Trés Oui goes Krautrock. All of us are big fans of NEU!; this is us making some kind of indie-pop/Krautrock hybrid. My favorite thing about this song is how chaotic it sounds. It's as if it's going to roll away from us at any second, but it can't because it is being anchored down by Doran's drums. It's almost like a synthesizer came to life, became feral, and then Doran decided to domesticate
it.
"WASH AWAY"
I remember the day we recorded "Wash Away" as the day Nate bought a Bass VI. You can hear it all over this song and I think it really adds this great punchiness that cuts through some of the washy reverb we layered on the guitars. This song used to be our go-to closer in our live sets, which is probably why we decided to make it the last song on the record. I love the way we recorded it; it used to be more of a dream-pop song that bordered on being shoegaze-y, but then we took out almost all of the cymbals and added the horns. It sounds so tight and has this amazing tension that always draws me in when I listen to it.
FURTHER LISTENING