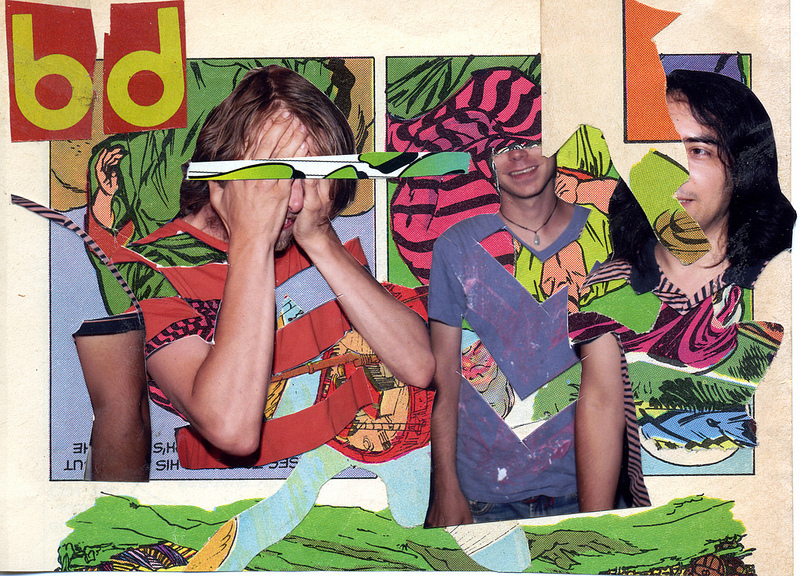 Here are five new releases that stayed in our office rotation throughout the week:
Black Dice, Mr. Impossible (Ribbon Music)
Considering how confrontational their early sets were–sonically and physically speaking, they were practically hardcore shows–it's been downright comforting to see how Black Dice has gone from being a surprising DFA signing to gleeful sound collagists. Mr. Impossible is a natural progression from the trio's last couple LPs (Repo, Load Blown), dialing the nihilistic noise down in favor of frantic but feelgood rushes of sentient sound. Basically, if you've seen one of Bjorn Copeland's art pieces, you know what to expect: madness that's inspired rather than irksome.
–
Fenn O'Berg, In Hell (Editions Mego)
An assault on the senses like only Christian Fennesz, Peter Rehberg and the best thing that ever happened to Wilco can, In Hell is pulled from a week of Japan performances, weaving its way through waves of neo-classical, noise and ambient music like a malfunctioning radio station that's being broadcasted from some nutcase's garage. And yet, hooks emerge–someway, somehow–as if a pop programmer is struggling to reclaim the airwaves. Really, really good stuff if you prefer the more insane side of the improv spectrum.
–
King Felix, Spring 12" (Liberation Technologies)
Laurel Halo adopts the title of her first Hippos In Tanks EP as an alias that draws a clear line between her upcoming Hyperdub debut and the dancefloor she grew to adore while living just outside Detroit. Having experienced the overt strangeness–in a good way, mind you–of Halo's next record, the producer/singer's divergent career paths suddenly make a lot of sense.
–
Pelican, Ataraxia/Taraxis (Southern Lord)
As much as we'd like to hear a new Pelican LP, we'll take this for now–an intriguing, filler-free look at the next phase of a group that's never limited itself to the post-metal template they were initially tagged with. While "Lathe Biosas" and "Parasite Colony" head down that road with their ravenous riffs held high, the record's two impossible-to-spell title tracks reflect the experimental tastes that peppered the group's recent mixtape for us. Whether this means they're in the middle of an identity crisis remains to be seen; in the meantime, this EP errs on the side of perfection.
–
Xander Harris/Dylan Ettinger, Split 7" (Moon Glyph)
We love both of the synth-slinging Not Not Fun alums on this limited split single, so exploring both sides is a must, especially since the 7" format forces them to cut right to the chase like its Grand Theft Auto-esque record sleeve.