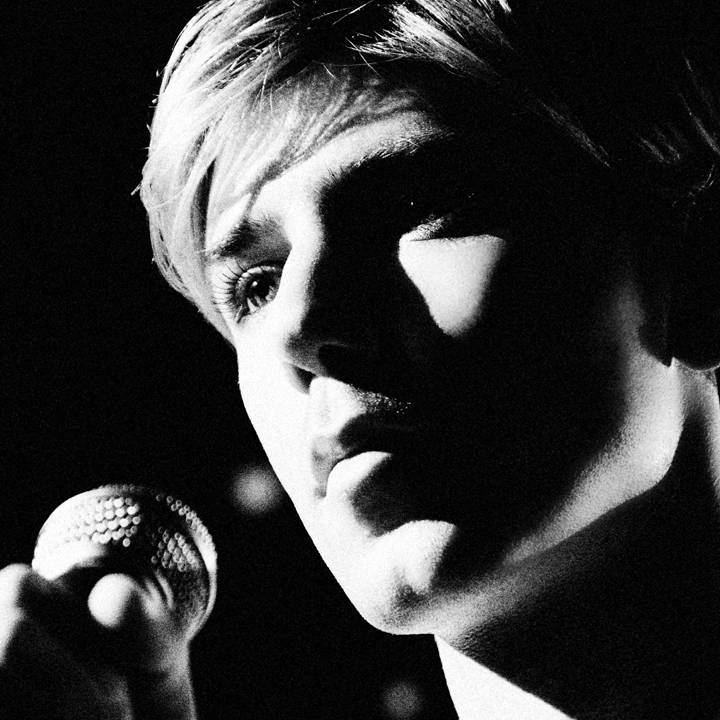 [Lead photo by Qarim Brown]

By Arye Dworken
"I realize that dance [music] isn't so big in the states," says DJ/producer Tiga James Sontag (no relation to Susan). "It's not a lack of trying; I just don't think the [U.S.] audience is receptive to what I'm doing overall."
That may have been true in the past, but Tiga's second proper full-length, Ciao!, was co-produced by Soulwax–the patron saints of electro-shocked dance-rock. It also features ace guest appearances from James Murphy, Gonzales (a close friend/creative partner of Jamie Lidell, Peaches and Feist), and Scissor Sisters singer Jake Shears, a recurring collaborator best known for his high notes on Tiga's pricless "Hot In Herre" cover.
In other words, Ciao! is tailor-made for tastemakers and cool kids. In our mind at least…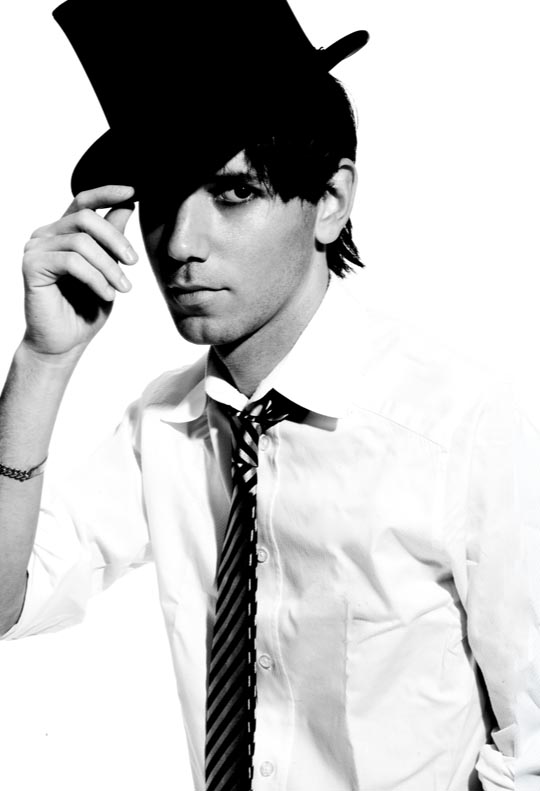 self-titled: Where are you?
I'm in Milan. Where are you?
In New York City. How's the weather there?
The weather's beautiful but I'm stuck inside doing interviews.
Sorry 'bout that. How's your tour going?
Well, it's DJing, and I've done a lot of DJing before, but the shows are sold out and the new album is getting a good response so far. I'm happy overall.
How do you promote a new record like Ciao? Do you incorporate it into your set?
Well, I'm thinking about doing a live band tour this time around. All my friends are bugging me about it and it seems like an important step for me to take. I've been delaying it for years because I'm partly lazy, partly scared, but I've got to get it together and figure it out.
If you use your imagination enough, you can figure out ways to get over the insecurities. But honestly, DJing is so much less of a hassle. You don't have to deal with a band, or equipment getting lost–there's no team. It's just you and some luggage.
You collaborated with Soulwax recently,  letting them produce the new album. They do the DJ and band thing…
Yeah, those guys are crazy. They'll do both in one night. It's a bit crazy and committed. I don't know if I would have the energy for that.
How did you hook up with those crazy Swedes?
Well, we're always touring, and we ran into one another and hit it off. So they invited me to their studio and I was so impressed with their equipment–it was like being at another kid's house and getting jealous of their toys. How could I not trust them with my record with a studio like that?
They produced your record, but you're a producer yourself:
I'm not as technically proficient as they are. They're also a little more adventurous than I am. I prefer to let professionals handle the more technical stuff.
Why did it take three years for you to record a follow-up?
My records take a long time. I don't sit in a cabin and just work on a record for five weeks at a time. I wander, man. I'm all over the place. I also had a son about two years ago that also decelerated my traveling. But trust me, I'm also not [just lying around] during the downtime. I have my label, my DJing, my remixing, I've got side projects, I do a podcast.
If I do nothing on vacation, I can last maybe four, five days max, but I need to be working constantly.
Jake Shears from Scissor Sisters is on the record as well. How did you two meet?
I was a big fan of their first 12" on A Touch of Class called "Electrobix", which I used to DJ a lot. I sent them an E-mail and it turned out that they were familiar [with me] and liked my music as well. I'm very expressive like that–letting artists know when something they've done turns me on. We met up in Barcelona years ago and we partied together…really got along. We first did [the Nelly cover] "Hot In Herre" together and stayed in touch. We've become good friends since then.
The record also features the one and only James Murphy:
James is a great person. When I first heard "Losing My Edge", I was blown away. I was playing it in my sets all the time. We met once and kind of hit it off–we share a sense of humor and we both talk a lot. But I also love his music. I can't get enough of it, and so I've been talking to him about doing music for a while. Finally, I came to New York with a few demos and he gravitated towards "Sex O' Clock" and we worked on "Gentle Giant" together. We both really love that track.

How does collaboration work with you? Do you need to be in the same location?
No, it's a total patchwork. We send each other files, but with James, it was a classic recording job. I usually go into a studio with a rough idea, like tempo, energy level, a sample, ideas I want to steal, and we start plugging things in and sometimes we come up with something completely different.

How have you changed stylistically in the past few years since Sexor?
I don't think there's a radical difference. I'm into the same stuff as I used to be. The lyrics are more thought-out and the production is better and overall, it sounds better. Let me say it this way, I don't think I ever had a style that can be nailed down or replicated so it's not like that could even be like this. This record, though, I think I gravitated towards funk and disco and I've been trying to bring them into making my own sound.
As a in-demand remixer, what are the remixes that you're most proud of?
There was that song by Tomas Anderson ("Washing Up"), which was a huge club hit for me. And then there was this acid-house Alexkid track ("Come With Me"), which I'm really proud of. I just did a track with Fever Ray ("Triangle Walks") that I'm also super proud of.
I love doing remixes–it's such a huge challenge.
It's a very intimate experience, too.
Yeah, totally. And they send you parts of the songs, like naked vocal files and you hear what people sound like. It's quite interesting to have that sort of access.

Are you ever concerned that the original artist won't like your spin on their song?
Remixing is something that I've never had a struggle with, I'm happy to say. They ask me to do it, so presumably they want what I can do, not what they already did. I don't really get nervous particularly with artists that I really adore. Like LCD Soundsystem's "Tribulations"–I wanted people to love my remix, to expose James' music to more listeners and make something unstoppable.
Have you ever heard another remixer's take on a song that you've remixed and thought, man, I should have done that?
That's a good question. I've never been asked that. There's always a little bit of competition when it comes to remixing. You want your mix to be the one that they play. It's a bit different in the case of, let's say, Lindstrøm who did "Tribulations" as well, but he did a Norwegian disco epic trance track and that's not my style. It's not a concern that we'll overlap in terms of ideas. But I did a mix for Human League ("The Things That Dreams Are Made Of")…it wasn't one of my finest moments, and this DJ from Berlin, Justus Kohncke, did the same song. I listened to it and was thinking, "Damn, I didn't even see that. I wish I had."
It's interesting that you're able to point out what you're not proud of and where you were flawed. A lot of remixers wouldn't do that.
I can't take myself too seriously where I think everything I produce is the best out there. I'm human. Sometimes, I DJ an 8; sometimes it's a 7.
Your last record won a Juno for Best Dance Record. Did you expect it to have that mainstream appeal in Canada?
You're familiar with the Junos?
Yeah.
You're in New York, though. I guess I'm underestimating your music journalism skills. Here's the thing: I don't have expectations from North America:I have been doing so well in Europe and I'm so used to not being that big over in the U.S. that I don't have this concept of mainstream or cross-over anymore.
You also work with Zombie Nation on the ZZT Project. In fact, you're going to be working on another record with them soon. What is that an outlet for?
For me, sometimes I don't want to sing, or even subject my personality into the music. It's really back-to-the-roots club music. It's old school and straightforward. There isn't that much thinking because it's all about just getting people to dance.

Tiga, thank you for your time. I hope Ciao wins a Juno as well.
And if I do, I will thank my knowledgeable New York journalist friend for being aware of that award.
LISTENING STATION
[audio:http://www.worlds-fair.net/shared/Label_Group/Last_Gang/Shoes.mp3]
BBC Radio 1 "Essential Mix," 4.4.09
Air Liquide – The Increased Difficulty Of Concentration – Smile Communication
Telefon Tel Aviv – The Worst Thing In The World (Gaiser possibly the universe mix) – Bpitch
Sei A – Smile For Me – Missive
Arnaud Rebotini – Decade Of Aggression (Jesper Dahlback mix) – Citizen
Tiga and Zyntherius – Sunglasses At Night (Konrad Black mix) – Turbo
Sei A – My World – Missive
The Mole – Like The Way – Wagon Repair
Seth Troxler – Face Tribute To Head – Wagon Repair
Depeche Mode – Wrong (Magdas Scallop funk mix) – Mute
Plastikman – Risk Assessment – Minus
Yo Majesty – Club Action (Stanton Warriors mo bass mix) – Wax
Sydney Samson – Riverside – Sneakerz Music
Tiga – Shoes (Mr Oizo mix) – Different
Zoo Brazil and Adam Sky – Circle Jerk (Bloody Beetroots mix) – Turbo
Tiga – What You Need (Proxy mix) – Different
The Dove – My Album Is Complete
Housemeister – Beef Jerky – Boysnoize
Moby – I Love To Move In Here (Proxy mix) – Mute/Turbo
Housemeister – Who is That Boys – Boysnoize
I-Cube – Supernovac (live at the Lanchonete mix) – Versatile
Donato Dozzy and Giorgio Gigli – Real Love EQ – Italy – Wagon Repair
Mike Mind – Acid Machine – Turbo
Tiga – Overtime – Different
Matias Aguayo – Walter Neff – Kompakt
The Jon Spencer Blues Explosion – Mars Arizona (DFA mix) – Mute
Sei A – This Is – Missive
Peaches – Lose You (Matt Walsh and Alex Jones mix) – XL
Tiga – Mind Dimension (Ben Hoos Mind Die Menschen mix) – Different
Zombie Nation – Worth It (1) – UKW
Zoo Brazil and Adam Sky – Circle Jerk (Milano 309 mix) – Turbo
Mr Oizo – Steroids (remix) – Ed Banger
Tiga – What You Need (Zombie Nation mix 2) – Different
Marco Carola – Ninety – 100% Pure
Guy J – Shaman (Cari Lekebusch mix 1) – Turbo
Fever Ray – Triangle Walks (Tiga 1-2-3-4 mix) – Rabid/Mute
Cage and Aviary – Television Train – DFA
MGMT – Electric Feel (Prince Language mix) – Columbia
LCD Soundsystem – Too Much Love – Capitol
Tiga – Love Dont Dance Here Anymore – Different