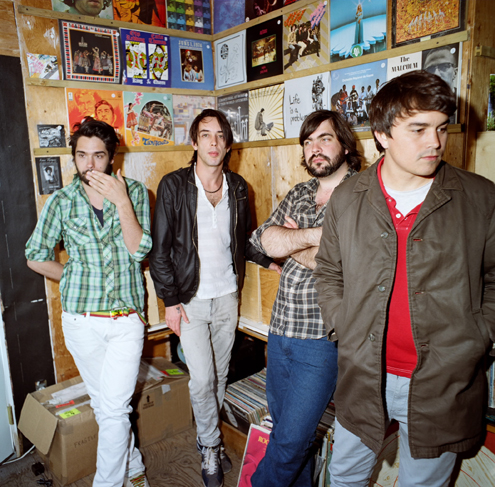 Interview by Andrew Parks
Photos by Mego Sam Cecil
self-titled could care less about whether or not Wolf Parade ever delivered on the "next Arcade Fire" promises of hype-happy critics who couldn't help but attach highfalutin expectations to the band's breakout 2005 debut, Apologies to the Queen Mary (Sub Pop). To be honest, the only similarity between the two is the rehearsal space Wolf Parade snatched from their fellow Canadians–a spot where they worked out a lot of the demo-stage kinks in At Mount Zoomer, an airier, brighter counterpart to the group's first full-length. (While "Bang Your Drum" was mostly written by vocalist/keyboardist Spencer Krug and "Language City" landed on the shoulders of vocalist/guitarist Dan Boeckner, most of the group's recent sessions were a "collaborative effort"–in stark contrast to the clear songwriting divisions on the last disc.)
"We mashed everything together on purpose last time," explains Boeckner, as he gears up for the band's first tour in forever, "To the point where it was unclear as to who was playing what."
Expect a new Handsome Furs album later this year if Boeckner and his wife, multi-instrumentalist Alexei Perry, find time to finish what they already started. For now, he took time out to break down some key Zoomer cuts.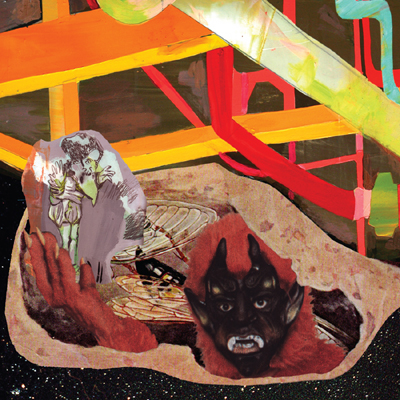 [audio:http://www.self-titledmag.com/wp-content/uploads/audio2/09%20Kissing%20The%20Beehive.mp3]
"Kissing the Beehive"
This came out of some jamming in our rehearsal space. It was like three different movements that we put together. Each of them was 10 minutes long, so me, Spencer and [drummer] Arlen [Thompson] had to whittle them down and try to figure out how they would work together. Eventually, Spencer and I decided we'd both sing over them. We did a demo version of it before we went on the road last summer. We played it out a lot and we wrote the instrumental meltdown part near the end while we were on tour. It's my favorite song to play live right now. We can kill it two minutes into the ending or, depending on how the night's been, we can keep it going. Some nights we have really gotten into it and forgotten about the audience completely. The longest it's been is like 15 minutes. After being in lots of punk bands early on, it's nice to finally wail.
[audio:http://www.self-titledmag.com/wp-content/uploads/audio2/08%20An%20Animal%20In%20Your%20Care.mp3]
"An Animal in Your Care"
This was another total collaboration. Spencer wrote the beginning on the piano, then we shifted over to guitars and welded it to the riffs [keyboardist] Hadji [Baraka] had written. That also coincided with Spencer and I buying the same buzz wah pedal. Playing with them was really satisfying.
[audio:http://www.self-titledmag.com/wp-content/uploads/audio2/06%20The%20Grey%20Estates.mp3]
"The Grey Estates"
When we first wrote this, it sounded like Neu, but then Spencer added this part that sounds like TV theme music to me–an ascending, totally uplifting piano piece. This was the last song we put together. It was definitely going to make the record, but we didn't know what to do with it for the longest time.
If Spencer had a time machine and could go back to the mid-'80s, he would totally have a future in TV shows starring Ricky Shroder.
[audio:http://www.self-titledmag.com/wp-content/uploads/audio2/07%20Fine%20Young%20Cannibals.mp3]
"Fine Young Cannibals"
Spencer and I were trying to think about economical ways to get the chords across, so we kept removing things. We basically thought, 'This is the kind of song where only one or two things should happen.' So we laid back on the instruments and pushed the vocals to the front. There isn't a lot of empty space on Apologies, you know? And that's one of the things I love about music. I tried to get this across in the Handsome Furs record but that's a different aesthetic.
[audio:http://www.subpop.com/assets/audio/4380.mp3]
"Language City"
This one's about doing coke in Moscow. The Handsome Furs were playing a show there. Anyway, I wrote about this 6 or 7 a.m. party where the sun is coming up and the blinds are getting shut with everyone talking a mile a minute. It was fucking scary [in Russia]. One of the artists the promoter brought there recently had gotten stabbed seven or eight times in the subway system. It's harsh [laughs]. We had a translator with us, but she was 5-foot-2 and tiny. I remember waiting outside a door while she met with the Russian gangsters who owned the club to get us paid.