Considering how cracked his own MPC-mashed pop music is, it's no surprise that Vex Ruffin—the only artist signed to Stones Throw on the strength of a stray demo—decided to give us a guide to Rammellzee right around the release of Vex Ruffin the album. Not to mention news of Ghost Among the Crew, a new Powell-endorsed Death Comet Crew LP that features a nod to their fallen MC in its title.
Brush up on all of the above down below…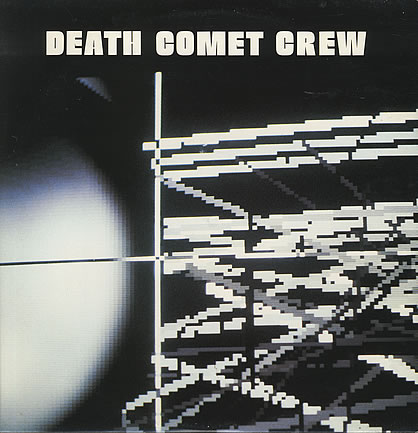 I was at Peanut Butter Wolf's house, looking through his records in Highland Park. We were trying to find ideas for my album cover; he grabbed a record and said, "How bout this one?" It was Death Comet Crew. I said "cool," put it in the bin with all the other awesome record covers, and took them home.
I had the records at my house for about a week and didn't even listen to them. I was heading back to the Stones Throw office with the records to give back to Wolf. I got there and we were still trying to figure out which ones we liked the best. He grabs the Death Comet Crew record, takes it out of the cover, puts it on and says, "Have you listened to this?" I said, "No, haven't had a chance to."
The cover was black with a weird Gothic design. In my head I was thinking this is a probably some Front 242-type shit, or Skinny Puppy or something. He played the first song and I was just smh, like wtf is this? He said, "You've never heard of Death Comet Crew? Rammellzee?!" I said, "What's that? Who?" Now he was shaking his head. Every song on that record blew me away; the dark vibe, the drums, the layers, Rammelzee's rapping, and their Gothic Futurism hit me in the head that day. It was like I got zapped by the Gash-o-lear himself! From the song "At the Marble Bar" to "Exterior Street," I was already absorbing all of it, letting it all in.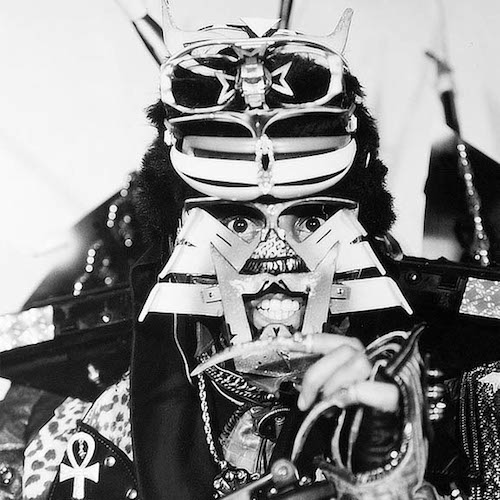 Then Wolf starts typing on his laptop like he always does and says, "Have you seen Wild Style? I said, "Yeah, of course! But last time I saw it was 10 years ago."
He shows me the part where Rammellzee is performing on stage wearing a trench coat and holding a shotgun while rapping, just killing the shit out of it. Then my boy Shane walks into Wolf's office. I ask him, "Have you ever heard of this dude?" He says, "Who? Rammellzee?" He looks at me like I'm stupid, nods his head and says, "I went to his art gallery." I said, "He makes art too?!" He explained how Rammellzee makes his art with the toys and skateboards, etc.
Man, that day I felt lame—lame because I was late, and cause I've never heard of him. But at the same time, I was inspired and excited I found out about Rammellzee.
Check out some of Vex Ruffin's favorite Rammellzee videos and songs below…
He's just blacking out in this one, wearing ski glasses with a red hoodies over his head and one white glove. Fucking amazing! The avant garde crowd is loving it. His bud Basquiat is in the crowd, too.
He just doesn't even stop; he keeps going in over Billy Squire's big beat! Too ill.
Here he's giving the knowledge.
This is an interview he did in Japan, explaining Gothic Futurism to this white American with a mohawk host who can speak Japanese. He's in full gear as Chaser the Eraser. He also talks about Shun-U the Lone Sharker, Rip Code Rex, Barshaw Gangstarr and, of course, Gash-o-lear.
http://www.youtube.com/watch?v=P6mz3SgAAiY
This is my favorite Death Comet Crew song with him. This is also the record Wolf showed me. The beat is hard and the sounds are so industrial/post-punk/no-wave. The screeching guitar noise is real. I don't know much about the Death Comet Crew but this is rip-hop at its best. Here's a little info on the record…
Artwork [Back Cover] – Amber Denker
Artwork [Front Cover] – Gretchen Bender
Executive Producer – Steve Peck
Keyboards [Additional] – Scott Simon (2)
Performer – Michael Diekmann, Shinichi Shimokawa, S. Arbright*
Producer – Kenneth Lockie*, S. Arbright*
Vocals [Special Guest Vocalist] – Rammellzee
Written-By – Lockie* (tracks: A1 to B1), Rammellzee, Arbright*
[youlist pid="PLlxVAExh_bYZlNIBEQWdbr1vyaZnt6eep" width="960″ height="540″]