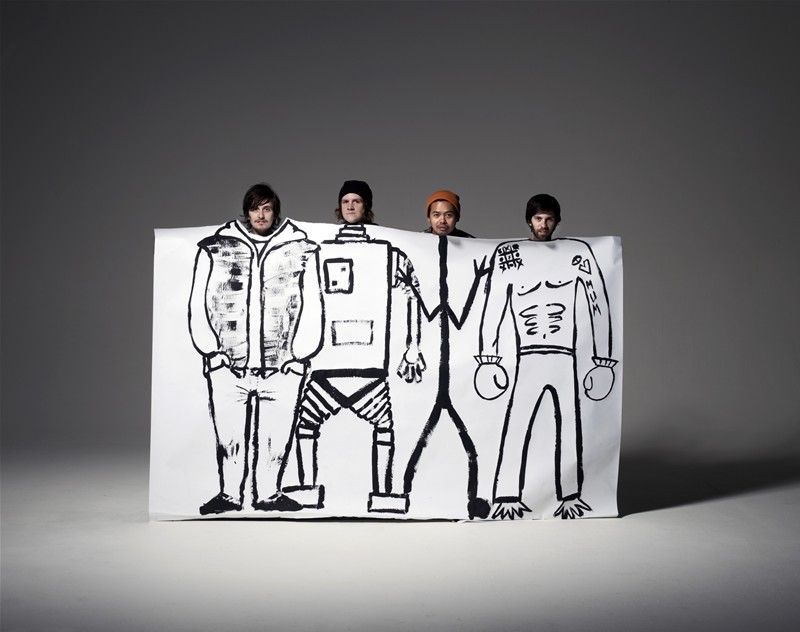 Interview by Arye Dworken
Way back in July, The Temper Trap got a huge boost to their fanbase by lending their "Sweet Disposition" single to the trailer and soundtrack of (500) Days of Summer. That'd be the movie you almost checked out because it's the closest you're ever gonna get to Zooey Deschanel. (Hey, we can't all be as good-looking as Ben Gibbard, right?)
With that brilliant bit of licensing in mind, we cornered the band at their publicist's office and asked them to share their favorite musical moments in movies.
self-titled: A lot of people came around to the band based on the success of your song's use in (500) Days of Summer. It was in the commercials, the trailers…
Jonathan Aherne (bass): Yeah, we really appreciated that. It introduced us to an American fanbase we wouldn't have otherwise connected to. All because it set up a good buzz before [our debut album, Conditions] came out [in October].
The opportunity to have an alternative outlet to radio is huge. Being that a band can't really count on radio anymore.
Jonathan: Yeah, absolutely.
So we were wondering if you could pick out your favorite musical moments from movies…
Jonathan: I think those Seu Jorge moments in that Wes Anderson film [The Life Aquatic].
Toby Dundas (drums): When he played those David Bowie covers…I love that movie.
Jonathan: The first time I watched it, I loved it, but I've watched it again and can never get through it now. I don't know–I'm a big fan, but it felt like forever when I watched it again.
I think the best usage of music in his movies is in The Royal Tenenbaums.
Jonathan: I don't remember that movie too well.
Toby: Strangely enough, I was first introduced to Radiohead through Romeo + Juliet. I was young at the time and I felt really moved by it. Maybe I was in an emotional moment:but I was into poetry and it made perfect sense in the movie.
That's directed by Baz Luhrman. As an Australian, have you seen his movie Australia?
Toby: Yeah, it was really bad.
Jonathan: It was the only movie on our plane [recently]. And it was a bad representation of our country. It wasn't pretty.
Toby: One of my favorite music moments in a movie was in 2001, in the beginning of the movie.
Did you see it on DVD later in life?
Toby: I saw it in [the South Australian suburb] Saint Kilda, in a really old theater. I actually saw it on the big screen. It was a slow movie to watch, but it was also really beautiful. The cinematography, and the tracking shots:it's a powerful movie on a visual level. But that one scene when it goes from the ape scene. I'm not sure what track it is but it's a fairly well-known classical movement.
Jonathan: At the risk of embarrassing myself, I grew up with a fairly health exposure to musicals. My dad made me watch Oliver!, and I grew up loving that movie. My dad grew up in East London and he was a crook at one time who stole from jewelry stores. And there's that one song "You've Got to Pick a Pocket or Two." It felt like his upbringing and I connected to it.
My grandmother used to sing a song from the soundtrack to me. I think it was "I'd do anything:"
Toby and Jonathan [singing]: "…for you dear anything, I'll do anything for you!" [Laughs]
How did the (500) Days of Summer thing come about?
Jonathan: Joseph Gordon-Levitt was at South by Southwest, and he was there to see a band play after us. But we were on the stage and he told us later when we were playing "Sweet Disposition," he was like, "I know this song. How do I know this song?" [Laughs; singer Dougy Mandagi joins us]

We were talking about our favorite moments of music in movies.
Dougy: I don't know if I can pick one from films, but I used to watch skating videos all the time and I learned about a lot of bands from those videos. There's that one Bowie song ["Space Oddity"] that I heard in a video and I got really into it.
[At this point, the interview ends abruptly, but a few weeks later, drummer Toby emails us]
"Got our last musical moment for you if it's not to late. 'Oh Yeah,' Yello – Ferris Bueller's Day Off. 'Duh, duh, chka chkah, ohhh yeaaahhh.' Never heard of this Swedish duo before then, and thankfully never heard anything from then again."