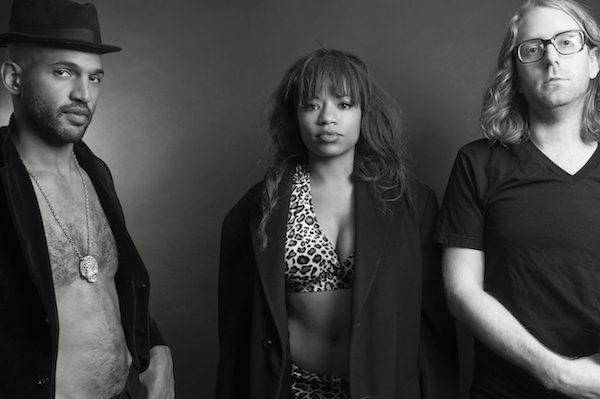 [Photo by Beth Dixson]
You may remember Cubic Zirconia from their support slot set at our OSCILLATIONS party last spring, the one with the Glimmers and the dude who helped craft the greatest dance single of our time. In the months since, they've been slaving away at a string of proper releases. First up: a club-ready trio of digital 12s, starting with next Tuesday's Josephine EP. The speaker-imploding single and its four raucous remixes are broke down into a minimix here.
As for the group's debut album, it's set to drop this summer, with guest appearances from Drop the Lime, Bilal, Dam-Funk and–if he sends his verses in sometime soon–Cage. The self-produced affair was tracked in L.A. over the course of three weeks and features more of a live, full-on band sound than Cubic Zirconia's past releases.  It's also kinda genre-less, so we asked multi-instrumentalist/producer Nick Hook to give us a hint of where his head's at with one of our exclusive Needle Exchange mixes. If you dig what he's dropping and live in the NYC area, be sure to catch Cubic Zirconia at their Josephine release party tomorrow night. Get there in time for Cage, though. That man is out of his mind in the best way. 
1. Egytprixx, "The Battle of North America"
It's a tough call, but I think Egyptrixx might be my favorite producer in the universe right now. Every track is incredible and I think he is doing something very unique and special. Working on remixing one of his tunes now and I can't lie, I'm a little shook.
2. DJ Gazzerto, "Cruel 22"
I just got back from a two-week trip to London. I had grand plans for this mix to highlight all the different kinds of music we worked on with random friends and stuff, but I didn't get a few tracks from certain people. Bok Bok and I drank about eight cups of tea, ate chocolate croissants and worked on tunes. We were done around 8 a.m. and watched some videos and traded tunes like this one. TRIPLETS. Everyone needs songs with triplets…or more at least. I gotta find more tunes by this cat, but for now I'll listen to this one over and over.
3. Fabio Lendrum, "Trouble (Drop the Lime Dub)"
DTL is the guy. I'm biased because we play together, but I don't think he fails much. The melodies are great.
4. Bok Bok and Greena, "Peanuts Club"
Bok is the dude. Greena's EP on Nightslugs is amazing.
5. Kraftwerk, "Numbers/Computer World"
They are my heroes, so I might as well include them on here. I wanna throw a party in NYC that is only Kraftwerk and related projects.
6. Kode9, "Black Sun"
I wanted to go see Kode9 while I was in London at Fabric, so this is a two minute tribute to him and all the dope music he puts out.
7. Cubic Zirconia, "Josephine (Egyptrix Remix/DJ Sega Remix)
Our record comes out next Tuesday, February 2. I'm honored to have such great people involved (Waajeed, Greemoney, Sega, Egytprixx, APSCI for the video, Mike 2600 on art , Brich mastering). The video should be out sometime next week, and it's bonkers. Um, just spend a couple bucks and buy it!
8. Luke Solomon, "Ghouls"/Claude Von Stroke, "Beats From the Grave"
Love the spooky minimal remix, and I can never get mad at a cough breakdown. Von Stroke is like 100/100…
9. Renaissance Man, "Lay Me Down (Sissy Knobby Remix)"
Feeling the Renaissance Man tracks. Love their name too. Mixpak is Dre Skull's label. I love everything he puts out. Go peep his site and buy it all. His track for Vybz is sick and the other Sissy remixes are dope too.
10. Michael Meds, "Jackin Drunk"
Ironic or serious? I love it either way. Meds is one of the better NY producers out right now. Look for that tune on Todd Terry's Inhouse Records.