BONEDUST: The cell phone guy is seconds from being electrocuted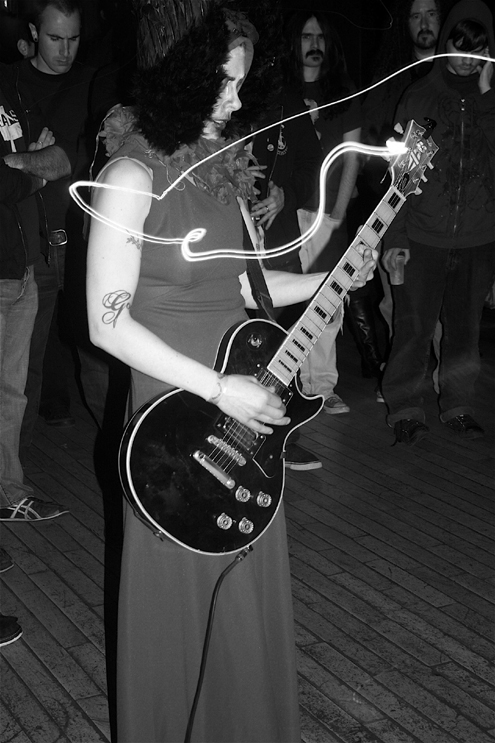 Text/Photos by Andrew Parks
self-titled decided to do the unthinkable last Wednesday: hit shows throughout the city from 7 to midnight, only to end up at one of the warm-up parties for Santos' Party House. Four venues and five acts were witnessed along the way, along with intermittent rain, two rounds of indie rock trivia, a door bitch that wasn't too bitchy, and one of the city's finest cocktail bars. Here's what happened …
MATES OF STATE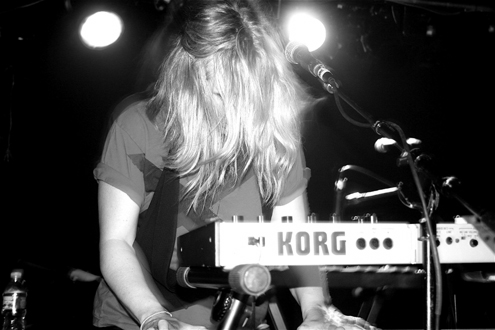 7:05 So we're a few minutes and at least one song late to the semi-secret Mates of State show at Mercury Lounge, an hour-long celebration of their freshly-minted Re-Arrange Us LP. Since it's sprinkling on top of it, we hail a cab to Houston and do our best to prepare for the indie pop to come. Thankfully, the duo isn't as sickeningly bright and bubbly as several records and a recent NY Mag story suggest. If anything, they're somewhat subdued as they revisit old favorites ("Think Long" and "Fraud in the '80s" still sparkle and fade quite nicely) and spotlight such new jams as "Now" and "You Are Free." That last one has nothing to do with Cat Power, but the duo did manage to bring two brothers out to back a handful of songs. That's right: Alterna-America's favorite married couple has finally decided to flesh their organ & drums songs out with guitars and strings. The result? Not too shabby at all.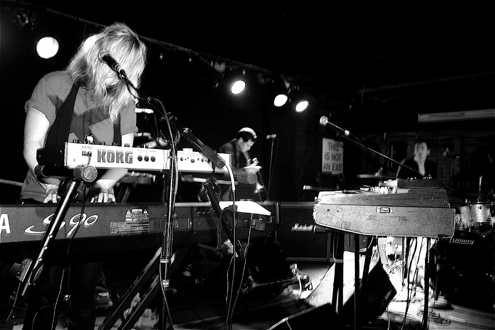 8:10 Left with nothing to do between now and a show at the Knitting Factory, we stop by our favorite Lower East Side bar. Yes, we're alone at the moment, but this is the kind of place where you can sip a Manhattan all by your lonesome without feeling pathetic or creepy. Well, kinda; since the place has the dimmest lighting scheme in all of Manhattan, it's a bit frustrating, and odd, to be sitting in a booth between two couples (the seat backs are too high for us to see one another, but still) with a copy of the new Esquire in hand and nothing but Amish-quality candles here to light the latest Chuck Klosterman column. (Yes, we still read him, you hater.) All this said, East Side Company's Manhattans are still DAMN GOOD–well worth the $10+ it takes to procure one.
BONEDUST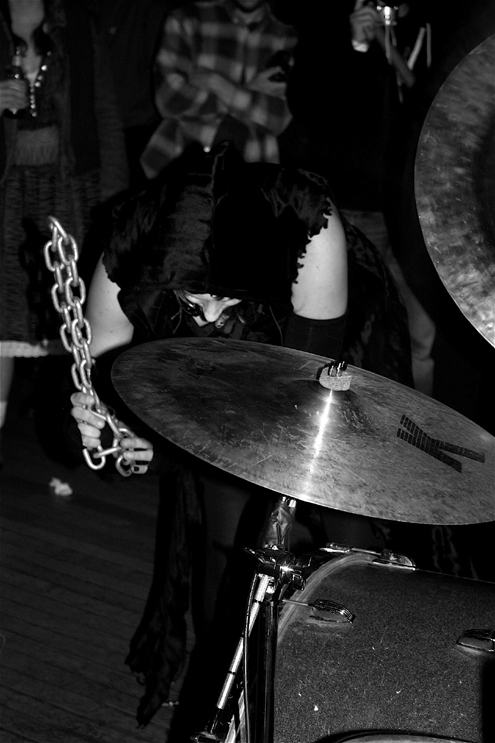 8:45 Here's where things take a sudden–and completely unexpected–turn. The plan going into tonight was to stop by the Knitting Factory twice: first for the Gang Gang Dance side project I.U.D., and then for the midnight madness performance of Peter Rehberg and Stephen O'Malley's rather productive KTL project. What we didn't expect was to stumble into an all-female black-metal revue by Bonedust. Having only glanced at the grrrls' Web site, we were planning on skipping their set for fear of laughing in their corpse paint-clad faces. Maybe we should have known from the Providence, RI, connection (hello Lightning Bolt/Black Dice/etc.!), but Bonedust actually rips. While they're essentially a two-piece on record (the drummer screams into a headset that'd impress Vincent Price), what we can only call a "chain slammer" helped bring each song into unforeseen realms of pure darkness. That's her in the photo above, swinging those links onto some sort of sample trigger thingy. Honestly, this is one of the first times self-titled can truly say we've felt the full-on black-metal experience. And, well, we're freaked the fuck out.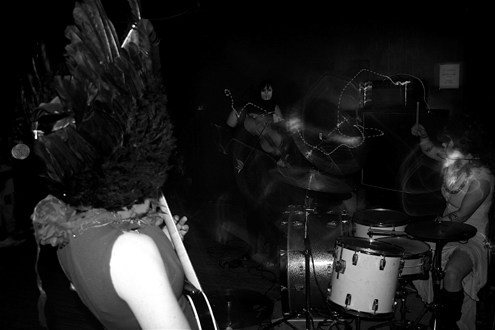 10:00 After several subway transfers and one stiff whiskey drink, we're now at the Highline Ballroom in time for what we're told will be a headlining set from Les Savy Fav. Unfortunately, things are running a bit behind at the trivia portion of New York Magazine's latest subscription scheme. So we're stuck wondering around as people fret over weak questions (who doesn't know what the cover of London Calling looks like?) and piss-quality cans of Pabst. Hey, at least some guys got us stoned before taking these photos.
STEPHEN O'MALLEY of SUNN O)))/KTL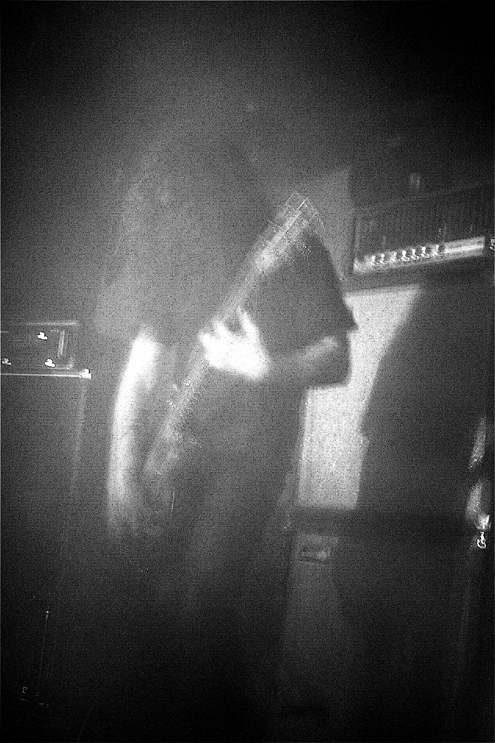 11:45 Tim Harrington, you are officially our hero. As for you, Mr. O'Malley, well, you simply know how to blow our eardrums while coating the entire Knitting Factory in fog. Not that KTL's long-awaited gig is bad; it's just that it's SO … FUCKING … LOUD with nary a breather in sight, leaving the whole 'set' sounding like one extended improv session. If the idea of blackened IDM excites you, definitely check these guys out. Us, we wish we were still stoned.
12:30 Having been warned to "arrive early" at Santos' preview party, we're concerned about getting into the James Murphy/Pat Mahoney-helmed shindig despite being on 'the list.' While there is a silly hipstar (yes we just invented that word) guarding the door to paradise, the inside is relatively subdued, with a half-full room of revelers dancing quite happily to rare disco tunes. We're too tired to stay long, but you better believe we'll be back for a full report soon.
We need more people to cover the city this thoroughly. If you're interested–or think your town's worth this kind of venue-hopping evening–please E-mail us.