While the hooks on Surfer Blood's fourth LP (Snowdonia) haven't dulled one bit when held up to the high standard of their Astro Coast album, the Florida band's certainly been through a lot over the past year. First there was the passing of founding guitarist Thomas Fekete last May, a little over a year after he began receiving treatments for a rare, aggressive form of cancer (sarcoma).
Soon after Surfer Blood shared Fekete's diagnosis, frontman John Paul Pitts received similar news about his mother's own breast cancer battle. He addresses that chilling moment and its aftermath below, along with the rest of the soul-searching record—the first to feature bassist Lindsey Mills and guitarist Michael McCleary—that hits shops through Joyful Noise tomorrow….
"MATTER OF TIME"
I wrote this one quickly, I was drawn to the contrast between the strong melody/chord progression and the primal, blown-out sounding drums. I'd gotten my hands on a Tascam 38 and was playing around with analog tape for the first time. I'd been writing a lot of more complicated songs, and it felt good to work on a four-chord pop song.
"FROZEN"
This song came to life once we started recording Mikey and Lindsey's backing vocals. I love Electric Light Orchestra and the vocals/effects on this song really make it stand out on the record. We've started playing this one live recently and it feels so good when the chorus backing vocals come in.
"DINO JAY"
This is one of the first ideas I came up while I was writing Snowdonia. I've had the idea for the lead guitar line for years and wrote the rest of the song around it. It's a simple rhythm and chord progression, but there are all kinds of lead guitar parts in this song: backwards guitars, loops that we sped up, and a few guitar-monies.
"SIX FLAGS IN F OR G"
When I was coming up with material for Snowdonia, I was writing a lot of short songs as fast as possible. This song was originally two different songs that contrasted in a cool way, the first half is a rigid march, while the second half is more open and free.
"SNOWDONIA"
This song is the perfect centerpiece for the record; it has a lot of different scenes without a lot of overlapping material. I was thinking a lot of the song "Anchorage" off of Astro Coast while I was coming up with the instrumental parts.


https://youtu.be/QbRLuR8_HDg
"INSTANT DOPPELGANGERS"
This song was inspired by Television's Marquee Moon and Cream's Disraeli Gears. Lindsey sings the lower part in the verses; I love the contrast between my belting and her quiet vocals. This outro is one of my favorite moments of Snowdonia.
"TAKING CARE OF EDDY"
This is the fastest song we've ever written. I really hope it makes it into a skate video someday. The bridge was meant to sound like Pet Sounds if it had been recorded in the disco years, and the verses have an electric sitar part buried low in the mix.
"CARRIER PIGEON"
This is the most vulnerable song on the record. My mom was diagnosed with breast cancer in January 2016 and this song is dedicated to her. I've been able to spend a lot of time at home with her while she's been sick and we've gotten a lot closer. The love the backing vocals in the second half, they make the part so rich and full.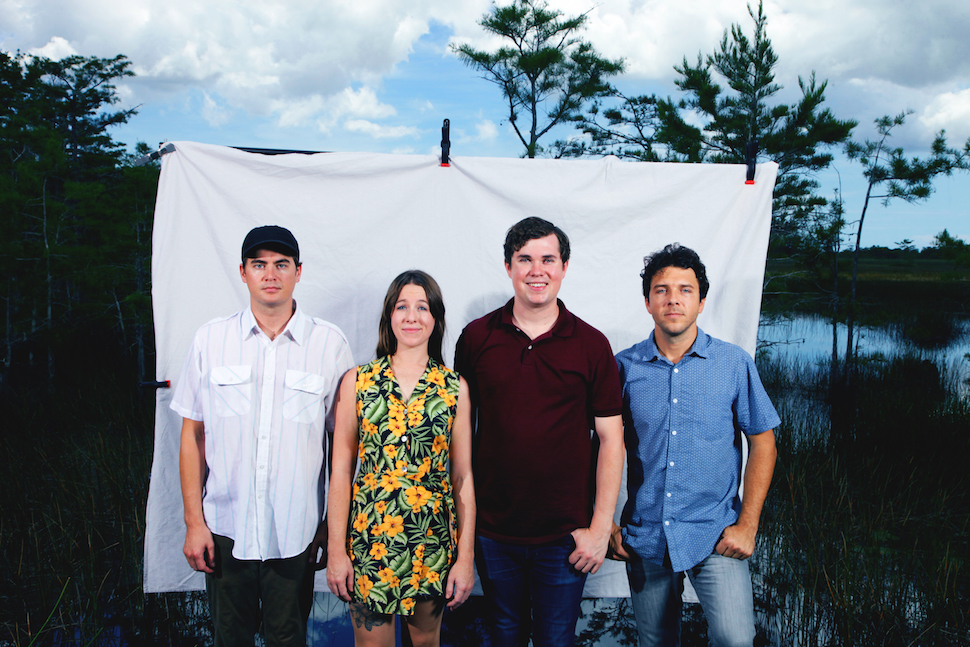 Surfer Blood tour dates:
2/3 Tucson, AZ – Flycatcher
2/4 Pioneertown, CA – Pappy & Harriet's
2/6 San Luis Obispo, CA – SLO Brewing Company
2/7 San Francisco, CA – The Chapel
2/9 Portland, OR – Holocene
2/10 Vancouver, BC – The Cobalt
2/11 Seattle, WA – Barboza
2/12 Seattle, WA – Barboza
2/14 Santa Cruz, CA – The Catalyst Atrium
2/16 Las Vegas, NV – The Bunkhouse Saloon
2/17 Los Angeles, CS – Teragram Ballroom
2/18 San Diego, CA – Soda Bar
2/19 Phoenix, AZ – Valley Bar
2/21 Dallas, TX – Club Dada
3/10 Rotterdam, NL – Rotown
3/11 Amsterdam, NL – Paradiso
3/12 Berlin, DE – Urban Spree
3/14 Paris, FR – Supersonic
3/15 Brussels, BE – WitlofBar @ Botanique
3/16 Birmingham, UK – Mama Roux
3/17 Bournemouth, UK – The Winchester
3/18 Leeds, UK – Brudenell Social Club
3/19 Manchester, UK – Soup Kitchen
3/20 Glasgow, UK – Broadcast
3/21 Leicester, UK – The Cookie
3/23 London, UK – Oslo
3/24 Cardiff, UK – Clwb lfor Bach
4/14 Jacksonville, FL – Jack Rabbits
4/15 West Columbia, SC – New Brookland Tavern
4/16 Richmond, VA – Strange Matter
4/18 Philadelphia, PA – Johnny Brenda's
4/19 Allston, MA – Great Scott
4/20 Brooklyn, NY – Music Hall Of Williamsburg
4/21 Washington, DC – DC9
4/22 Charlottesville, VA – The Southern
4/23 Morgantown, WV – 123 Pleasant Street
4/24 Louisville, KY – Zanzabar
4/25 Knoxville, TN – The Concourse @ The International
4/26 Athens, GA – Georgia Theatre
4/28 Miami, FL – Gramps
4/29 West Palm Beach, FL – Respectable Street Block Party